Flintshire Council delays decision on three-weekly bin collection trial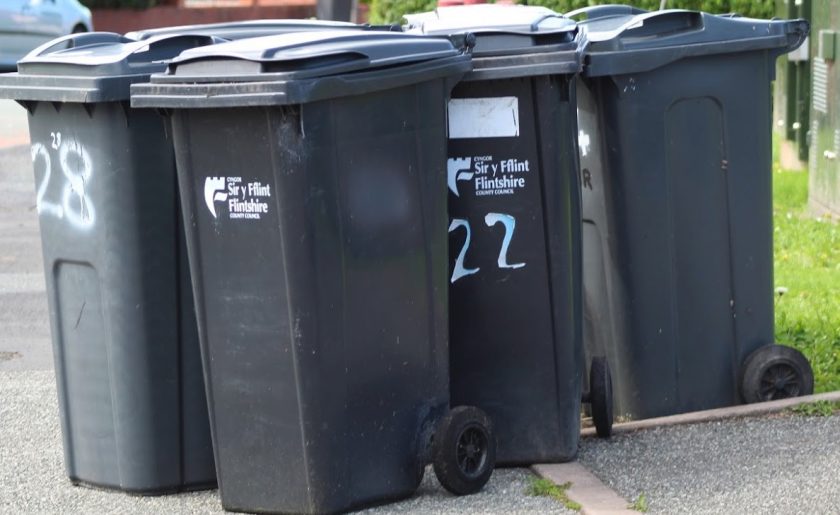 Flintshire Council leaders say they are 'not kicking the can down the road' after delaying making a decision on bringing in a three-weekly black bin collection trial until next month. ‌​‌‌‌​‌‌‍‌​‌‌‌​‌​‍‌​‌‌‌​‌​
The authority's ruling Labour led cabinet opted to postpone making their final decision for another month, with the aim of improving the county's recycling performance. ‌​‌‌‌​‌‌‍‌​‌‌‌​‌​‍‌​‌‌‌​‌​
They want to look more closely at views expressed by the council's environment scrutiny committee, and to allow for a meeting between cabinet member for Streetscene, Llanfynydd Cllr Dave Hughes and the Welsh Government Minister for Climate Change, Julie James MS, to take place. ‌​‌‌‌​‌‌‍‌​‌‌‌​‌​‍‌​‌‌‌​‌​
In proposing the deferment, leader of the council, Flint Castle Cllr Ian Roberts said the cabinet was not "kicking the can down the road", after agreeing the controversial pilot in January only for it to be 'called-in' by opposition councillors and batted back by scrutiny committee members earlier this month. ‌​‌‌‌​‌‌‍‌​‌‌‌​‌​‍‌​‌‌‌​‌​
Speaking at the monthly cabinet meeting, chief officer for Streetscene Katie Wilby reminded members that the authority was still at risk of being hit with a six-figure infraction fine from the Welsh Government for failing to achieve its recycling targets, but that work is still carrying on in the background to try and find solutions. ‌​‌‌‌​‌‌‍‌​‌‌‌​‌​‍‌​‌‌‌​‌​
She said: "We have been doing a lot of work in the background and it's been key for us to understand why our performance has progressively decreased. ‌​‌‌‌​‌‌‍‌​‌‌‌​‌​‍‌​‌‌‌​‌​
"We've detailed some work around compositional analysis and that's yet to be verified. There is still a significant amount of work going on in the background. ‌​‌‌‌​‌‌‍‌​‌‌‌​‌​‍‌​‌‌‌​‌​
"It would be prudent to potentially defer the decision until next month just to allow officers more time to present their proposals back to cabinet." ‌​‌‌‌​‌‌‍‌​‌‌‌​‌​‍‌​‌‌‌​‌​
Council leader Cllr Roberts agreed that a deferment was the best option but said it was not a case of the cabinet putting off making a decision. ‌​‌‌‌​‌‌‍‌​‌‌‌​‌​‍‌​‌‌‌​‌​
He said: "The views of scrutiny are very important to us as a council as are the views of the public on this but we do have to keep an eye on the fact that there is a substantial infraction fine sitting in the wings. ‌​‌‌‌​‌‌‍‌​‌‌‌​‌​‍‌​‌‌‌​‌​
"I think it will also give us the opportunity for Cllr Dave Hughes to have met with the Minister to seek the Minister's views on the strategy we have. ‌​‌‌‌​‌‌‍‌​‌‌‌​‌​‍‌​‌‌‌​‌​
"I do think we need a full strategy including measures for those residents within the county who choose not to recycle anything, and never present any recycled waste." ‌​‌‌‌​‌‌‍‌​‌‌‌​‌​‍‌​‌‌‌​‌​
He added: "This isn't kicking the can down the road, this is to come up with solutions and be able to report to cabinet the views of the Minister." ‌​‌‌‌​‌‌‍‌​‌‌‌​‌​‍‌​‌‌‌​‌​
Cllr Roberts' proposal was agreed by other members including Caergwrle Cllr Dave Healey. ‌​‌‌‌​‌‌‍‌​‌‌‌​‌​‍‌​‌‌‌​‌​
He also stressed the cabinet was not "putting off" making a decision, and that it would give residents a chance to improve their recycling habits. ‌​‌‌‌​‌‌‍‌​‌‌‌​‌​‍‌​‌‌‌​‌​
"I quite agree with the deferment of this", Cllr Healey said. ‌​‌‌‌​‌‌‍‌​‌‌‌​‌​‍‌​‌‌‌​‌​
"It's not putting off the decision I think it's a matter of giving residents the maximum opportunity where necessary to change their behaviour and recycle. ‌​‌‌‌​‌‌‍‌​‌‌‌​‌​‍‌​‌‌‌​‌​
"A large number of people are getting right and it's not fair on them that we should suffer a penalty because of people who are failing to recycle. This lesson needs to be learnt. ‌​‌‌‌​‌‌‍‌​‌‌‌​‌​‍‌​‌‌‌​‌​
"I don't think we want to go on to three-weekly bin collections and we can avoid them if people do recycle appropriately and along the guidelines provided." ‌​‌‌‌​‌‌‍‌​‌‌‌​‌​‍‌​‌‌‌​‌​
By Rory Sheehan – Local Democracy Reporter (more here). ‌​‌‌‌​‌‌‍‌​‌‌‌​‌​‍‌​‌‌‌​‌​
Spotted something? Got a story? Send a Facebook Message | A direct message on Twitter | Email: News@Deeside.com
---
Latest News
Deeside politician joins campaigners calling for full contents of 1983 inquiry into sinking of Sir Galahad to be published
---