Education minister to meet with teaching unions again amid concerns over pay and staff workload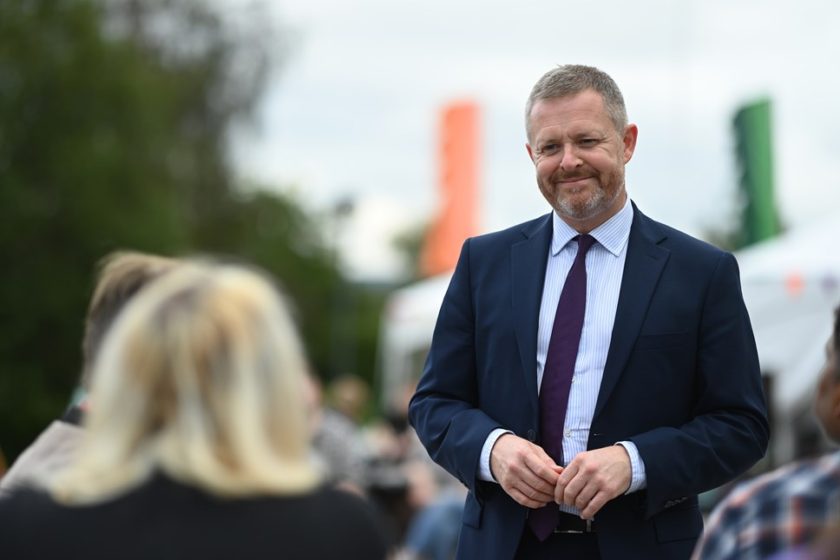 Wales' education minister has said he "is committed" to working with teaching unions to prevent industrial action, despite an offer of a one-off payment being rejected. ‌​‌‌‌​‌‌‍‌​‌‌‌​‌​‍‌​‌‌‌​‌​ ‌​‌‌‌​‌‌‍‌​‌‌‌​‌​‍‌​‌‌‌​‌​
The National Education Union (NEU) has declared several days of strikes throughout February and March in response to what has been described as "failure" to provide a fully-funded increase in pay for teachers which at least matches inflation. ‌​‌‌‌​‌‌‍‌​‌‌‌​‌​‍‌​‌‌‌​‌​ ‌​‌‌‌​‌‌‍‌​‌‌‌​‌​‍‌​‌‌‌​‌​
In Wales a 92.28 percent majority of NEU members voted yes on a turnout of 58.07 percent. ‌ ‌​‌‌‌​‌‌‍‌​‌‌‌​‌​‍‌​‌‌‌​‌​ ‌​‌‌‌​‌‌‍‌​‌‌‌​‌​‍‌​‌‌‌​‌​
The union has called for a pay rise higher than the five percent, however the Welsh government has so far only offered a one-off payment for teaching staff i‌n addition to the existing salary increase. ‌​‌‌‌​‌‌‍‌​‌‌‌​‌​‍‌​‌‌‌​‌​ ‌​‌‌‌​‌‌‍‌​‌‌‌​‌​‍‌​‌‌‌​‌​
This was rejected by education representatives. A similar offer to health and social care staff has also been refused. ‌​‌‌‌​‌‌‍‌​‌‌‌​‌​‍‌​‌‌‌​‌​ ‌​‌‌‌​‌‌‍‌​‌‌‌​‌​‍‌​‌‌‌​‌​
Some schools across Wales are expected to close on the days of the industrial action, which is scheduled to take place on Wednesday 1 February, Tuesday 14 February, Wednesday 15 March and Thursday 16 March. ‌​‌‌‌​‌‌‍‌​‌‌‌​‌​‍‌​‌‌‌​‌​ ‌​‌‌‌​‌‌‍‌​‌‌‌​‌​‍‌​‌‌‌​‌​
Speaking at a press conference this morning Education Minister Jeremy Miles MS said that he is committed to working alongside unions to find a way forward. ‌​‌‌‌​‌‌‍‌​‌‌‌​‌​‍‌​‌‌‌​‌​ ‌​‌‌‌​‌‌‍‌​‌‌‌​‌​‍‌​‌‌‌​‌​
However with no progress made with health unions, the minister was challenged on whether his negotiations would actually be successful. ‌​‌‌‌​‌‌‍‌​‌‌‌​‌​‍‌​‌‌‌​‌​ ‌​‌‌‌​‌‌‍‌​‌‌‌​‌​‍‌​‌‌‌​‌​
Jeremy Miles said: "I'm not going to speculate on the future direction of those discussions, for reasons which I know you will understand. ‌​‌‌‌​‌‌‍‌​‌‌‌​‌​‍‌​‌‌‌​‌​ ‌​‌‌‌​‌‌‍‌​‌‌‌​‌​‍‌​‌‌‌​‌​
"All I will say is that I'm absolutely committed to working with our social partners in that respectful way that we have here in Wales to seek a resolution to this. ‌​‌‌‌​‌‌‍‌​‌‌‌​‌​‍‌​‌‌‌​‌​ ‌​‌‌‌​‌‌‍‌​‌‌‌​‌​‍‌​‌‌‌​‌​
"We met last week I was able to put a proposal on the table then. There are many, many aspects of that to discuss further with unions and local education authorities. ‌​‌‌‌​‌‌‍‌​‌‌‌​‌​‍‌​‌‌‌​‌​ ‌​‌‌‌​‌‌‍‌​‌‌‌​‌​‍‌​‌‌‌​‌​
"We'll be meeting again this week to take forward those discussions and I've said elsewhere and I'm very happy to repeat today, that I'm happy to meet as many times as it takes to get a resolution to the to the dispute." ‌​‌‌‌​‌‌‍‌​‌‌‌​‌​‍‌​‌‌‌​‌​ ‌​‌‌‌​‌‌‍‌​‌‌‌​‌​‍‌​‌‌‌​‌​
The minister would not be drawn on how much the Welsh government had offered to union representatives, but added that workload concern for staff was something that he was also trying to address. ‌​‌‌‌​‌‌‍‌​‌‌‌​‌​‍‌​‌‌‌​‌​ ‌​‌‌‌​‌‌‍‌​‌‌‌​‌​‍‌​‌‌‌​‌​
He said: "The detail of the discussions as you'll appreciate is something where we take you forward confidentially in the context of our social partnership, discussions with unions and local education authorities as the employer. ‌​‌‌‌​‌‌‍‌​‌‌‌​‌​‍‌​‌‌‌​‌​ ‌​‌‌‌​‌‌‍‌​‌‌‌​‌​‍‌​‌‌‌​‌​
"I was able to make a proposal which was a one-off payment in addition to the five percent increase to salary. ‌​‌‌‌​‌‌‍‌​‌‌‌​‌​‍‌​‌‌‌​‌​ ‌​‌‌‌​‌‌‍‌​‌‌‌​‌​‍‌​‌‌‌​‌​
"But alongside that, unions have for some time raised questions in relation to staff workload. ‌​‌‌‌​‌‌‍‌​‌‌‌​‌​‍‌​‌‌‌​‌​ ‌​‌‌‌​‌‌‍‌​‌‌‌​‌​‍‌​‌‌‌​‌​
"We've actually had a process of discussion in relation to this in Wales over the course of the last year or more. ‌​‌‌‌​‌‌‍‌​‌‌‌​‌​‍‌​‌‌‌​‌​ ‌​‌‌‌​‌‌‍‌​‌‌‌​‌​‍‌​‌‌‌​‌​
"Unfortunately to date we haven't been able to resolve some of those quite thorny questions, but there is at least a clear understanding of the sorts of issues which teacher unions and heads have raised. ‌​‌‌‌​‌‌‍‌​‌‌‌​‌​‍‌​‌‌‌​‌​ ‌​‌‌‌​‌‌‍‌​‌‌‌​‌​‍‌​‌‌‌​‌​
"In the context of the discussions we are currently having with unions, we've together committed to looking at those again and seeing what more we can do in relation to questions to do with workload as well as the question of pay." ‌​‌‌‌​‌‌‍‌​‌‌‌​‌​‍‌​‌‌‌​‌​ ‌​‌‌‌​‌‌‍‌​‌‌‌​‌​‍‌​‌‌‌​‌​
​‌​​​‍‌​‌​​‌‌‌‍‌​‌‌​​‌​‍‌​‌‌‌​‌‌‍‌​‌‌‌‌​​ ‌​‌‌‌​‌‌‍‌​‌‌‌​‌​‍‌​‌‌‌​‌​ ‌​‌‌‌​‌‌‍‌​‌‌‌​‌​‍‌​‌‌‌​‌​
‌​‌​‌​​​‍‌​‌​​‌‌‌‍‌​‌‌​​‌​‍‌​‌‌‌​‌‌‍‌​‌‌‌ ‌​‌‌‌​‌‌‍‌​‌‌‌​‌​‍‌​‌‌‌​‌​ ‌​‌‌‌​‌‌‍‌​‌‌‌​‌​‍‌​‌‌‌​‌​
Spotted something? Got a story? Send a Facebook Message | A direct message on Twitter | Email: News@Deeside.com
---
Latest News
---