Connah's Quay's forlorn Christmas tree comes in for a bit of a media bashing but there is some GREAT news!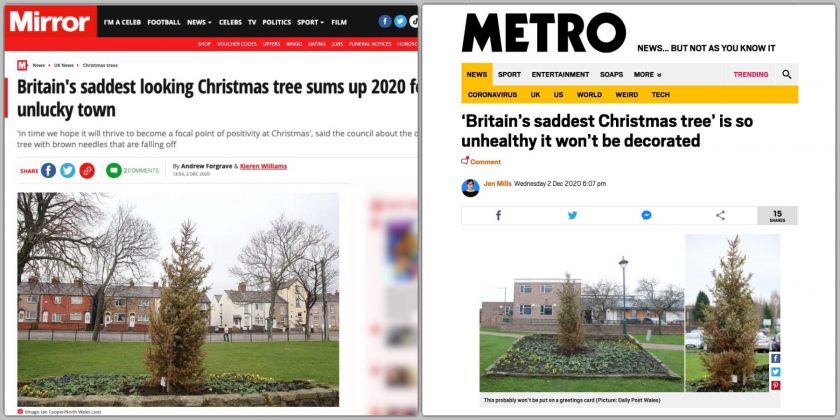 This article is old - Published: Thursday, Dec 3rd, 2020
Connah's Quay's Christmas tree has come in for a bit of a media bashing in the last couple of days. ‌​‌‌‌​‌‌‍‌​‌‌‌​‌​‍‌​‌‌‌​‌​
The tree, which was supplied and planted last year by Flintshire County Council "has not fared very well in its first year" and looks to be withering away. ‌​‌‌‌​‌‌‍‌​‌‌‌​‌​‍‌​‌‌‌​‌​
Attempts have been made to revive it with fertiliser but for this year, given its poor state of health, no Christmas lights have been placed onto the tree. ‌​‌‌‌​‌‌‍‌​‌‌‌​‌​‍‌​‌‌‌​‌​
The 'Metro' has labelled it 'Britain's saddest Christmas tree.' ‌​‌‌‌​‌‌‍‌​‌‌‌​‌​‍‌​‌‌‌​‌​
It says: "If you wanted to find a Christmas tree that sums up the year we've had, you probably wouldn't find a better one than in Flintshire." ‌​‌‌‌​‌‌‍‌​‌‌‌​‌​‍‌​‌‌‌​‌​
The theme continues in the Daily Mirror who's headline states: "Britain's saddest looking Christmas tree sums up 2020 for one unlucky town." ‌​‌‌‌​‌‌‍‌​‌‌‌​‌​‍‌​‌‌‌​‌​
ITV's Good Morning Britain has also had a pop at the forlorn looking tree as has BBC Radio Wales Breakfast this morning. ‌​‌‌‌​‌‌‍‌​‌‌‌​‌​‍‌​‌‌‌​‌​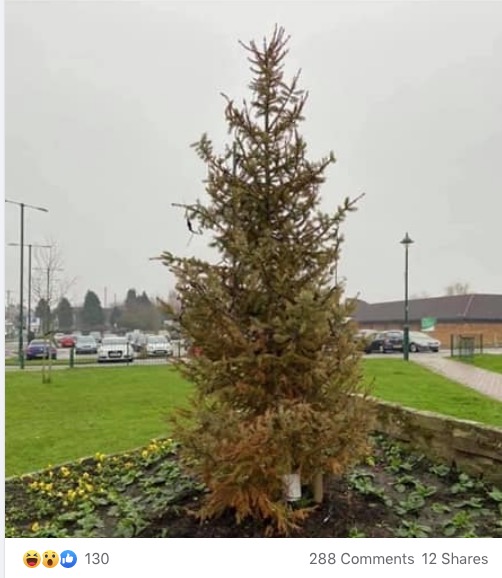 ‌​‌‌‌​‌‌‍‌​‌‌‌​‌​‍‌​‌‌‌​‌​
The tree has come under the media spotlight following a post on the Connah's Quay Group Facebook Page which has been commented on more than 280 times. ‌​‌‌‌​‌‌‍‌​‌‌‌​‌​‍‌​‌‌‌​‌​
Many have expressed disappointed with the towns efforts. ‌​‌‌‌​‌‌‍‌​‌‌‌​‌​‍‌​‌‌‌​‌​
Connah's Quay Christmas trees have been a bit of a regular on the pages of local newspapers and websites in recent years, mainly because of mindless vandalism. ‌​‌‌‌​‌‌‍‌​‌‌‌​‌​‍‌​‌‌‌​‌​
In 2017 it was attacked three times prompting a £200 reward to be put up to find the culprits. ‌​‌‌‌​‌‌‍‌​‌‌‌​‌​‍‌​‌‌‌​‌​
Garden Centre comes to the rescue after 'mindless vandals' wreck Connah's Quay Christmas Tree, £200 reward also put up to find culprits – https://t.co/pQfQT58U0J ‌​‌‌‌​‌‌‍‌​‌‌‌​‌​‍‌​‌‌‌​‌​

— DEESIDE.com (@DeesideDotCom) December 3, 2017 ‌​‌‌‌​‌‌‍‌​‌‌‌​‌​‍‌​‌‌‌​‌​
‌​‌‌‌​‌‌‍‌​‌‌‌​‌​‍‌​‌‌‌​‌​
Connah's Quay Christmas Tree attacked by vandals again: https://t.co/NwmNUA85Dl: ‌​‌‌‌​‌‌‍‌​‌‌‌​‌​‍‌​‌‌‌​‌​

— shockleyelectric (@shockleyelectrx) December 19, 2017 ‌​‌‌‌​‌‌‍‌​‌‌‌​‌​‍‌​‌‌‌​‌​
‌​‌‌‌​‌‌‍‌​‌‌‌​‌​‍‌​‌‌‌​‌​
Connah's Quay Town Council issued a statement following the Facebook Post last week. ‌​‌‌‌​‌‌‍‌​‌‌‌​‌​‍‌​‌‌‌​‌​
A spokesperson said: "Once again Christmas trees have become a talking point on social media" ‌​‌‌‌​‌‌‍‌​‌‌‌​‌​‍‌​‌‌‌​‌​
"At the request of the Town Council, Flintshire County Council very kindly supplied and planted a rooted Christmas tree in the bed near to the Connects centre as part of a tree planting project last year." ‌​‌‌‌​‌‌‍‌​‌‌‌​‌​‍‌​‌‌‌​‌​
"Due to the vandalism of the tree in previous years, it was hoped that a rooted tree would be safer and also kinder to the environment." ‌​‌‌‌​‌‌‍‌​‌‌‌​‌​‍‌​‌‌‌​‌​
"Unfortunately, the tree has not fared very well in its first year, and whilst not dead, it does not look healthy as pictures circulating on social media illustrate." ‌​‌‌‌​‌‌‍‌​‌‌‌​‌​‍‌​‌‌‌​‌​
"We have attempted to revive it with fertiliser and hope in time that it will thrive to become a focal point of positivity at Christmas." ‌​‌‌‌​‌‌‍‌​‌‌‌​‌​‍‌​‌‌‌​‌​
"Therefore, we will not be lighting this particular tree this year. We will do our best to look at other options for a Christmas tree this year and consider a longer term solution based on the feedback so far." ‌​‌‌‌​‌‌‍‌​‌‌‌​‌​‍‌​‌‌‌​‌​
Following a town council meeting on Wednesday, Cllr Bernie Attridge confirmed that a new 13 ft tree will go up in Connah's Quay on Saturday. ‌​‌‌‌​‌‌‍‌​‌‌‌​‌​‍‌​‌‌‌​‌​
We understand that this one will be lit up. ‌​‌‌‌​‌‌‍‌​‌‌‌​‌​‍‌​‌‌‌​‌​
Cllr Attridge tweeted: ‌​‌‌‌​‌‌‍‌​‌‌‌​‌​‍‌​‌‌‌​‌​
Update on Xmas tree after Town Council Meeting. The clerk of TC informed members that a 13FT tree is being put at the bottom of Wepre Drive on Saturday and the lights will be put on early next week. ‌​‌‌‌​‌‌‍‌​‌‌‌​‌​‍‌​‌‌‌​‌​

— @BernieAttridge (@bernieattridge) December 2, 2020 ‌​‌‌‌​‌‌‍‌​‌‌‌​‌​‍‌​‌‌‌​‌​
‌​‌‌‌​‌‌‍‌​‌‌‌​‌​‍‌​‌‌‌​‌​
Spotted something? Got a story? Send a Facebook Message | A direct message on Twitter | Email: News@Deeside.com
---
Latest News
---