Twenty "remarkable young apprentices" picked to represent Coleg Cambria at WorldSkills UK finals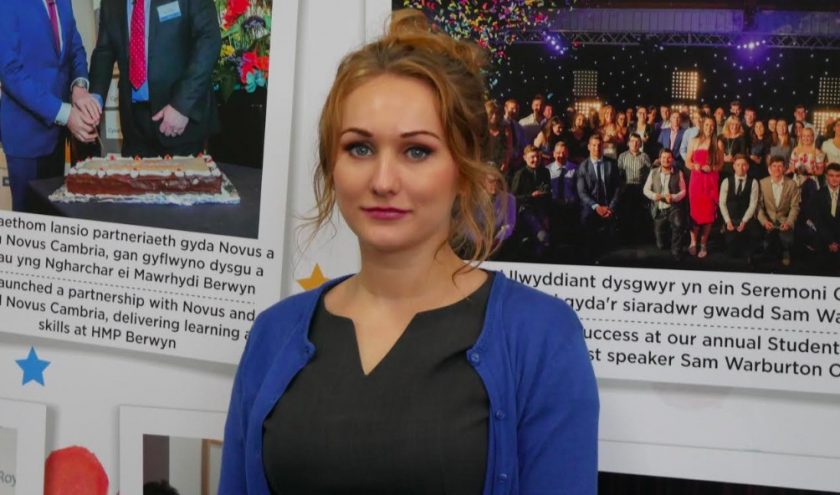 This article is old - Published: Thursday, Oct 11th, 2018

Coleg Cambria has produced the largest cohort of WorldSkills students in Wales thanks to its prominent industry links and business partnerships. ‌​‌‌‌​‌‌‍‌​‌‌‌​‌​‍‌​‌‌‌​‌​
The college has a growing reputation in the competition and strengthened that further this week by unveiling its 20-strong group for the WorldSkills UK finals, to be held at the NEC Birmingham in November. ‌​‌‌‌​‌‌‍‌​‌‌‌​‌​‍‌​‌‌‌​‌​
WorldskillsUK LIVE is the biggest skills, apprenticeships and careers event in the country, where the students will showcase the ability and experience they've gained at the college and with leading organisations in myriad sectors, from Airbus, Raytheon Systems and JCB Transmissions to Magellan Aerospace and Thomas Cook. ‌​‌‌‌​‌‌‍‌​‌‌‌​‌​‍‌​‌‌‌​‌​
Announcing their latest advance on the competition, Coleg Cambria chief executive David Jones spoke of his pride at sending such a vastly talented group to the finals. ‌​‌‌‌​‌‌‍‌​‌‌‌​‌​‍‌​‌‌‌​‌​
"To get to this level and represent the college and north east Wales is a major achievement and I'm very excited to see how well you do," said Mr Jones. ‌​‌‌‌​‌‌‍‌​‌‌‌​‌​‍‌​‌‌‌​‌​
"As we celebrate five years of Coleg Cambria we also mark five years since we began entering the WorldSkills competition. ‌​‌‌‌​‌‌‍‌​‌‌‌​‌​‍‌​‌‌‌​‌​
During that time we have got better and better, achieving medals and enhancing our reputation as one of the top colleges around – thank you, and good luck to you all." ‌​‌‌‌​‌‌‍‌​‌‌‌​‌​‍‌​‌‌‌​‌​
Rona Griffiths, Deputy Director for Learner Experience and Enterprise, has worked tirelessly to increase the number and quality of representatives Cambria sends to the contest, and was herself named WorldSkillsUK Local Heroes Winner in 2017. ‌​‌‌‌​‌‌‍‌​‌‌‌​‌​‍‌​‌‌‌​‌​
She believes this cohort is among "the elite" and is confident members of the team will progress further onto the global WorldSkills finals in Shanghai 2021. ‌​‌‌‌​‌‌‍‌​‌‌‌​‌​‍‌​‌‌‌​‌​
"You are 20 remarkable young apprentices with a variety of different skills and on top of this you are doing well in your studies and excelling in preparing for competition throughout the year," she said. ‌​‌‌‌​‌‌‍‌​‌‌‌​‌​‍‌​‌‌‌​‌​
"Getting to the WorldSkillsUK event in Birmingham means each of you is among the top eight people in your skill category, which is incredible. ‌​‌‌‌​‌‌‍‌​‌‌‌​‌​‍‌​‌‌‌​‌​
"You are the elite and a credit to the college and the companies you represent." ‌​‌‌‌​‌‌‍‌​‌‌‌​‌​‍‌​‌‌‌​‌​
Mrs Griffiths added: "At Cambria we work hard to find the very best training and placements, giving you the best opportunity to enter your chosen career when you graduate. ‌​‌‌‌​‌‌‍‌​‌‌‌​‌​‍‌​‌‌‌​‌​
"Together we have shined a light on north east Wales and shown – with our industry partners – that you belong on the global stage." ‌​‌‌‌​‌‌‍‌​‌‌‌​‌​‍‌​‌‌‌​‌​
The two most successful students to have represented Cambria at WorldSkills are Joe Massey and Ethan Davies, who competed for Team UK at the overall finals in Abu Dhabi last year. ‌​‌‌‌​‌‌‍‌​‌‌‌​‌​‍‌​‌‌‌​‌​
Joe received a Medallion of Excellence in Aircraft Maintenance, while Ethan shone in the CNC Milling category. ‌​‌‌‌​‌‌‍‌​‌‌‌​‌​‍‌​‌‌‌​‌​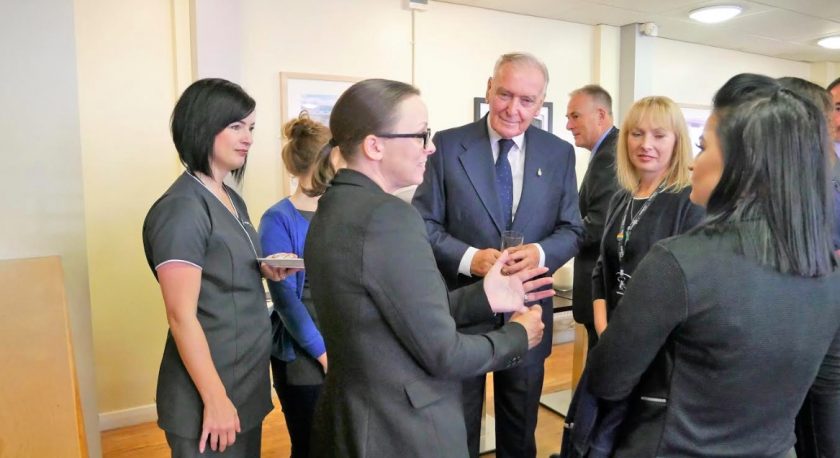 ‌​‌‌‌​‌‌‍‌​‌‌‌​‌​‍‌​‌‌‌​‌​
‌​‌‌‌​‌‌‍‌​‌‌‌​‌​‍‌​‌‌‌​‌​
The final word went to Lord Barry Jones. A champion of industry and education for many years, he was in attendance and gave an inspiring, passionate rallying cry, urging the students to do their very best over the three days of competition. ‌​‌‌‌​‌‌‍‌​‌‌‌​‌​‍‌​‌‌‌​‌​
"I am so lucky to be in front of you and hear this story of great success, going up against the best out there and showing them how good you are," said Lord Jones, former MP for Alyn and Deeside. ‌​‌‌‌​‌‌‍‌​‌‌‌​‌​‍‌​‌‌‌​‌​
"Coleg Cambria is the leading FE institution in England and Wales, it has a great reputation and track record and is like a powerful locomotive helping industry and creating prosperity for work and wealth. ‌​‌‌‌​‌‌‍‌​‌‌‌​‌​‍‌​‌‌‌​‌​
"I'm looking at the faces of the most highly skilled people in the land; you have a great future, you represent this great college but also the nation. ‌​‌‌‌​‌‌‍‌​‌‌‌​‌​‍‌​‌‌‌​‌​
"There is nothing better, there is no-one better – you are brilliant." ‌​‌‌‌​‌‌‍‌​‌‌‌​‌​‍‌​‌‌‌​‌​
Those selected as UK finalists are: ‌​‌‌‌​‌‌‍‌​‌‌‌​‌​‍‌​‌‌‌​‌​
Aeronautical Engineering: Mechanical – Laura Green (Airbus UK) Matthew Kilner (Coleg Cambria) James Armstrong (Coleg Cambria) Oscar Jackson (Thomas Cook) Sarah Timperon (Thomas Cook) David Davies (Raytheon Systems) ‌​‌‌‌​‌‌‍‌​‌‌‌​‌​‍‌​‌‌‌​‌​
Beauty Therapy: Body – Karolina Witkowska – Pictured above (Coleg Cambria)  ‌​‌‌‌​‌‌‍‌​‌‌‌​‌​‍‌​‌‌‌​‌​
Customer Service – George Sears (Coleg Cambria) ‌​‌‌‌​‌‌‍‌​‌‌‌​‌​‍‌​‌‌‌​‌​
Electrical Installation – Thomas Williamson (Coleg Cambria) ‌​‌‌‌​‌‌‍‌​‌‌‌​‌​‍‌​‌‌‌​‌​
IT Support Technician – Kai Taylor (Coleg Cambria) ‌​‌‌‌​‌‌‍‌​‌‌‌​‌​‍‌​‌‌‌​‌​
Manufacturing Team Challenge – Alfie Beeson (JCB Transmissions) Ieuan Edwards (Magellan Aerospace) Kim McKee (Magellan Aerospace) Lewis Rock (Magellan Aerospace) Tomos Davies (JCB Transmissions) Cameron Pemberton (JCB Transmissions) ‌​‌‌‌​‌‌‍‌​‌‌‌​‌​‍‌​‌‌‌​‌​
Mechanical Engineering: CAD – Logan Mcgillivray (Coleg Cambria) ‌​‌‌‌​‌‌‍‌​‌‌‌​‌​‍‌​‌‌‌​‌​
Nail Technician – Sian Plant (Coleg Cambria) ‌​‌‌‌​‌‌‍‌​‌‌‌​‌​‍‌​‌‌‌​‌​
Sheet Metal Work: Technology – Oliver Artell-Bolland (Coleg Cambria) ‌​‌‌‌​‌‌‍‌​‌‌‌​‌​‍‌​‌‌‌​‌​
Welding – David Duncan (Coleg Cambria) ‌​‌‌‌​‌‌‍‌​‌‌‌​‌​‍‌​‌‌‌​‌​
Spotted something? Got a story? Send a Facebook Message | A direct message on Twitter | Email: News@Deeside.com
---
Latest News
Deeside based Redrow signs pact with Welsh Government to address fire safety concerns in high-rise buildings
---