Call for drivers to respect Eryri (Snowdonia) National Park ahead of bank holiday and half term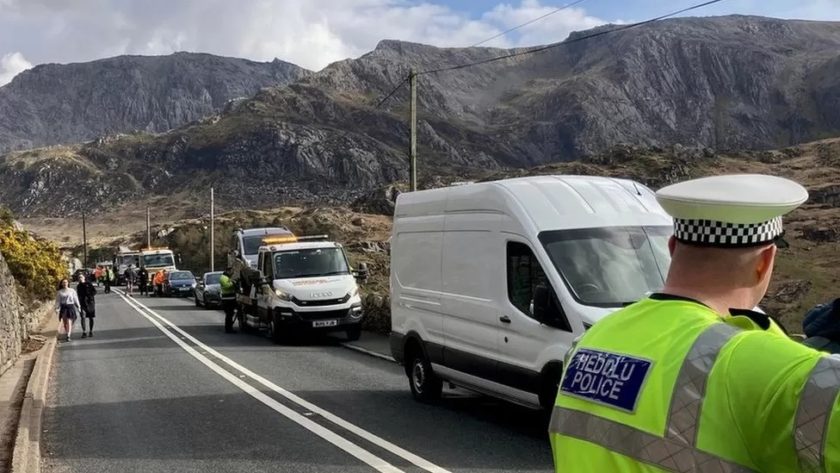 As the bank holiday and half term approach, the National Park Authority, Traffic Wales, and North Wales Police are coming together to urge visitors to enjoy Eryri (Snowdonia) National Park sustainably. ‌​‌‌‌​‌‌‍‌​‌‌‌​‌​‍‌​‌‌‌​‌​
Eryri National Park is an area of exceptional natural beauty that attracts visitors from far and wide. However, the surge in popularity also brings challenges to the delicate balance of the environment and local communities. ‌​‌‌‌​‌‌‍‌​‌‌‌​‌​‍‌​‌‌‌​‌​
To ensure the preservation of this remarkable area, it is crucial that visitors adopt sustainable practices and adhere to the guidance provided. ‌​‌‌‌​‌‌‍‌​‌‌‌​‌​‍‌​‌‌‌​‌​
Chief Inspector Gethin Jones of North Wales Police highlighted the dangers posed by irresponsible parking, emphasising the risks to pedestrians, cyclists, and other road users. ‌​‌‌‌​‌‌‍‌​‌‌‌​‌​‍‌​‌‌‌​‌​
CI Jones said: "Irresponsible parking not only endangers pedestrians, cyclists and other road users but also prevents emergency vehicle access." ‌​‌‌‌​‌‌‍‌​‌‌‌​‌​‍‌​‌‌‌​‌​
"We have previously witnessed pedestrians with young children, having to walk in the road in areas such as Llyn Ogwen and Pen-y-Pass because of the selfish actions of a minority – this is clearly unacceptable. Only recently we had cause to close the A5 because of the dangers posed to road users." ‌​‌‌‌​‌‌‍‌​‌‌‌​‌​‍‌​‌‌‌​‌​
"We will continue to work with our partners to help reduce the risk to all road users, and anybody found to be parked on the clearway or causing an obstruction risk having their vehicle removed at their own expense. Please heed the warning." ‌​‌‌‌​‌‌‍‌​‌‌‌​‌​‍‌​‌‌‌​‌​
Parking and transport regulations play a vital role in managing the influx of visitors to popular hotspots within the National Park. ‌​‌‌‌​‌‌‍‌​‌‌‌​‌​‍‌​‌‌‌​‌​
Traffic Wales and local authorities have implemented measures to address congestion and ensure the safety of all road users. ‌​‌‌‌​‌‌‍‌​‌‌‌​‌​‍‌​‌‌‌​‌​
Visitors are encouraged to check websites and social media channels for information on parking availability, alternative transport options, and live traffic updates. ‌​‌‌‌​‌‌‍‌​‌‌‌​‌​‍‌​‌‌‌​‌​
A spokesperson for Traffic Wales said: ‌​‌‌‌​‌‌‍‌​‌‌‌​‌​‍‌​‌‌‌​‌​
"We want as many people as possible to enjoy what the National Park has to offer safely and responsibly. ‌​‌‌‌​‌‌‍‌​‌‌‌​‌​‍‌​‌‌‌​‌​
All road users should plan ahead and avoid disruption by considering more sustainable options for their journeys, travelling outside peak times and, if arriving by car, parking in designated parking areas." ‌​‌‌‌​‌‌‍‌​‌‌‌​‌​‍‌​‌‌‌​‌​
All organisations are emphasising the importance of following the Countryside Code, being aware of parking and transport regulations, and having a backup plan. ‌​‌‌‌​‌‌‍‌​‌‌‌​‌​‍‌​‌‌‌​‌​
We are also pleased to announce the release of new sustainable visit guides available on the National Park Authority's website. ‌​‌‌‌​‌‌‍‌​‌‌‌​‌​‍‌​‌‌‌​‌​
Emyr Williams, the National Park Authority Chief Executive said: ‌​‌‌‌​‌‌‍‌​‌‌‌​‌​‍‌​‌‌‌​‌​
"By launching the new visiting guides section on our website, we are empowering visitors to experience Eryri sustainably, explore the area without a car, and choose the right path for Yr Wyddfa. ‌​‌‌‌​‌‌‍‌​‌‌‌​‌​‍‌​‌‌‌​‌​
These guides serve as invaluable resources, providing insights and practical tips that will enable individuals to make informed decisions, reduce their impact on the environment, and ensure a memorable and responsible visit to our cherished National Park." ‌​‌‌‌​‌‌‍‌​‌‌‌​‌​‍‌​‌‌‌​‌​
During peak periods, visitors to the National Park are encouraged to use the Park and Ride facilities or dedicated parking areas if arriving by car. ‌​‌‌‌​‌‌‍‌​‌‌‌​‌​‍‌​‌‌‌​‌​
Visitors who wish to use the Pen y Pass car park must pre-book their parking space to ensure availability and alleviate congestion. ‌​‌‌‌​‌‌‍‌​‌‌‌​‌​‍‌​‌‌‌​‌​
Vehicle owners should abide by the new parking restrictions in the Ogwen Valley, as failure to do so may result in the issuing of a penalty charge notice (PCN) or even the removal of the vehicle. ‌​‌‌‌​‌‌‍‌​‌‌‌​‌​‍‌​‌‌‌​‌​
Additionally, respecting the community of Nant Gwynant by following local guidelines, being mindful of noise and take all litter home with you. ‌​‌‌‌​‌‌‍‌​‌‌‌​‌​‍‌​‌‌‌​‌​
‌​‌‌‌​‌‌‍‌​‌‌‌​‌​‍‌​‌‌‌​‌​
‌​‌‌‌​‌‌‍‌​‌‌‌​‌​‍‌​‌‌‌​‌​
Spotted something? Got a story? Send a Facebook Message | A direct message on Twitter | Email: News@Deeside.com
---
Latest News
---