Airline boss donates former RAF training jet to Deeside engineering students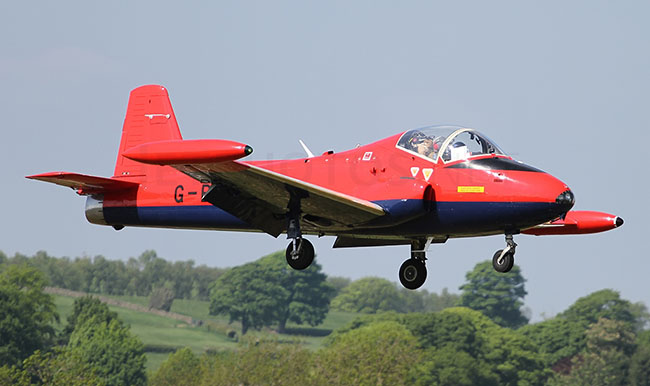 This article is old - Published: Wednesday, Jul 25th, 2018
The Executive Chairman of airline Jet2.com has donated a former RAF training jet to Coleg Cambria to help students get a hands-on experience of working on an aircraft. ‌​‌‌‌​‌‌‍‌​‌‌‌​‌​‍‌​‌‌‌​‌​
Philip Meeson, whose nephew is completing an aerospace apprenticeship with Cambria and Broughton-based wingmakers Airbus, donated his own Jet Provost T5 aircraft to the college's Deeside Campus. ‌​‌‌‌​‌‌‍‌​‌‌‌​‌​‍‌​‌‌‌​‌​
Nick Tyson, Assistant Principal and Director of Learning, said the plane will add another dimension to the award-winning department's innovative delivery of work-based learning. ‌​‌‌‌​‌‌‍‌​‌‌‌​‌​‍‌​‌‌‌​‌​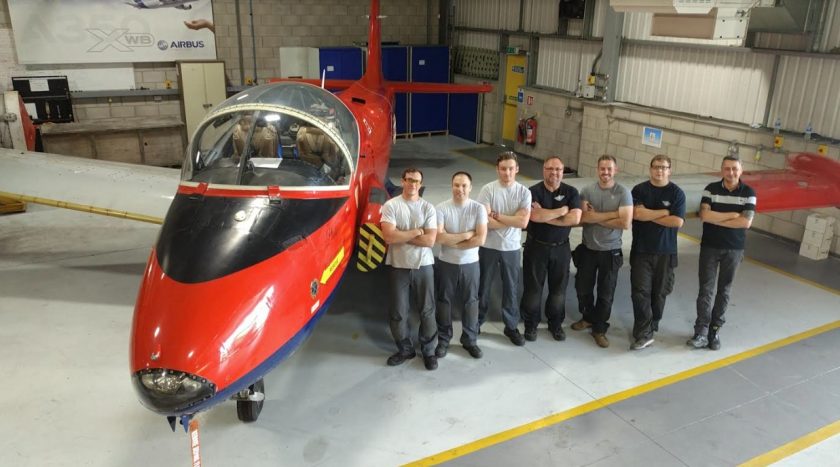 ‌​‌‌‌​‌‌‍‌​‌‌‌​‌​‍‌​‌‌‌​‌​
Geoffrey Peacocke (Airbus apprentice and Mr Meeson's nephew) with Airbus apprentices, Weald Aviation and Mark Kiberd, an Aerospace lecturer at Coleg Cambria. This team effectively dismantled , transported and re-assembled the aircraft at Deeside.
He thanked Mr Meeson for the gift, and added: ‌​‌‌‌​‌‌‍‌​‌‌‌​‌​‍‌​‌‌‌​‌​
"Having the Provost T5 on campus is a major selling point for our engineering courses as it gives students hands-on experience of working on an airplane. ‌​‌‌‌​‌‌‍‌​‌‌‌​‌​‍‌​‌‌‌​‌​

We can use it to train our aerospace apprentices – of which we have more than 180 every year – and those studying on our higher education programmes and summer school qualifications. ‌​‌‌‌​‌‌‍‌​‌‌‌​‌​‍‌​‌‌‌​‌​

They'll be able to look at structures, carry out live aircraft function testing and work out aircraft processes directly, so it will be incredible training for them. ‌​‌‌‌​‌‌‍‌​‌‌‌​‌​‍‌​‌‌‌​‌​

I would like to thank Mr Meeson and for his kindness, we all appreciate his generosity and look forward to many years of working on the jet plane." ‌​‌‌‌​‌‌‍‌​‌‌‌​‌​‍‌​‌‌‌​‌​
The Provost was used by the Royal Air Force from 1955 to 1993 as a British training jet before later being developed into a more heavily armed version for ground attack missions. ‌​‌‌‌​‌‌‍‌​‌‌‌​‌​‍‌​‌‌‌​‌​
With a maximum speed of almost 440mph, the aircraft is around 40ft long with a wingspan of 35ft. ‌​‌‌‌​‌‌‍‌​‌‌‌​‌​‍‌​‌‌‌​‌​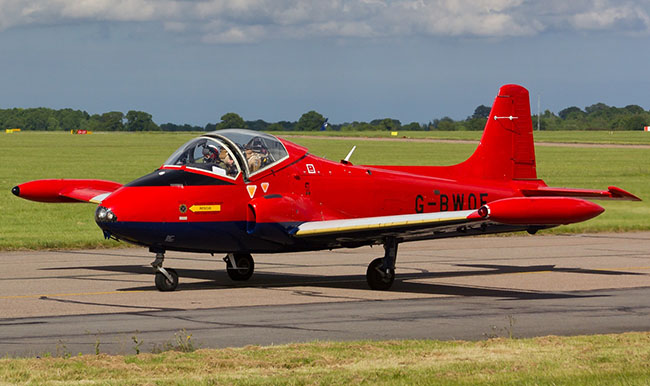 ‌​‌‌‌​‌‌‍‌​‌‌‌​‌​‍‌​‌‌‌​‌​
The Jet Provost donated to Coleg Cambria was the fifth production T.5 built by BAC out of 110 ordered by the RAF. It emerged from BAC Warton's factory in the summer of 1969 and formally released ready for RAF service on 16th September the same year.
Philip Meeson said: ‌​‌‌‌​‌‌‍‌​‌‌‌​‌​‍‌​‌‌‌​‌​
"I am very proud and pleased to donate my Jet Provost aircraft to Coleg Cambria and that it will be used to train Airbus apprentices. ‌​‌‌‌​‌‌‍‌​‌‌‌​‌​‍‌​‌‌‌​‌​

I know the college provides a fantastic start for the Airbus engineers of the future and I am delighted to have been able to make this contribution." ‌​‌‌‌​‌‌‍‌​‌‌‌​‌​‍‌​‌‌‌​‌​
The addition of the jet comes after the Engineering department hosted the prestigious two-day EEF (Engineering Employers Federation) conference at Cambria's new £10m Bersham Road facility in Wrexham. ‌​‌‌‌​‌‌‍‌​‌‌‌​‌​‍‌​‌‌‌​‌​
Up to 25 further education lecturers came together for a packed programme of workshops and activities centred on best practice and innovative learning methods, including an advanced manufacturing visit to Airbus. ‌​‌‌‌​‌‌‍‌​‌‌‌​‌​‍‌​‌‌‌​‌​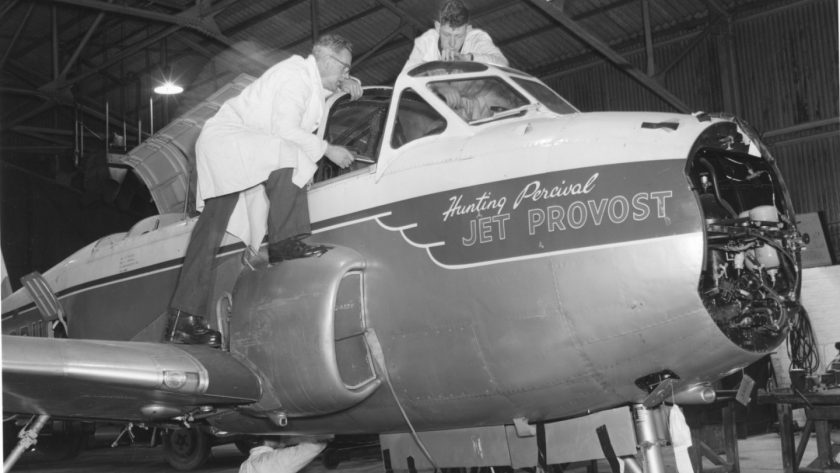 ‌​‌‌‌​‌‌‍‌​‌‌‌​‌​‍‌​‌‌‌​‌​
baesystems.com
The Jet Provost was initially developed as a jet engine modification of the piston-engine P.56 Provost, retaining to original wing structure mated to a new fuselage. ‌​‌‌‌​‌‌‍‌​‌‌‌​‌​‍‌​‌‌‌​‌​
It was built as a private venture by Hunting Percival Aircraft Limited at Luton Airport. ‌​‌‌‌​‌‌‍‌​‌‌‌​‌​‍‌​‌‌‌​‌​
The P.84 Jet Provost prototype (XD674) first flew at Luton on 26th June 1954 with Dick Wheldon at the controls. ‌​‌‌‌​‌‌‍‌​‌‌‌​‌​‍‌​‌‌‌​‌​
The aircraft was developed in liaison with the RAF Flying Training Command to ensure that it incorporated many of their desired characteristics such as easy instructional processes and low cost maintenance. ‌​‌‌‌​‌‌‍‌​‌‌‌​‌​‍‌​‌‌‌​‌​
Later flight testing at Boscombe Down refined some of the designs and in Febraury 1955 the first of 10 pre-production aircraft took to the air. ‌​‌‌‌​‌‌‍‌​‌‌‌​‌​‍‌​‌‌‌​‌​
Just 3 months later 3 aircraft were assigned to the Central Flying School for assessment into an 'Ab Initio' ('from the beginning') training role. ‌​‌‌‌​‌‌‍‌​‌‌‌​‌​‍‌​‌‌‌​‌​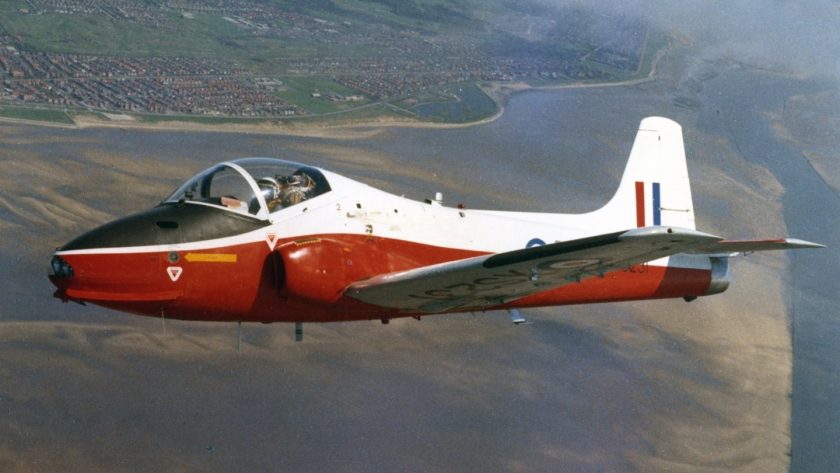 ‌​‌‌‌​‌‌‍‌​‌‌‌​‌​‍‌​‌‌‌​‌​
baesystems.com
A number of design changes and refinements were made by Hunting Percival and the T2 made its maiden flight on 1st September 1955. ‌​‌‌‌​‌‌‍‌​‌‌‌​‌​‍‌​‌‌‌​‌​
The T2 was purely a development variant and a number visited Scandanavia for winterization trials during the winter of that year. ‌​‌‌‌​‌‌‍‌​‌‌‌​‌​‍‌​‌‌‌​‌​
In 1957 Hunting Percival received their first tangible success for Jet Provost when a production order was received for 40 T3 aircraft with the increased power Armstrong Siddeley Viper engine, ejector seats and a revised undercarriage arrangement. ‌​‌‌‌​‌‌‍‌​‌‌‌​‌​‍‌​‌‌‌​‌​
In total, 201 T3's were built at Luton between 1958 and 1962 although the T4 variant was already underway by mid-1960. ‌​‌‌‌​‌‌‍‌​‌‌‌​‌​‍‌​‌‌‌​‌​
The T4 carried an improved Viper ASV.11 power unit and it was very quickly adopted into RAF service by the key training facilities at Cranwell, Little Rissington, Linton-on-Ouse as well as RAF Leeming and RAF Ackington. ‌​‌‌‌​‌‌‍‌​‌‌‌​‌​‍‌​‌‌‌​‌​
198 T4's were built before a further engine upgrade and the addition of pressurisation saw the arrival of the T.5 which first flew on 28th February 1967. ‌​‌‌‌​‌‌‍‌​‌‌‌​‌​‍‌​‌‌‌​‌​
‌​‌‌‌​‌‌‍‌​‌‌‌​‌​‍‌​‌‌‌​‌​
baesystems.com – BAC Jet Provost T5s in formation (XW291 – now with Coleg Cambria, XW288, XW293 & XW289)
Numerous militarised export versions of the T5 saw aircraft (T51) serving with air forces in Ceylon (Sri Lanka), Kuwait and Sudan as well as T52's in Iraq, South Yemen, Sudan and Venezuela. ‌​‌‌‌​‌‌‍‌​‌‌‌​‌​‍‌​‌‌‌​‌​

In October 1967, the new BAC Strikemaster took to the skies and so dawned a new era for the iconic design which started out as a private venture for Hunting Percival Aircraft over 15 years earlier. ‌​‌‌‌​‌‌‍‌​‌‌‌​‌​‍‌​‌‌‌​‌​

Jet Provosts remain in service into the 1990's and due to its easy and inexpensive maintainance, a number still remain in flying and taxiable condition in private hands today. ‌​‌‌‌​‌‌‍‌​‌‌‌​‌​‍‌​‌‌‌​‌​

Additional info via BAE Systems.  ‌​‌‌‌​‌‌‍‌​‌‌‌​‌​‍‌​‌‌‌​‌​

‌​‌‌‌​‌‌‍‌​‌‌‌​‌​‍‌​‌‌‌​‌​
Spotted something? Got a story? Send a Facebook Message | A direct message on Twitter | Email: News@Deeside.com
---
Latest News
---