NOTE: This content is old - Published: Sunday, Dec 9th, 2018.
A long-awaited speed limit reduction on a stretch of road in Flintshire which has seen over 15 crashes in recent years has come into force.
A section of Northop Road through Flint Mountain has now been reduced from 50mph to 40mph.
Councillors were asked to highlight speed limit concerns within their own wards and as a result, over 100 requests for speed limit reviews were received by Flintshire Council.
Each request was assessed against Department for Transport (DfT) criteria to determine if changes to the existing speed limit could be made.
Fifteen stretches of Flintshire road have been earmarked for speed limit reductions however, these proposals were held up by several former highways professionals raising technical issues.
In September Cllr Carolyn Thomas cabinet member for Streetscene and environment, said the delays were due to "serial objectors" who are not just normal residents "but people who think it should be done their way."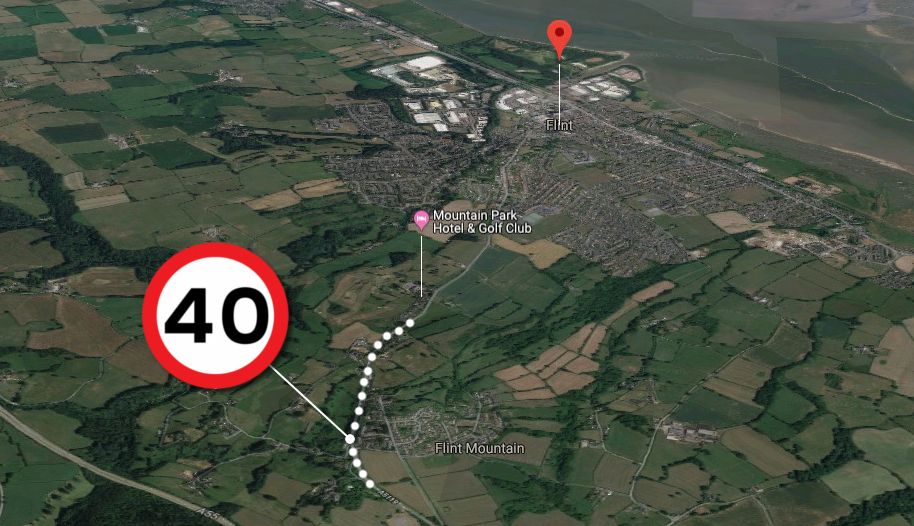 [White dots show the section of road where the new speed limit has come into force]
Cllr's Paul Cunningham and Vicky Perfect put forward the proposal for a speed limit reduction on the A5119 Northop Road.
The new speed limit, which came into force on Friday, December 7 has seen the section of the road from the layby past Pentre Hill to Lon Y Plas reduced to 40mph. 
The section which includes Coach and Horses Hill was recently reduced from national speed limit to 50mph, but due to the accident history on the road it was agreed to reduce the speed limit further. 
On another stretch of the road, a restricted speed limit, where a 30mph speed limit is in place, has been extended back along the A5119 from the petrol station.
It means those heading towards Flint will need to reduce speed around 230 metres prior to the petrol station.
Signs were put in place on Friday though 50mph markings painted on the road remained in place.
Steve Jones, Flintshire Council Chief Officer Streetscene and Transportation said;
"The speed limit has been changed in Flint Mountain from 50mph to 40mph.
The signs have been changed and the speed limit markings on the carriageway surface are being removed on Sunday by a specialist contractor."
A full copy of the speed reduction order can be downloaded from here.