NOTE: This content is old - Published: Thursday, Oct 11th, 2018.
From this Sunday passengers in Wales will have a new entity to rant at when it all goes a bit wrong on the railways.
After 15 years of trundling across the Welsh rail network, German owned Arriva Trains Wales will say Auf Wiedersehen and the dawn of a new era for rail passengers begins.
French-Spanish firm KeolisAmey, under the banner of 'Transport for Wales' will pick up where Arriva left off, and with the lofty promise that rail services across Wales will be "transformed within just five years."
James Price, Chief Executive of Transport for Wales, said "by 2023, 95% of passengers' journeys will take place on new, higher capacity trains and there will also be 285 extra services every weekday."
Commuters on the Wrexham to Bidston line will see 'new' class 230 trains from summer 2019, these are converted from retired London Underground D78 stock, some nearly 40 years old.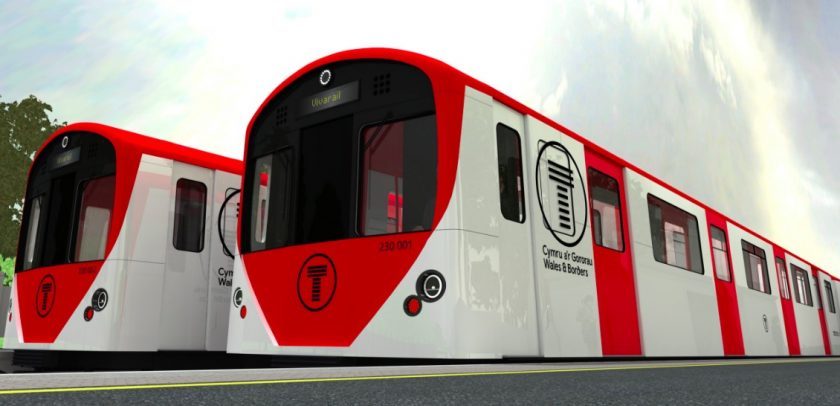 Rebranding began a few weeks ago and from Sunday, the Transport for Wales tidy looking logo will start to appear on uniforms, around stations and on trains and posters.
"Passengers will be welcomed by the same staff, and travel on the same trains on the same routes and timetables – and, importantly, their existing tickets will all still be valid as before.
Behind the scenes, lots more positive changes will be starting to happen, and we'll be keeping passengers informed all the way along." James Price said.
A "railmap" of improvements has now been published for customers "Coming Down the Track" details a "raft of transformational improvements" by 2025 that include:
-new and improved stations
-better services
-more carriages
-new and completely rebuilt trains
-better-value fares
-pay-as-you-go travelcards
-free wifi, improved accessibility for those with mobility problems at all stations
-new websites and apps to help passengers stay informed and buy tickets easily.
Mr Price explained that the Transport for Wales team has planned all improvements with the difference a reliable rail service makes to people's lives as the primary motivation. He said:
"We know what reliable rail travel actually means to people, and it's so much more than getting from A to B.

It's making a job interview in plenty of time, getting home in time to bath the children, or arriving at work well before your shift starts. This contract was awarded on the basis of exactly that – what it will deliver for passengers in Wales and the Borders.

So this timeline has been developed with the aim of giving people confidence that the train will get them where they need or want to be on time and in comfort, using a value-for-money, reliable, frequent service.

And not just to get to work or school, but also for days out and trips away – so, for example, we'll see new fare initiatives for 6 – 18 year olds by 2020, and there will be earlier first trains with 22% more Sunday services across Wales by 2020.

The improvements we need to get to that point – more, better trains and stations, new and more frequent services, additional capacity – will take some time to deliver."
Transport for Wales say some areas will see significant improvements more quickly – both north and south Wales will see additional services within a year.
There will also be new services between Chester and Liverpool in the first half of 2019, and extending two of those services to serve Wrexham.
The frequency of the service from Wrexham to Bidston which calls at Shotton will be doubled by 2022.
What do the changes mean for passengers in Wales and the Borders?
Day One – from 14th October 2018
-All existing tickets remain valid, including Multiplex, which will be valid for the next three months.
-A new customer website tfwrail.wales / trctrenau.cymru and app will be launched on 15th October for all information and queries.
-All Arriva Trains Wales staff will become TfW Rail Services staff, with new uniforms. (This is temporary, with plans to develop a new uniform in consultation with staff).
-TfW branding will be at stations and start to appear on some trains as well as on information leaflets and posters.
-Deep-cleaning of all stations begins
What does this mean for passengers in north Wales?
-Introduction of a direct service between Manchester Airport and Bangor from December 2022
-Planned introduction of new services from May 2019 between Chester and Liverpool Lime Street. Two of these services will be extended to serve Wrexham. We're working with the industry to ensure that rolling stock is available and that the timetable can accommodate these extra services.
-Frequency of Wrexham to Bidston service doubled by 2022
-Increase in frequency to three trains per hour on weekday services between Chester and Llandudno Junction from December 2022
-Extra services from Wrexham to Cardiff and Liverpool by 2023
-New direct services between Manchester Airport and Bangor by 2023
-Investment at Blaenau Ffestiniog station by 2023 and at Shotton and Wrexham General stations by 2024
-Extra services on summer Sundays for the north Cambrian coast by 2024
What does this mean for passengers in The Borders?
-New services between Chester and Liverpool from 2019
-Delivery of the North East Wales Metro with increased frequency to two trains per hour on the Wrexham to Bidston line from December 2021
-Introduction of a new Liverpool to Llandudno service (one train per hour), a Liverpool to Shrewsbury service (one train per hour) and a Liverpool to Cardiff service (one train every two hours) by December 2022
-New direct services between Manchester Airport and Bangor by 2023
-Extra services from Wrexham to Cardiff and Liverpool by 2023
-Doubling of the frequency of the weekday Shrewsbury to Chester service from December 2022
-Extra services from Shrewsbury to Aberystwyth by 2023
-Additional summer Sunday services between Tywyn and Pwllheli from May 2023 to include, from 2025, a new express service every hour between major centres
-Introduction of a new first-class service from Swansea to Manchester from 2024