UPDATED: Supermarkets in Wales will only be allowed to sell 'essential' items during Covid-19 fire-break lockdown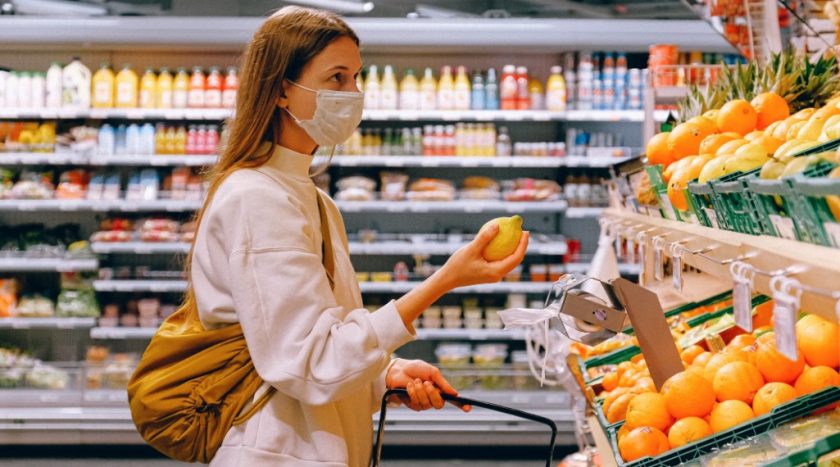 Supermarkets in Wales will not be allowed to sell 'non-essential' items during the two week firebreak lockdown with the aim to level the playing field with small and high street stores, the first minister has announced.
As part of the lockdown, which starts at 6pm this evening, all non-essential shops, leisure and hospitality will be required to close until Monday 9 November.
However the Federation of Small Businesses (FSB) has raised concerns about the move creating an unfair advantage if supermarkets are able to continue selling non-essential items.
They said at a time when small businesses on the high street are forced to close, it would be an "unacceptable advantage" for supermarkets particularly in the run-up to Christmas.
Speaking in a Senedd committee on Thursday, Conservative MS Russell George: "In regards to which businesses are required to close, in the previous lockdown there were businesses such as clothing, hardware shops were required to close.
"Businesses such as Asda, Morrisons, Tesco, were selling those items of clothing and hardware, and it felt very wrong and disproportionate to the small businesses.
First Minister Mark Drakeford said: "I think in the first set of restrictions people were reasonably understanding of the fact that supermarkets didn't close all the things that they may have needed to.
"I don't think people will be as understanding this time, and we will be making it clear to supermarkets they are only able to open those parts of their business that provide essential goods to people – and that will not include some of the things that Russell George has mentioned that other people are prevented from selling."
"So we will make sure that there is a more level playing field in those next two weeks."
This afternoon's Welsh Government briefing saw the first minister face a number questions over the decision to restrict the likes of supermarkets from selling non-essential items.
However Mr Drakeford stated it was a "simple matter of fair play."
He said: "We are requiring many hundreds of small businesses to close on the high street right across Wales."
"We cannot do that and then allow supermarkets to sell goods that those people are unable to sell."
"We are looking to minimise the amount of time that people spend out of their homes during this two week period. This is not a period to be browsing around supermarkets looking for non essential goods."
Asked by ITV over accusations that he has announced the ban on non-essential goods is due to his form of politics being "all about micromanaging and favouring restrictions and regulations," the first minister said such comments are "plainly nonsensical."
Mr Drakeford said: "I'm not prepared to treat small businesses in Wales in one way, requiring them to close – they are not able to earn a living during these two weeks as part of our national efforts.
"Simply because another sector in society are more powerful, are bigger, that they think that they can be treated differently. It is a straightforward matter of fairness.
"We are in this together here Wales. No individual and no organisation is above the efforts that we are all required to me.
"That includes people who may believe that they themselves are beyond the law and includes those organisations that are large and powerful.
"We treat everybody the same. The obligations on every one of us are the same, that's the way we will be doing it in Wales"
With the 'fairness' argument being made, we asked for detail on what action is being taken for internet retailers to limit their offer, and also with hospitality closing would alcohol sales be stopped in supermarkets to ensure fair play.
The first minister replied: "Alcohol sales in supermarkets are already restricted and we've introduced rules there that apply in Wales that don't apply anywhere else.
"The supermarket sector is a very mature, a very responsible sector, it will want to do the right thing. It's demonstrated that in the way that it implements our alcohol rules here in Wales, we have every confidence that it will do the right thing in relation to the sale of non essential goods.
"The Welsh Government doesn't have the powers to do things about internet sales. That is a UK wide responsibility that only the UK Government can discharge.
"I've had many conversations with the retail consortium here in Wales before the pandemic about the unfairness of the system in which internet businesses are treated in one way and high street businesses are treated in another way.
"Previously we made the case to the Chancellor of the Exchequer to change the rules for online businesses so that they contribute their fair share to the national effort in terms of taxation, in terms of the way they trade alongside other businesses, but those are not decisions that lie in the hands of the Welsh Government."
Welsh Conservative health spokesperson, Andrew RT Davies MS said:
"This is yet another example of power going to the heads of Welsh Labour ministers.
"This is a dangerous path for Mark Drakeford and his fellow socialist commissars to go down as who are they to determine what is essential? That varies by individual and should not be a decision taken by the state.
"The Welsh Labour Government has massively over-stepped the mark as you can't lockdown the economy and society in Wales, but allow essential retail to open, only to demand certain areas of their stores are shut.
"It's power-crazed nonsense that isn't backed by any science whatsoever and comes at a time when the full focus of the Welsh Labour Government should be on tackling hospital-acquired coronavirus infections which are out of control.
"Regrettably, Welsh Labour ministers appear to have lost their minds."
Businesses or services whose premises must be closed
Any business selling goods or services for sale or hire in a shop, including—
homeware stores;
nail and beauty salons;
establishments providing tanning services, massage services, body piercings, tattooing, electrolysis or acupuncture;
auction houses;
car dealerships;
markets;
betting shops;
Hair salons and barbers;
garden centres and plant nurseries.
Shopping centres and shopping arcades.
Cinemas.
Theatres.
Nightclubs, discotheques, dance halls or other venues where live or recorded music is provided for members of the public or members of the venue to dance.
Sexual entertainment venues (within the meaning given by paragraph 2A of Schedule 3 to the Local Government (Miscellaneous Provisions) Act 1982(1)).
Bingo halls.
Concert halls.
Casinos.
Skating rinks.
Swimming pools.
Leisure centres and leisure facilities including indoor fitness studios, gyms and spas. (1) 1982 c.
Sports courts, skate parks, bowling greens, golf courses and enclosed sports grounds or pitches (whether outdoors or indoors).
Bowling alleys, amusement arcades and indoor play areas
Museums, galleries and archive services.
Funfairs, amusements parks and theme parks.
Visitor attractions and holiday, leisure activity or events businesses.
Recycling centres.
Libraries.
Estate or letting agents, developer sales offices and show homes.
Venues for events or conferences (including venues for weddings other than places of worship and registry offices).
Business or services whose premises must be closed but to which limited access is allowed 
Premises selling food and drink for consumption on the premises
Restaurants, including restaurants and dining rooms in members' clubs and on the premises of businesses listed in Chapter 2 of this Part.[Hotels and holiday accommodation]
 Cafés, including workplace canteens and cafés on the premises of businesses listed in Chapter 2 of this Part.
Bars, including bars in members' clubs and on the premises of businesses listed in Chapter 2 of this Part.
Public houses.
CHAPTER 2
Hotels and holiday accommodation
Holiday sites.
Camping sites.
Hotels and bed and breakfast accommodation.
Other holiday accommodation (including holiday apartments, hostels and boarding houses).
Places of worship.
Community centres.
Crematoriums.
Businesses and services whose premises may be open
Food retailers, including food markets, supermarkets, convenience stores, corner shops and establishments selling food or drink for consumption off the premises (including premises authorised for the sale or supply of alcohol for consumption off the premises).
Cafés and canteens at a hospital, care home, school or within accommodation provided for students.
Canteens at a prison or an establishment intended for use for naval, military or air force purposes or for the purposes of the Department of the Secretary of State responsible for defence.
Hospital libraries and libraries at educational establishments.
Newsagents.
Building supplies and hardware stores.
Pharmacies (including non-dispensing pharmacies) and chemists.
Bicycle shops.
Petrol stations.
Car repair and MOT services.
Taxi or vehicle hire businesses.
Banks, building societies, credit unions, short term loan providers, savings clubs, cash points and undertakings which by way of business operate currency exchange offices, transmit money (or any representation of money) by any means or cash cheques which are made payable to customers.
Post offices.
Laundrettes and dry cleaners.
Dental services, opticians, audiology services, chiropody, chiropractors, osteopaths and other medical Certified copy from legislation.gov.uk Publishing 39 or health services, including services relating to mental health.
Veterinary surgeons and pet shops.
Agricultural or aquacultural supplies shops.
Livestock markets or auctions.
Funeral directors.
Spotted something? Got a story? Send a Facebook Message | A direct message on Twitter | Email: News@Deeside.com