NOTE: This content is old - Published: Thursday, Jun 14th, 2018.
Update: The A548 Coast Road has re-opened, the fallen tree removed and accident cleared between Station Road (Greenfield) and Hafod-Y-Ddol Road (Llannerch-y-mor).
Two cars had collided and brought down a tree,  a lamp post and further trees came down in the wind.
Connah's Quay – Cable Street both ways at Tuscan Way remains closed due to a tree which has been blown down.
Previous Report: There are reports that A548 Bagillt Road is blocked both ways due to an accident and a tree and a lamp post down, more trees have been blown down due to strong winds, the collision happened around 6.30am.
There is also a lane closure on the Westbound A548 between A5119 Church Street and A5026, a tree has come down near to Black and White Security.
North Wales Police have said:
"A548 outside Knitmesh in Greenfield is currently closed following an RTC caused by high winds and trees down in the road. Please take care, and take alternate routes while officers deal."
Buses have been affected by the road closure Arriva say: '1M / 11G Holywell – Rhyl: there will be a shuttle service to the villages between Prestatyn and Maes Pennant – 11 Chester – Holywell: this service is caught in the traffic due to the road closure.'
Latest traffic reports say:
"Road closed due to fallen tree and accident, two vehicles involved on A548 both ways between Station Road and Hafod-y-ddol Road.
Two cars have collided and brought down a tree, with a lamp post and further trees also coming down in the wind. The scene is currently being cleared by local council."
David Jones got in touch to say: "Be careful on A548 between Mostyn and Greenfield. Trees down and cars involved.'
Strong winds are expected to hit the area today with gusts of around 40mph expected.
A tree has been blown down in Connah's Quay near to the cricket ground blocking Cable Street both ways at Tuscan Way.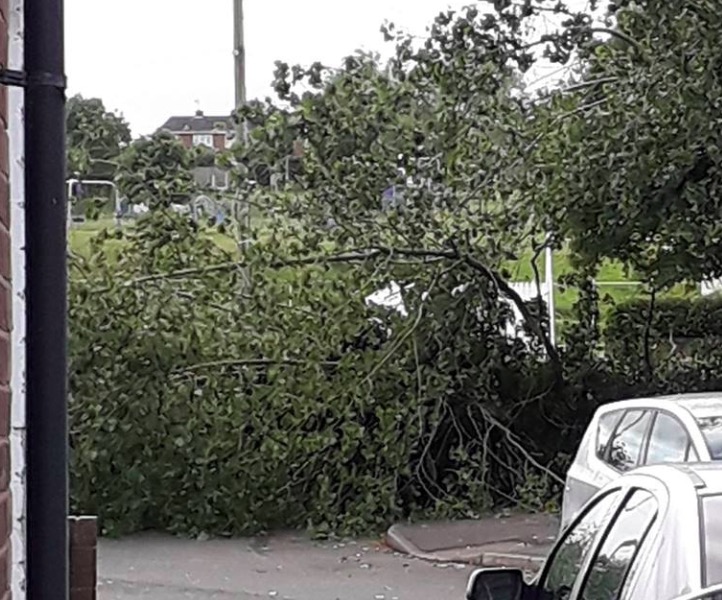 [📷 Nez Stout]