John Summers building on a national architecture charity's 'Top 10' list of most endangered buildings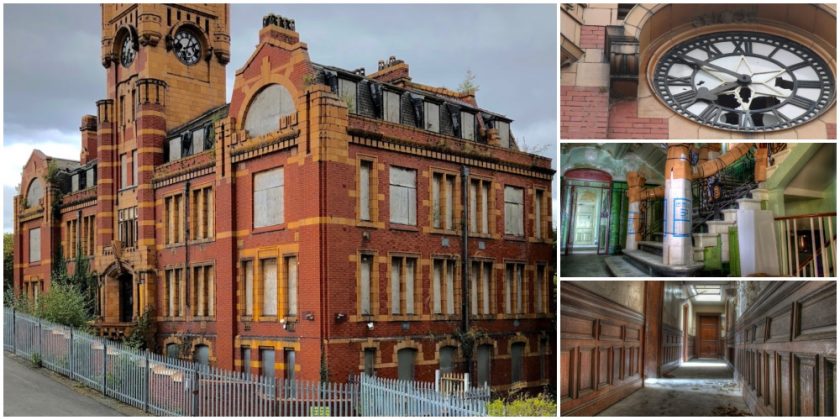 This article is old - Published: Wednesday, Sep 12th, 2018
National architecture charity the Victorian Society has included the former office building of the John Summers Steelworks on its 2018 Top 10 Endangered Buildings List.
The striking Grade II-listed building is now owned by developers Pochin, they included it in outline plans to redevelop the former HQ, surrounding buildings and land.
The building has been subject to regular break-ins and vandalism since it was vacated and is now in danger of becoming too costly to restore.
Built in 1907 on the banks of the River Dee, the former steelworks headquarters with its three face clock tower encapsulates the proud industrial heritage of Shotton.
It was designed by the Manchester architect James France who also remodelled Cornist Hall in Flint.
The main entrance at the base of the tower has a tall keystone with the insignia of the company, which is echoed in the ironwork of the gates.
The doorway leads into a grand staircase hall, opposite the entrance is an imperial staircase with ironwork balustrades in Art Nouveau style also bearing the crest of the company.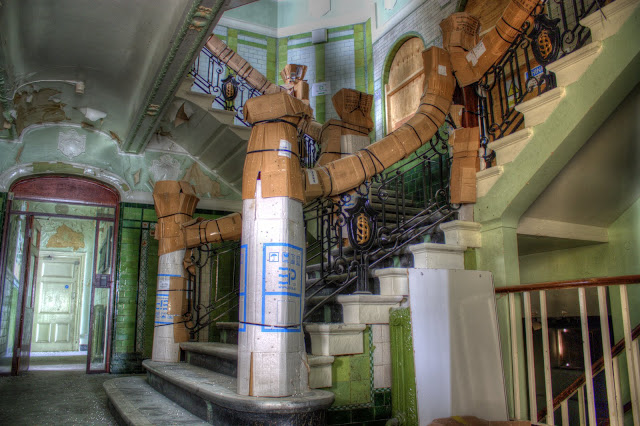 The former boardroom and executive offices are on the first floor level, and flats for the Summers family were situated on the floor above.
The building was given Grade II listed status in 2006 as were several of the linked buildings in the grounds.
The gardens are also included on the Welsh Government's historic environment service (CADW) Register of
Landscapes, Parks and Gardens of Special Historic Interest in Wales at Grade II.
They were designed by distinguished landscape architect Sylvia Crowe to complement the adjacent office buildings and included a bowling green, tennis court and putting green.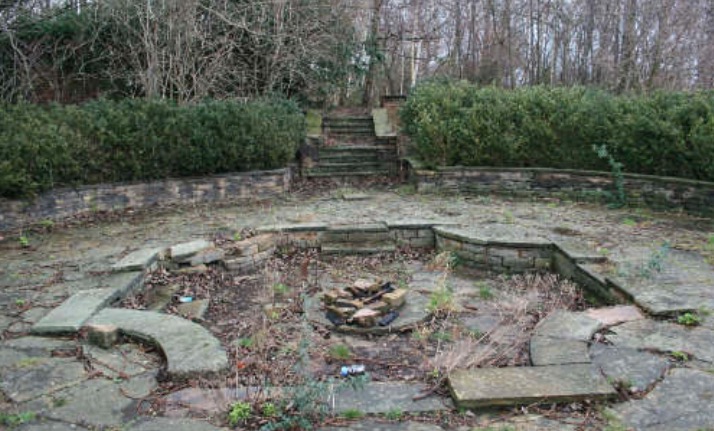 All the buildings within this complex were vacated when Corus moved out in 2009.
Since then they have been subject to serious and sustained damage involving vandalism and theft of materials.
Over £100,000 has been spent by the owner on security fencing, boarding up, disconnection of utilities and security inspection, but in spite of this, damage has continued.
As a result the buildings are in varying states of decay, and there are serious health and safety issues.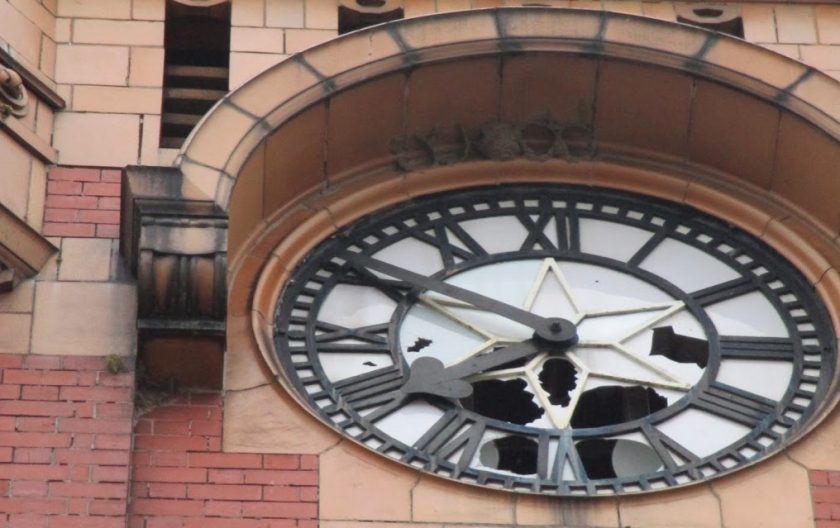 Christopher Costelloe, Director of the Victorian Society, said:
"This is a fine Edwardian industrial building which should proudly showcase Shotton's industrial past.
Instead it is boarded-up and unused, and every day continues to be at risk from vandalism and theft.
We're hopeful that the developers realise the value of the historic building they are in ownership of, and put forward a sensitive plan for restoration urgently."
Pochin bought the 200 acres of land at the 'Shotton Point' site for £5m in June 2010, they submitted outline plans in 2013 with a promise to restore and convert the John Summers headquarters building and linked building for offices and a hotel.
Planning documents also state the gardens will be retained, "whilst the remaining group of locally listed buildings, will be converted into further light industrial uses a skills and training centre with provision for additional light industrial units."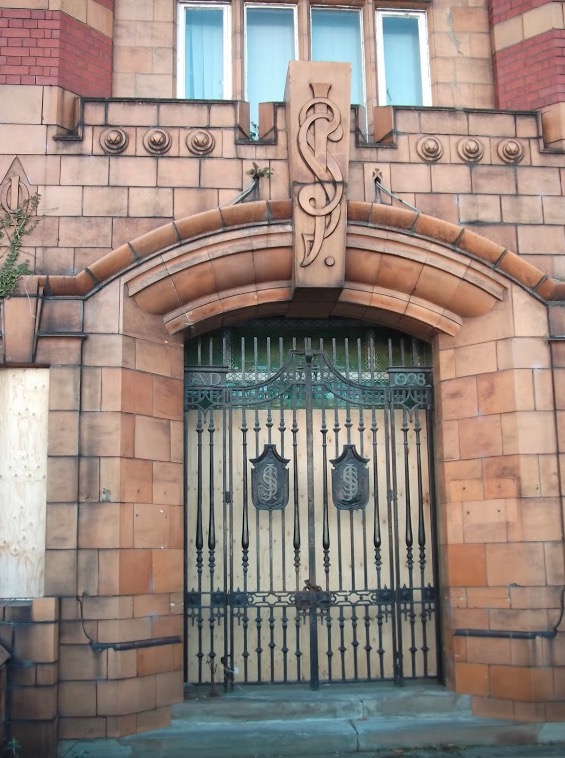 The plans were approved by Flintshire County Council in 2014 as part of the crucial Northern Gateway project which aims to deliver over 700 new homes and three million sq ft of industrial and manufacturing space.
Sealand County Councillor Christine Jones said:
"News that the iconic John Summers building has made it onto the Victorian Society's list of 10 buildings most endangered buildings in 2018 has really upset me.
I can't believe that the developers are reluctant to develop this beautiful building into something that will stand proud on the banks of the Dee again, as It once did.
They have let it crumble into disrepair and I am furious. This is part of our heritage and should be protected."
The other buildings on the list:
The Winter Gardens, Great Yarmouth (Grade II*, 1878-81, John Watson & William Harvey) 
Bromley-by-Bow gasholders, London (All Grade II, 1872, Clark & Kirkham) 
Merseyside Centre for the Deaf, Liverpool (Grade II, 1887, E.H. Banner) .
Hartley's Village, Aintree, Liverpool (three Grade II-listed buildings, 1886-95, architect unknown)
Former Legat's School of Ballet, nr Rotherfield, East Sussex (Grade II, 1865, exterior: George Goldie, interior: E.W. Pugin)
Oldway Mansion, Paignton, Devon (Grade II*, 1873, G.S. Bridgman)
Langley Maltings, Sandwell, West Midlands (Grade II, 1870, architect unknown)
Brandwood End Cemetery Chapels, Birmingham (Grade II, 1898, J Brewill Holmes) 
St Mary's Convent Church, Leeds (Grade II*, 1852, Joseph Hansom & W Wardell, chancel & transepts added 1866 by E.W. Pugin) 
Griff Rhys Jones, President of the Victorian Society, said:
"What a fascinating list we have this year. It just goes to show the ingenuity of Victorian and Edwardian architects; we have buildings made of brick, glass and steel for all manner of industrial, religious and community uses.
These are pieces of the history of the Victorian era and its industrial, spiritual and cultural beliefs – incredible.
And this makes their current sad and neglected state even harder to swallow. Every single building on this list is crying out for redevelopment and could make something truly wonderful for its community. Join us and help them."
Pochin and Flintshire County Council have both been approached for a comment. 
Spotted something? Got a story? Send a Facebook Message | A direct message on Twitter | Email: News@Deeside.com