NOTE: This content is old - Published: Friday, Apr 20th, 2018.
There are concerns over delays to an independent inquiry into the sacking of the late Carl Sargeant, according to a letter published by a solicitor representing his family.
Solicitor, Neil Hudgell, has written to QC Paul Bowen who has been appointed to investigate the sacking and handling of allegations made against Carl Sargeant prior to his death last November.
The inquiry, one of four – was set up to look at Carwyn Jones handling of allegations made against the late Alyn and Deeside AM and the cabinet reshuffle which saw Carl Sargeant dismissed from his cabinet post.
The letter describes "very real concerns" about delays to the inquiry, it asks the QC for an explanation.
'We would be grateful for Mr Bowen's comments in several respects. In a closed Labour group meeting yesterday Labour AM [Redacted] tabled a question to the First Minister regarding the continuing delays in your inquiry starting, his reply being that there was  "no delay" on their part.'
The letter goes on the state:
'It is most certainly inappropriate as well as hugely insensitive for the First Minister to be perceived to be dictating terms as to how the various inquiries are taken forward.
His manner in yesterday's dialogue and throughout is causing considerable distress to our client and his family.
The inescapable fact here is that someone sadly has lost their life, a much loved family member, and due process needs to be followed expeditiously to enable those closest to him to try and find some closure.'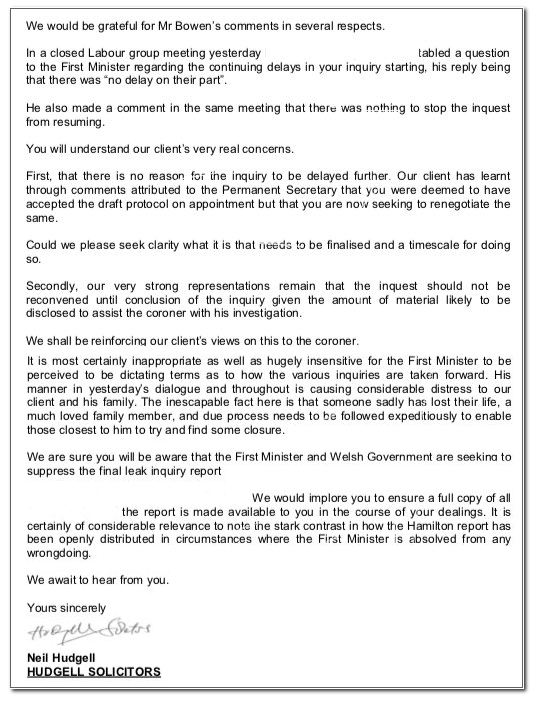 Responding, Leader of the Welsh Conservatives, Andrew RT Davies, said:
"The First Minister's judgement has come under considerable scrutiny in recent days, and this letter will only add to the growing pressure his leadership is under.
The Sargeant family's frustration and distress is understandable, and it very much feels as though this process is being kicked as deep into the long grass as it possibly can.
We've seen the very worst of Carwyn Jones this week, and we cannot allow his bully-boy tactics to prevent the truth from coming out.
This letter reveals the tactics being deployed to influence and control the upcoming inquiry, and that is simply unacceptable.
A man has lost his life in tragic circumstances, and there is a responsibility on everyone involved in this process to get things moving so that the family can find the answers they need to find."
On Wednesday Assembly Members voted against a Welsh Conservative motion to force publication a report into whether there was a leak before a cabinet reshuffle which saw Alyn and Deeside AM Carl Sargeant dismissed from the cabinet.