NOTE: This content is old - Published: Sunday, May 20th, 2018.
News the Welsh Government has agreed to take Caergwrle Castle, one of Flintshire's most important scheduled monuments, into state care has been welcomed by local County Councillor David Healey.
The move, announced last week by Welsh Minister for Culture, Tourism and Sport Dafydd Elis-Thomas, will see Cadw take on its first entirely new acquisition of a castle for 25 years.
It'll be the 43rd castle taken into the care of the Welsh Government's historic environment service and follows an agreement in principle with the castle's current custodians, Hope community council.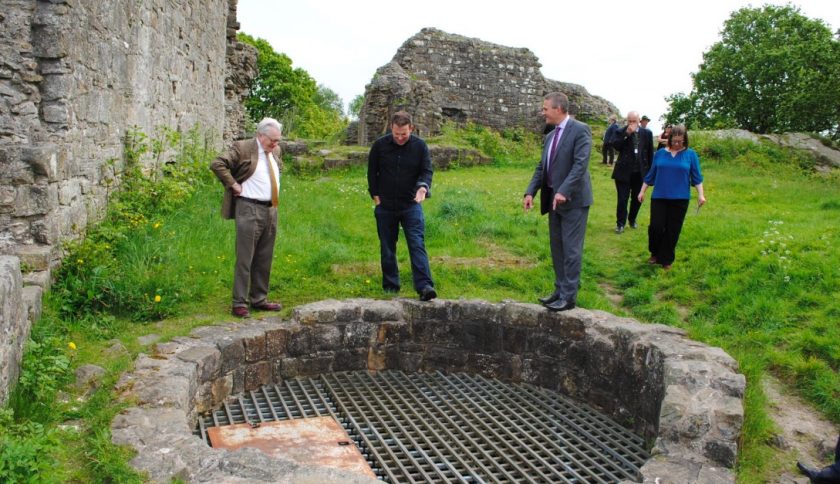 Lord Dafydd Ellis Thomas on a tour of the castle last week
Cadw will now take responsibility for the permanent upkeep of the monument a move which "must be greeted as a positive game-changer for the future of the Castle." Said Cllr David Healey.
"The Welsh Government has recognised the national importance of the monument in the history of Wales.
Tourism Minister Lord Dafydd Ellis Thomas and Cadw have been impressed by the level of community involvement at the site and want this to continue as part of a partnership between the historic environment service and the community." Said the Flintshire County Councillor for Caergwrle.
The castle dates back to 1277, it was initially been built by Dafydd ap Gruffudd and holds a unique place in Welsh history.
It was the last castle to be built by a native Welsh Prince and played a significant role in events which culminated in Llywelyn's death near Builth in 1282 and Dafydd's own capture and gruesome execution at Shrewsbury in 1283.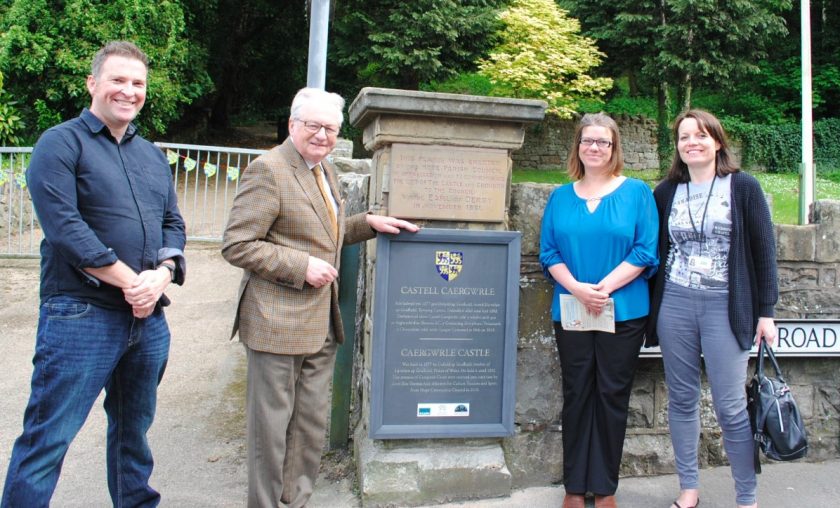 [Lord Dafydd Ellis-Thomas (second left) unveils plaque which recognises Prince Dafydd ap Gruffudd as the original builder of Caergwrle Castle]
Cllr Healey said: This new agreement means that Caergwrle Castle will now feature on Cadw's website and receive national publicity."
"Not all of us may welcome apartments for tourists but a visitors' centre with public toilet facilities and disability access to the Castle would be assets worth having.
Tourists stimulate the local economy and help communities to sustain themselves without adding to the list of patients at local medical practices or increasing the demand for school places, Cadw's involvement can therefore provide a boost to the rural economy.
Caergwrle and the surrounding local area has the potential to offer a unique visitor experience and the latest move by Cadw is a step in the right direction in moving the community from one of  "quiet decay to one of optimism." Said Cllr Healey.
The area boasts one of the best examples of a Packhorse Bridge in Wales as well as a Jacobean Mansion, evidence of both Offa's and Wat's Dykes, the hill fort of Bryn y Gaer and Hope Parish Church – often described as a 'hidden gem.'
There is also the site where the Bronze Age Caergwrle Bowl was discovered, which has so far gone unrecognised – and the emerging Park in the Past Project.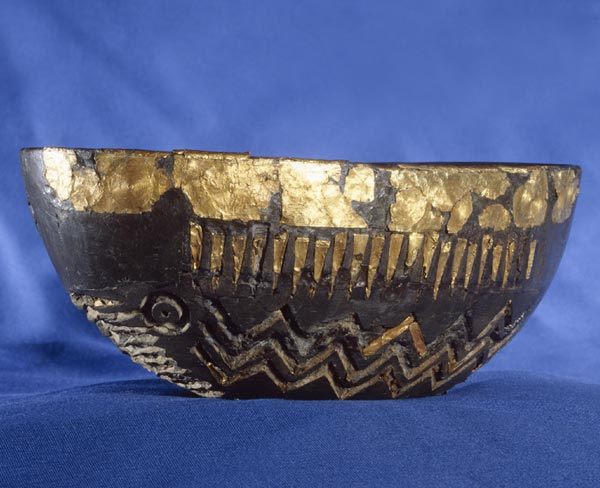 This unique oval bowl, made of shale, tin and embossed gold, represents a sea-going boat with circular shields, oars and waves represented in its design. Discovered in a bog at Caergwrle, Flintshire during the early 19th century, it had been buried in the ground for over 3,000 years. The symbolism of the boat reminds us of the importance of far-flung sea trading contacts during the European Bronze Age. [National Museum Cardiff]
Lord Elis-Thomas said: "From Caerphilly to Caernarfon, Conwy to Castell Coch, we are a country blessed with some of the most magnificent, imposing castles in the world, attracting record visitor numbers and boosting the economies of many of our towns and cities.  
But there are a whole host of castles on our doorsteps that are, perhaps, less well known but both individually and as a collective serve as precious physical reminders of our history and our heritage.
These, to me, are the true Welsh castles – those built or inhabited by distinguished Welshmen of the past – by Llywelyn, Lord Rhys and Glyndwr amongst others.
Welsh Princes who fought for and over Wales and helped shape the Wales and Welshness we recognise today.
Cadw already cares for many of these castles of the Welsh princes including Dinefwr and Dryslwyn in the south and Dolbadarn and Castell y Bere in the north.
I'm delighted that we've been able to work with the community council to add Caergwrle to their number – ensuring it remains open, cared for and accessible to all."
Cllr David Healey (left) Lord Elis-Thomas (second left) at Caergwrle Castle last week
The Minister added: "I am keen for us to make more of the castles of our famous Welsh princes and their legacy and to make sure the long, proud history of Wales is told and understood through our castles and supporting materials.
I hope to say more on how I hope to achieve this in the coming months. In the meantime, I'd encourage those across Wales who have not yet visited their local castle or want to understand more about the legends that live through our stone walls to explore and appreciate their local sites.
"Caergwrle is a special place and I look forward to this new partnership ensuring the good work of the community council is continued – making sure as many people as possible can continue to enjoy it for years to come."
It's understood the surrounding woodland of the Castle Hill will continue to be managed by Flintshire Countryside Service on behalf of Hope Community Council.