Wylfa: MPs urge action on North Wales nuclear power station plans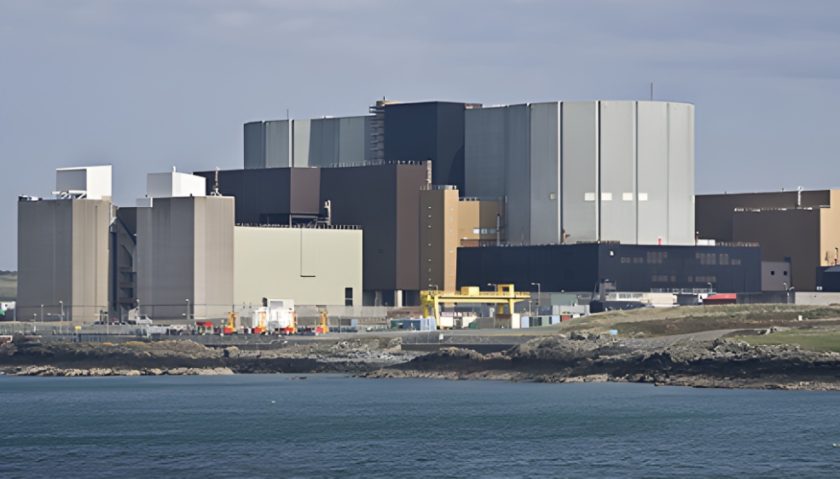 Members of Parliament are calling for decisive action from UK government ministers to ensure the construction of a new nuclear plant in North Wales. ‌​‌‌‌​‌‌‍‌​‌‌‌​‌​‍‌​‌‌‌​‌​
The Welsh Affairs Committee has said that despite positive policy signals, there is a lack of "concrete commitment" from ministers on the future of nuclear energy and Wylfa on Anglesey. ‌​‌‌‌​‌‌‍‌​‌‌‌​‌​‍‌​‌‌‌​‌​
Both the Energy Minister and the interim-Chair of Great British Nuclear have cited Wylfa as an ideal site for a new nuclear power station during the Committee's inquiry. ‌​‌‌‌​‌‌‍‌​‌‌‌​‌​‍‌​‌‌‌​‌​
However, significant obstacles remain, including financing limitations and land ownership issues. MPs call for the UK Government to encourage Hitachi, the current site owner, to sell the land or partner with other developers to facilitate future development. ‌​‌‌‌​‌‌‍‌​‌‌‌​‌​‍‌​‌‌‌​‌​
The report suggests that a regulated asset base (RAB) model could reduce the overall cost of a large-scale nuclear project by £30bn compared to the Contracts for Difference (CfD) scheme. ‌​‌‌‌​‌‌‍‌​‌‌‌​‌​‍‌​‌‌‌​‌​
The Committee heard that RAB is more attractive to investors but expressed concerns about the potential liability for taxpayers, emphasising the importance of careful monitoring. ‌​‌‌‌​‌‌‍‌​‌‌‌​‌​‍‌​‌‌‌​‌​
A new nuclear power station at Wylfa could support 10,000 jobs during the construction phase and 900 permanent jobs once operational. ‌​‌‌‌​‌‌‍‌​‌‌‌​‌​‍‌​‌‌‌​‌​
Many of these positions would be highly skilled and long term. However, to realise this potential, the Committee is calling for further development of skills and supply chains, and collaboration between the UK and Welsh Governments and the sector to address the current skills shortage. ‌​‌‌‌​‌‌‍‌​‌‌‌​‌​‍‌​‌‌‌​‌​
The Committee also explored the potential of small modular reactors (SMRs) at Trawsfynydd, which could further benefit North Wales. ‌​‌‌‌​‌‌‍‌​‌‌‌​‌​‍‌​‌‌‌​‌​
However, as SMRs are still in development, they should be pursued alongside gigawatt-scale reactors. ‌​‌‌‌​‌‌‍‌​‌‌‌​‌​‍‌​‌‌‌​‌​
Welsh Affairs Committee Chair, Rt Hon Stephen Crabb MP, emphasised the importance of action on Wylfa, stating that a gigawatt-scale nuclear energy project at the site would be a game-changer for the North Wales economy. ‌​‌‌‌​‌‌‍‌​‌‌‌​‌​‍‌​‌‌‌​‌​
He said: "Over the last couple of decades Wylfa has been in a state of limbo. " ‌​‌‌‌​‌‌‍‌​‌‌‌​‌​‍‌​‌‌‌​‌​
"Local people have been enthusiastic about the potential investment to the area only to have been left disappointed when Hitachi pulled out of the Wylfa Newydd project. " ‌​‌‌‌​‌‌‍‌​‌‌‌​‌​‍‌​‌‌‌​‌​
"We cannot allow the same to happen again. Despite the positive policy changes and stronger rhetoric from ministers about nuclear, a new power station at Wylfa is still far from certain. " ‌​‌‌‌​‌‌‍‌​‌‌‌​‌​‍‌​‌‌‌​‌​
"Important obstacles remain on financing which is limiting private sector investment, and on the issue of land ownership which is preventing a new developer coming in. " ‌​‌‌‌​‌‌‍‌​‌‌‌​‌​‍‌​‌‌‌​‌​
"We must see concrete action on addressing these issues before the next general election, otherwise the uncertainty about the project will increase. " ‌​‌‌‌​‌‌‍‌​‌‌‌​‌​‍‌​‌‌‌​‌​
"A gigawatt-scale nuclear energy project at Wylfa would be a game-changer for the north Wales economy. " ‌​‌‌‌​‌‌‍‌​‌‌‌​‌​‍‌​‌‌‌​‌​
"The enormous investment would illustrate levelling-up in action, creating well-paid, high-skilled jobs, and we would be a step closer to energy independence. " ‌​‌‌‌​‌‌‍‌​‌‌‌​‌​‍‌​‌‌‌​‌​
"I urge ministers to finally give a nuclear energy project at Wylfa the green light. " ‌​‌‌‌​‌‌‍‌​‌‌‌​‌​‍‌​‌‌‌​‌​
Spotted something? Got a story? Send a Facebook Message | A direct message on Twitter | Email: News@Deeside.com
---
Latest News
---