Wepre Park: Ugly hydro power generator could soon be removed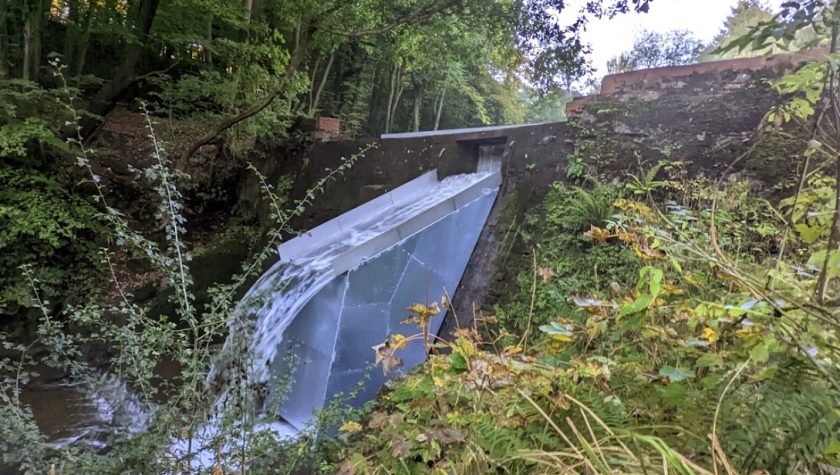 A temporary water turbine controversial for its unaesthetic appearance could soon be removed from the picturesque Wepre Park waterfall in Connah's Quay. ‌​‌‌‌​‌‌‍‌​‌‌‌​‌​‍‌​‌‌‌​‌​
The hydro power generator was placed there in the autumn as part of a project with a university looking at reducing demand on the electricity grid and providing more renewable energy. ‌​‌‌‌​‌‌‍‌​‌‌‌​‌​‍‌​‌‌‌​‌​
Cabinet member for climate change Caergwrle Cllr Dave Healey (Lab) asked for an update on the project during a discussion on the management plan for the council-run Wepre Park, at a meeting of the environment scrutiny committee. ‌​‌‌‌​‌‌‍‌​‌‌‌​‌​‍‌​‌‌‌​‌​
He said: "I'm just wondering about the progress of that and how far that has gone because I did go to have a look at it on Saturday. ‌​‌‌‌​‌‌‍‌​‌‌‌​‌​‍‌​‌‌‌​‌​
"Following comments made previously in another meeting I then took a trip to the Milwr Tunnel and saw 23,000 gallons of water which pour out a day through that and noticed by comparison that I don't think Wepre Brook has such a force behind it as that particular tunnel. ‌​‌‌‌​‌‌‍‌​‌‌‌​‌​‍‌​‌‌‌​‌​
"Then I popped up to Greenfield Valley and looked at where various water wheels had been installed in the past there by the original entrepreneurs who used water power, and it certainly made me think about the potential of hydropower within Flintshire." ‌​‌‌‌​‌‌‍‌​‌‌‌​‌​‍‌​‌‌‌​‌​
The council's access and natural environment manager Tom Woodall explained that the turbine at the Wepre Park waterfall was only ever intended to be temporary. ‌​‌‌‌​‌‌‍‌​‌‌‌​‌​‍‌​‌‌‌​‌​
A report is expected in the next few weeks, the findings of which will determine whether the council explores the potential for a more permanent, more aesthetically pleasing installation. ‌​‌‌‌​‌‌‍‌​‌‌‌​‌​‍‌​‌‌‌​‌​
Mr Woodall said: "Wepre Brook was dammed in the 1800's to provide electricity for Wepre Hall so they recognised the value 200 years ago of water power back then. ‌​‌‌‌​‌‌‍‌​‌‌‌​‌​‍‌​‌‌‌​‌​
"For many years we've been looking at the brook thinking there's got to be potential here. ‌​‌‌‌​‌‌‍‌​‌‌‌​‌​‍‌​‌‌‌​‌​
"The dam provides enough drop to consider hydropower. We were approached by University College London (UCL) who said they had some new kit they wanted to test which was more micropowered hydro. ‌​‌‌‌​‌‌‍‌​‌‌‌​‌​‍‌​‌‌‌​‌​
"We are working with UCL in terms of the development of their technology and giving it a practical application. ‌​‌‌‌​‌‌‍‌​‌‌‌​‌​‍‌​‌‌‌​‌​
"Last September we put in the installation. It wasn't particularly well received, the design of it was functional, it wasn't particularly nice to look at, but it's weathered and people are actually used to it. ‌​‌‌‌​‌‌‍‌​‌‌‌​‌​‍‌​‌‌‌​‌​
"It was very cheap in design because it was never going to be the final end product, it was just there to protect the turbine UCL wanted to test. ‌​‌‌‌​‌‌‍‌​‌‌‌​‌​‍‌​‌‌‌​‌​
"UCL have been testing it over the autumn and from their perspective it worked really, really well in terms of the level of efficiency. It has furthered their research." ‌​‌‌‌​‌‌‍‌​‌‌‌​‌​‍‌​‌‌‌​‌​
Mr Woodall added: "We are awaiting the final report in terms of the figures, we've been monitoring the water flow for a number of years now. Once we've done the number crunching we should be able to have a business case viability. ‌​‌‌‌​‌‌‍‌​‌‌‌​‌​‍‌​‌‌‌​‌​
"The costs for designing something that our park community feel is in keeping and suitable and putting an electric cable all the way up to the visitor centre is going to be significant. ‌​‌‌‌​‌‌‍‌​‌‌‌​‌​‍‌​‌‌‌​‌​
"We need to factor in the costs of that. That work is currently ongoing and we expect a final report in a couple of weeks, then we'll make a final decision on whether we'll go forward with the installation or not. ‌​‌‌‌​‌‌‍‌​‌‌‌​‌​‍‌​‌‌‌​‌​
"The current installation will come out. That was always intended to be temporary." ‌​‌‌‌​‌‌‍‌​‌‌‌​‌​‍‌​‌‌‌​‌​
By Rory Sheehan – Local Democracy Reporter (more here). ‌​‌‌‌​‌‌‍‌​‌‌‌​‌​‍‌​‌‌‌​‌​
Spotted something? Got a story? Send a Facebook Message | A direct message on Twitter | Email: News@Deeside.com
---
Latest News
---