Warning to drone 'pilots' after dangerous flying near a police helicopter lands owner with £460 fine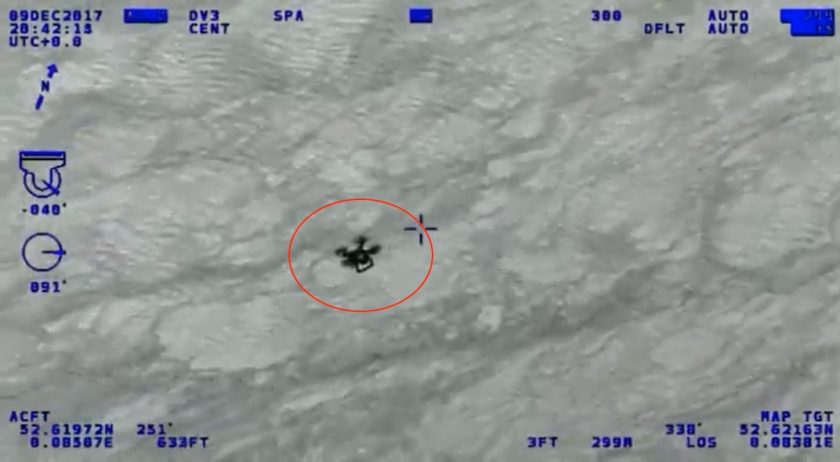 This article is old - Published: Friday, Nov 16th, 2018
A man from Cambridgeshire has become the first person in the UK to be convicted of illegally flying a drone beneath a police helicopter. ‌​‌‌‌​‌‌‍‌​‌‌‌​‌​‍‌​‌‌‌​‌​
Sergej Miaun's was flying his DJI Phantom 4 when it passed under a police chopper causing a search for a missing woman to be abandoned. ‌​‌‌‌​‌‌‍‌​‌‌‌​‌​‍‌​‌‌‌​‌​
The National Police Air Service (NPAS) and the UK Civil Aviation Authority (CAA) have welcomed the protection. ‌​‌‌‌​‌‌‍‌​‌‌‌​‌​‍‌​‌‌‌​‌​
Sergej Miaun was found guilty on two charges, failing to maintain direct, unaided visual contact with small unmanned aircraft and flying a small unmanned aircraft when not reasonably satisfied that the flight can safely be made. ‌​‌‌‌​‌‌‍‌​‌‌‌​‌​‍‌​‌‌‌​‌​
He received a £184 fine, costs of £250 and had to pay a £30 victim surcharge. The total added up to £464 he was forced to forfeit his drone worth £900. ‌​‌‌‌​‌‌‍‌​‌‌‌​‌​‍‌​‌‌‌​‌​
Police say the case which was heard at Peterborough Magistrates Court sends a clear message to drone users that unsafe flying is totally unacceptable. ‌​‌‌‌​‌‌‍‌​‌‌‌​‌​‍‌​‌‌‌​‌​
The incident happened when a police helicopter was on a mission to help locate a missing person. ‌​‌‌‌​‌‌‍‌​‌‌‌​‌​‍‌​‌‌‌​‌​
While taking part in the search and rescue operation the helicopter crew saw the drone pass underneath them and recorded the incident on the helicopter's camera. ‌​‌‌‌​‌‌‍‌​‌‌‌​‌​‍‌​‌‌‌​‌​
The drone was seen to land in a garden by the helicopter crew who guided police on the ground to the property. ‌​‌‌‌​‌‌‍‌​‌‌‌​‌​‍‌​‌‌‌​‌​
James Cunningham, Head of Aviation Safety for the National Police Air Service (NPAS) said: ‌​‌‌‌​‌‌‍‌​‌‌‌​‌​‍‌​‌‌‌​‌​
"We welcome the prosecution as it provides absolute clarity that flying a drone in this way is unacceptable and dangerous. This is the first case of conflict between one of our helicopters and a small unmanned aircraft. Not only did it put our crew in danger, it disrupted our search for a vulnerable missing person.  ‌​‌‌‌​‌‌‍‌​‌‌‌​‌​‍‌​‌‌‌​‌​
"Police air support is a vital tool available to police forces of England and Wales. Flying at average speeds of 138mph, searching for missing people or suspects by air is twenty times faster than other options and saves local police valuable time when it matters." ‌​‌‌‌​‌‌‍‌​‌‌‌​‌​‍‌​‌‌‌​‌​
Jonathan Nicholson, CAA Assistant Director said: ‌​‌‌‌​‌‌‍‌​‌‌‌​‌​‍‌​‌‌‌​‌​
"Flying a drone like this is totally unacceptable.  Anyone operating a drone must do so responsibly and follow the rules and regulations which are designed to keep all airspace users safe. The CAA's Dronecode provides advice on how to fly your drone safely and follow the rules. you can see it at www.dronesafe.uk ‌​‌‌‌​‌‌‍‌​‌‌‌​‌​‍‌​‌‌‌​‌​
"Drones have an amazing future that we all want to help achieve. But if we are to successfully make that happen then we need all drone users to fly safely now." ‌​‌‌‌​‌‌‍‌​‌‌‌​‌​‍‌​‌‌‌​‌​
The UK drone laws state that it is against the law to fly a drone above 400ft or within 1km of an airfield boundary. If your drone recklessly or negligently endangers an aircraft it is a criminal offence and you could go to prison for up to five years. ‌​‌‌‌​‌‌‍‌​‌‌‌​‌​‍‌​‌‌‌​‌​
Spotted something? Got a story? Send a Facebook Message | A direct message on Twitter | Email: News@Deeside.com
---
Latest News
---