Wales makes vaccine progress – Health Minister busts 'significant misinformation' such as "It does not contain pork"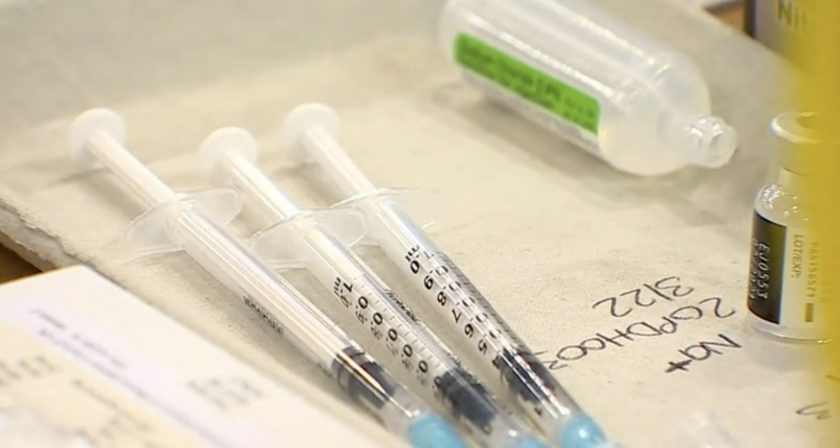 This article is old - Published: Tuesday, Feb 9th, 2021
More than 600,000 people across Wales have now received their first dose of a coronavirus vaccine. ‌​‌‌‌​‌‌‍‌​‌‌‌​‌​‍‌​‌‌‌​‌​
Currently those over 80, care home staff and residents, health care workers, over 70s and those who have been asked to shield are being invited for a vaccine. ‌​‌‌‌​‌‌‍‌​‌‌‌​‌​‍‌​‌‌‌​‌​
The Welsh Government is aiming to vaccinate the top four priority groups by the middle of the month. ‌​‌‌‌​‌‌‍‌​‌‌‌​‌​‍‌​‌‌‌​‌​
Vaccinations of both the Pfizer BioNtech or Oxford AstraZeneca vaccines are being carried out in GP surgeries, local vaccination centres, care homes and mass vaccination centres across Wales. ‌​‌‌‌​‌‌‍‌​‌‌‌​‌​‍‌​‌‌‌​‌​
As of today 603,976 first vaccines have been administered and 2,792 second doses. ‌​‌‌‌​‌‌‍‌​‌‌‌​‌​‍‌​‌‌‌​‌​
Betsi Cadwaladr University Health Board has vaccinated more than any other health board in Wales, with 130,112 vaccinations given to date. A breakdown of the number of vaccines issued in the six local authorities can be found below:- ‌​‌‌‌​‌‌‍‌​‌‌‌​‌​‍‌​‌‌‌​‌​
Flintshire: 26,280
Wrexham: 23,376
Anglesey: 15,926
Gwynedd: 24,010
Conwy: 28,280
Denbighshire: 21,474
Other: 4,458.
Speaking at today's Welsh Government press conference Health Minister Vaughan Gething said: "Our vaccination program continues to go from strength to strength. On Friday we passed the half a million people vaccinated milestone. ‌​‌‌‌​‌‌‍‌​‌‌‌​‌​‍‌​‌‌‌​‌​
Today, after an incredible effort from our teams across Wales, the latest figures show almost 604,000 people have received their first dose of the vaccine. ‌​‌‌‌​‌‌‍‌​‌‌‌​‌​‍‌​‌‌‌​‌​
"The hard work continues every day this week, as we make progress towards a mid-February target of offering everyone in the top four priority groups their first dose of the vaccine. ‌​‌‌‌​‌‌‍‌​‌‌‌​‌​‍‌​‌‌‌​‌​
"We now have 43 mass vaccination centers operating across Wales, more than 400 GP led clinics providing vaccines and there are clinics taking place in 38 hospitals across Wales. ‌​‌‌‌​‌‌‍‌​‌‌‌​‌​‍‌​‌‌‌​‌​
"On Friday and Saturday are incredible teams vaccinating the equivalent of 1% of the population of Wales on each day. We've now vaccinated a larger proportion of the total population than any other part of the UK. ‌​‌‌‌​‌‌‍‌​‌‌‌​‌​‍‌​‌‌‌​‌​
"But as we have regularly said, this isn't a race between the four nations and it's not a race between the governments, it's a race against the virus. ‌​‌‌‌​‌‌‍‌​‌‌‌​‌​‍‌​‌‌‌​‌​
"This is a phenomenal effort. And as we know, every vaccine delivered is another small victory against the virus." ‌​‌‌‌​‌‌‍‌​‌‌‌​‌​‍‌​‌‌‌​‌​
Mr Gething also outlined the need to increase the up-take of vaccinations for Black, Asian and Minority Ethnic communities, to strongly refute misinformation about the vaccine and issue a plea for all ethnic communities to help in the fight against Covid-19. ‌​‌‌‌​‌‌‍‌​‌‌‌​‌​‍‌​‌‌‌​‌​
He noted that tomorrow he will joining a roundtable discussion about COVID vaccination with community and faith leaders, which is part of a wider, ongoing piece of work, to answer people's questions and concerns about the vaccine. ‌​‌‌‌​‌‌‍‌​‌‌‌​‌​‍‌​‌‌‌​‌​
Mr Gething added: "As we all know, Covid-19 is having a disproportionate impact on our Black, Asian and Minority Ethnic communities. This isn't fiction, its fact. Our communities have experienced higher levels of illness and, sadly, death rates have been higher than among the white population. ‌​‌‌‌​‌‌‍‌​‌‌‌​‌​‍‌​‌‌‌​‌​
"The ONS analysis is clear, males of Black African ethnic background had the highest rate of death involving COVID-19, 2.7 times higher than males of White ethnic background; females of Black Caribbean ethnic background had the highest rate, 2.0 times higher than females of White ethnic background. ‌​‌‌‌​‌‌‍‌​‌‌‌​‌​‍‌​‌‌‌​‌​
"The reasons for this are complex, and may be related to factors such as health conditions, employment, deprivation or social characteristics. ‌​‌‌‌​‌‌‍‌​‌‌‌​‌​‍‌​‌‌‌​‌​
"What we must never forget is that behind each figure is a family, a community and a neighbourhood that are impacted and damaged. ‌​‌‌‌​‌‌‍‌​‌‌‌​‌​‍‌​‌‌‌​‌​
"That's why, today, the Welsh Government is issuing a plea, to all our ethnic communities across Wales, we need to dispel misinformation and unite as a country to protect those we care about the most, from this deadly virus. ‌​‌‌‌​‌‌‍‌​‌‌‌​‌​‍‌​‌‌‌​‌​
"I want to make it abundantly clear to all, the vaccine contains no pork products or traces of foetal matter and is safe for all ethnic minority and faith communities. ‌​‌‌‌​‌‌‍‌​‌‌‌​‌​‍‌​‌‌‌​‌​
"Taking the vaccine, is the only way to boost immunity to Covid-19 and will help us limit the spread within our communities. It'll help us save our brothers and sisters, our family and friends, our neighbours and our colleagues. ‌​‌‌‌​‌‌‍‌​‌‌‌​‌​‍‌​‌‌‌​‌​
"We cannot allow this dreadful situation to continue. So join with us, and help to become part of the solution by taking the vaccine and encouraging others in your communities to do so, so that we, in the near future, can return to normal life once again." ‌​‌‌‌​‌‌‍‌​‌‌‌​‌​‍‌​‌‌‌​‌​
We noticed that the number of vaccines being issued in the over 80s and care home staff appears to have slowed down in the last few days, we asked the Health Minister about the reasons for that, and also if there was any fresh detail on 'vaccine hesitancy' for a younger age group. ‌​‌‌‌​‌‌‍‌​‌‌‌​‌​‍‌​‌‌‌​‌​
The Minister replied, "On the take up of care home residents, we have essentially practically completed our program in care homes. We are still doing the last few where we know we couldn't get into vaccinate as the whole care home or people within those care homes. So you will see that rise but only on a very slow basis, because we're literally dealing with with much, much smaller numbers. ‌​‌‌‌​‌‌‍‌​‌‌‌​‌​‍‌​‌‌‌​‌​
"It's also the case of course not everyone will take the vaccine. We are not going to force people to take the vaccine." ‌​‌‌‌​‌‌‍‌​‌‌‌​‌​‍‌​‌‌‌​‌​
"When it comes to vaccine hesitancy in younger people, this is partly because of the significant misinformation that is being spread on a range of different forums, social media in particular. There are people who are worried about concerns on a range of things. There is absolutely zero evidence that the vaccines affect male or female fertility, but some people are concerned about this and different scare stories." ‌​‌‌‌​‌‌‍‌​‌‌‌​‌​‍‌​‌‌‌​‌​
"It is why it's so important that we are responsible in what we say about the vaccine, that we're responsible for how we report what happens, politicians, members of the public and indeed members of the press as well." ‌​‌‌‌​‌‌‍‌​‌‌‌​‌​‍‌​‌‌‌​‌​
"I do think though that as we see much greater levels of population protection, I hope that we'll see more and more people doing the right thing for themselves, and everyone else around them too." ‌​‌‌‌​‌‌‍‌​‌‌‌​‌​‍‌​‌‌‌​‌​
Spotted something? Got a story? Send a Facebook Message | A direct message on Twitter | Email: News@Deeside.com
---
Latest News
---