Sharpest rise in Welsh new business since May 2022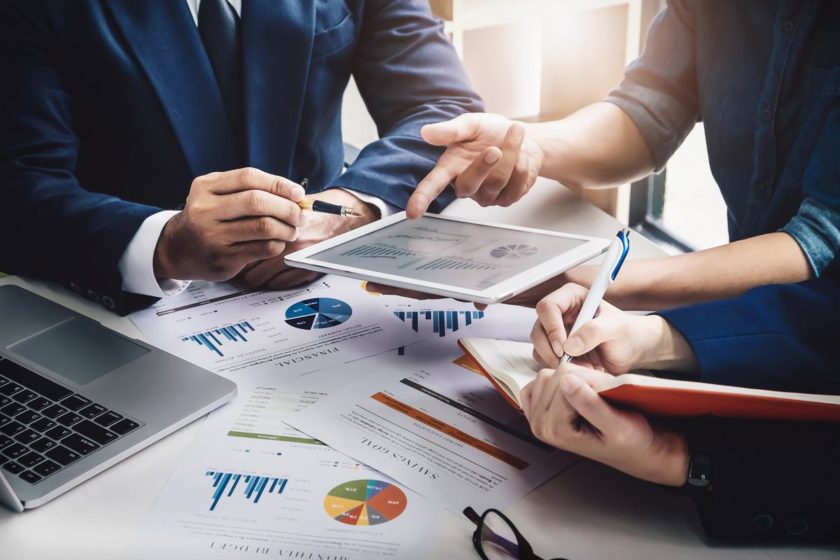 The Welsh private sector has experienced its sharpest rise in new business since May 2022, as the NatWest Wales PMI Sharpest rise in Welsh new business since May 2022 Business Activity Index registered 52.0 in March, up from 50.7 in February. ‌​‌‌‌​‌‌‍‌​‌‌‌​‌​‍‌​‌‌‌​‌​
This modest expansion in output was often linked to stronger client demand and a renewed rise in new orders. ‌​‌‌‌​‌‌‍‌​‌‌‌​‌​‍‌​‌‌‌​‌​
Welsh firms recorded a solid overall growth in new orders at the end of the first quarter, the fastest since May 2022. ‌​‌‌‌​‌‌‍‌​‌‌‌​‌​‍‌​‌‌‌​‌​
While the pace of expansion was slower than the UK average, it was faster than the long-run series average for Welsh firms. ‌​‌‌‌​‌‌‍‌​‌‌‌​‌​‍‌​‌‌‌​‌​
Anecdotal evidence suggested stronger client demand drove the upturn as client activity increased. ‌​‌‌‌​‌‌‍‌​‌‌‌​‌​‍‌​‌‌‌​‌​
March data revealed growing confidence in the outlook for output over the coming year among Welsh private sector firms. ‌​‌‌‌​‌‌‍‌​‌‌‌​‌​‍‌​‌‌‌​‌​
The level of optimism rose for the fifth consecutive month, reaching its highest level since November 2021. ‌​‌‌‌​‌‌‍‌​‌‌‌​‌​‍‌​‌‌‌​‌​
Hopes of greater client demand and planned investment in expansion and product development supported this positive sentiment, which was stronger than the UK average. ‌​‌‌‌​‌‌‍‌​‌‌‌​‌​‍‌​‌‌‌​‌​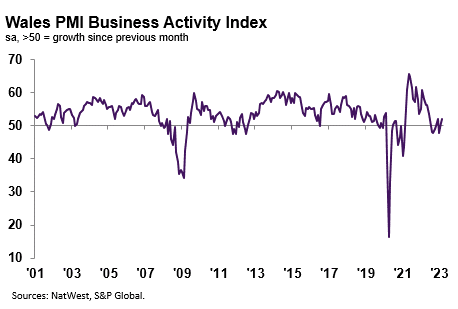 ‌​‌‌‌​‌‌‍‌​‌‌‌​‌​‍‌​‌‌‌​‌​
However, Welsh private sector firms indicated a third consecutive monthly decrease in workforce numbers during March, with the fastest fall since January 2021. ‌​‌‌‌​‌‌‍‌​‌‌‌​‌​‍‌​‌‌‌​‌​
This sharp decline, driven by the non-replacement of voluntary leavers and cost-cutting initiatives, was the second-strongest among UK areas, only surpassed by the North East. ‌​‌‌‌​‌‌‍‌​‌‌‌​‌​‍‌​‌‌‌​‌​
Outstanding business at Welsh private sector firms contracted for the eleventh consecutive month at the end of the first quarter, with the rate of decline quickening to a strong pace. ‌​‌‌‌​‌‌‍‌​‌‌‌​‌​‍‌​‌‌‌​‌​
Companies stated that they had sufficient capacity to process incoming new work. ‌​‌‌‌​‌‌‍‌​‌‌‌​‌​‍‌​‌‌‌​‌​
Private sector firms in Wales recorded a marked rise in cost burdens in March, attributed to higher wage bills and greater material costs. ‌​‌‌‌​‌‌‍‌​‌‌‌​‌​‍‌​‌‌‌​‌​
However, the pace of increase softened further, with operating expenses rising at the slowest pace since February 2021. The rate of cost inflation also eased across the UK as a whole. ‌​‌‌‌​‌‌‍‌​‌‌‌​‌​‍‌​‌‌‌​‌​
Lastly, average selling prices charged by Welsh private sector firms continued to increase at a steep pace in March, although the pace of charge inflation slowed to the softest since April 2021. ‌​‌‌‌​‌‌‍‌​‌‌‌​‌​‍‌​‌‌‌​‌​
This was reportedly due to the pass-through of higher costs to clients. The rate of increase was slightly faster than the UK average. ‌​‌‌‌​‌‌‍‌​‌‌‌​‌​‍‌​‌‌‌​‌​
Gemma Casey, NatWest Ecosystem Manager for Wales, commented: ‌​‌‌‌​‌‌‍‌​‌‌‌​‌​‍‌​‌‌‌​‌​
"March data signalled a more upbeat end to the first quarter for Welsh firms. Output grew at a faster pace, as new orders returned to expansion and rose solidly amid stronger client demand. Companies were also much more confident regarding the outlook for output over the coming year, as optimism reached the highest since November 2021." ‌​‌‌‌​‌‌‍‌​‌‌‌​‌​‍‌​‌‌‌​‌​
"Nonetheless, firms engaged in cost-cutting measures as spare capacity expanded. Backlogs fell at a sharper pace, leading firms to reduce their workforce numbers at the quickest rate since early-2021. This contrasted with the wider UK trend, where employment stabilised." ‌​‌‌‌​‌‌‍‌​‌‌‌​‌​‍‌​‌‌‌​‌​
"Although easing, inflationary pressures remained historically elevated. Despite some reports of moderations in material prices, increased wage bills contributed to hikes in input costs, with many passing on rising cost burdens to customers." ‌​‌‌‌​‌‌‍‌​‌‌‌​‌​‍‌​‌‌‌​‌​
Spotted something? Got a story? Send a Facebook Message | A direct message on Twitter | Email: News@Deeside.com
---
Latest News
---