Prestatyn councillor suggests journalists should be 'put in different room' when controversial issues are debated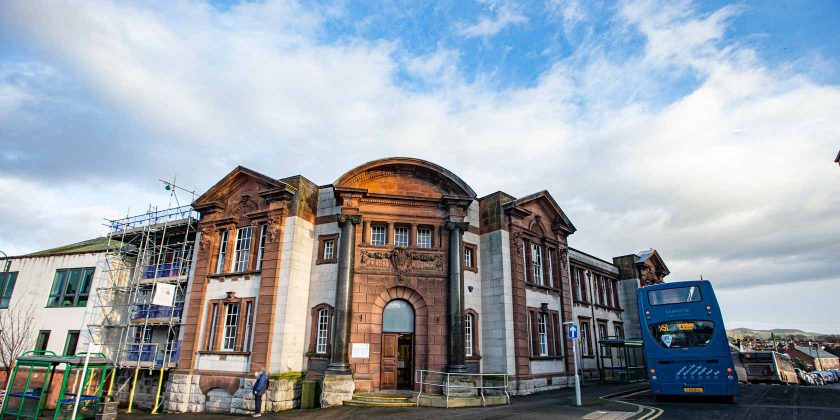 This article is old - Published: Saturday, Oct 3rd, 2020

A councillor suggested putting journalists in a different room when  "contentious issues" were being debated as their presence "hampers" freedom of speech. ‌​‌‌‌​‌‌‍‌​‌‌‌​‌​‍‌​‌‌‌​‌​
Cllr Rachel Flynn, who represents Prestatyn North on Denbighshire council, made the comment during a virtual democratic services committee meeting on Friday. ‌​‌‌‌​‌‌‍‌​‌‌‌​‌​‍‌​‌‌‌​‌​
While discussing the annual scrutiny report, the Conservative Party member  told astonished colleagues in her "opinion" having journalists in the room during a "slightly contentious issue" "hampered the process". ‌​‌‌‌​‌‌‍‌​‌‌‌​‌​‍‌​‌‌‌​‌​
Cllr Flynn accepted journalists couldn't be excluded from public council meetings but suggested putting them in a different room to watch proceedings. ‌​‌‌‌​‌‌‍‌​‌‌‌​‌​‍‌​‌‌‌​‌​
All public authority meetings must be held in public to enable proper scrutiny of issues. ‌​‌‌‌​‌‌‍‌​‌‌‌​‌​‍‌​‌‌‌​‌​
There are what should be rare exceptions to this when the matter discussed could lead to private or company information, that is not in the public domain, being divulged. ‌​‌‌‌​‌‌‍‌​‌‌‌​‌​‍‌​‌‌‌​‌​
Cllr Flynn told members she valued scrutiny "very much" and mentioned her role on the communities scrutiny committee. ‌​‌‌‌​‌‌‍‌​‌‌‌​‌​‍‌​‌‌‌​‌​
She said: "A couple of times there have been situations where we have had the press in the room when it's been a slightly contentious issue and I have felt it's hampered the process in my opinion. ‌​‌‌‌​‌‌‍‌​‌‌‌​‌​‍‌​‌‌‌​‌​
"I can see maybe the sort of remote meetings where the pressure might not be that great because obviously you're not in a room with all of these people. ‌​‌‌‌​‌‌‍‌​‌‌‌​‌​‍‌​‌‌‌​‌​
"We had a big audience when we had the Traveller issues. A lot of the public were there and it put the pressure on quite a lot I would say. ‌​‌‌‌​‌‌‍‌​‌‌‌​‌​‍‌​‌‌‌​‌​
"It's really about when we have contentious issues perhaps. I know we can't exclude the press but maybe having them watching from another room or something like that. ‌​‌‌‌​‌‌‍‌​‌‌‌​‌​‍‌​‌‌‌​‌​
"I just wanted to make that point that sometimes it feels like we can't have that freedom of speech on issues." ‌​‌‌‌​‌‌‍‌​‌‌‌​‌​‍‌​‌‌‌​‌​
Head of Democratic Services for the council Gary Williams explained the principal of open democracy underpinning public meetings to Cllr Flynn. ‌​‌‌‌​‌‌‍‌​‌‌‌​‌​‍‌​‌‌‌​‌​
He said during the pandemic with new powers they could not include the public in virtual meetings due to a lack of translation facilities, which would be addressed this month. ‌​‌‌‌​‌‌‍‌​‌‌‌​‌​‍‌​‌‌‌​‌​
However the press were invited "to be the public's eyes and ears" during virtual meetings. ‌​‌‌‌​‌‌‍‌​‌‌‌​‌​‍‌​‌‌‌​‌​
When asked to comment on what was said, Independent councillor Mark Young (Denbigh Lower ward) said he had the "utmost respect for Cllr Flynn". ‌​‌‌‌​‌‌‍‌​‌‌‌​‌​‍‌​‌‌‌​‌​
He added: "I am deeply stunned with what you have shared with me. I think good journalism adds to the process rather than takes away from it. ‌​‌‌‌​‌‌‍‌​‌‌‌​‌​‍‌​‌‌‌​‌​
"All meetings with elected members should be open to the public and journalists. ‌​‌‌‌​‌‌‍‌​‌‌‌​‌​‍‌​‌‌‌​‌​
"I take the point about different meetings being more pressured but you can't cherry pick. ‌​‌‌‌​‌‌‍‌​‌‌‌​‌​‍‌​‌‌‌​‌​
"I value the scrutiny from the public and journalists and long may it continue. To exclude journalists would be exclude democracy." ‌​‌‌‌​‌‌‍‌​‌‌‌​‌​‍‌​‌‌‌​‌​
When approached after the meeting Cllr Flynn  appeared to backtrack, saying her main concern was about meetings where councillors had not had a "pre meeting". ‌​‌‌‌​‌‌‍‌​‌‌‌​‌​‍‌​‌‌‌​‌​
Cllr Flynn said if members hadn't had the chance to "hash things out" beforehand it might mean they say "something that was misconstrued". ‌​‌‌‌​‌‌‍‌​‌‌‌​‌​‍‌​‌‌‌​‌​
She added: "Having journalists in the room puts you under pressure, which isn't a bad thing because it makes you think about what you say more. ‌​‌‌‌​‌‌‍‌​‌‌‌​‌​‍‌​‌‌‌​‌​
"But this morning we were talking about the subject of scrutiny and I just thought it warranted saying that sometimes, in certain cases, I feel it would make me less inhibited. ‌​‌‌‌​‌‌‍‌​‌‌‌​‌​‍‌​‌‌‌​‌​
"What I disagree is the way it is misconstrued at times. It happens so much. I suppose it's the job of the press to get a headline and the words are twisted. ‌​‌‌‌​‌‌‍‌​‌‌‌​‌​‍‌​‌‌‌​‌​
"The next thing you know you've got a great headline but it's not exactly what was meant and that's what I disapprove of sometimes and it just adds pressure to the job. ‌​‌‌‌​‌‌‍‌​‌‌‌​‌​‍‌​‌‌‌​‌​
"Sometimes having the press there can make you say something in way you wouldn't have, had you thought about it." ‌​‌‌‌​‌‌‍‌​‌‌‌​‌​‍‌​‌‌‌​‌​
Cllr Flynn then said she now doesn't think the "system needs changing" and said she "didn't really want to put journalists in another room". ‌​‌‌‌​‌‌‍‌​‌‌‌​‌​‍‌​‌‌‌​‌​
By Jez Hemming – Local Democracy Reporter ‌​‌‌‌​‌‌‍‌​‌‌‌​‌​‍‌​‌‌‌​‌​
Spotted something? Got a story? Send a Facebook Message | A direct message on Twitter | Email: News@Deeside.com
---
Latest News
Leading voice in solar sector urges businesses to switch to renewable energy or risk closure due to soaring costs
---