Possession of laughing gas to be criminal offence under anti-social behaviour crackdown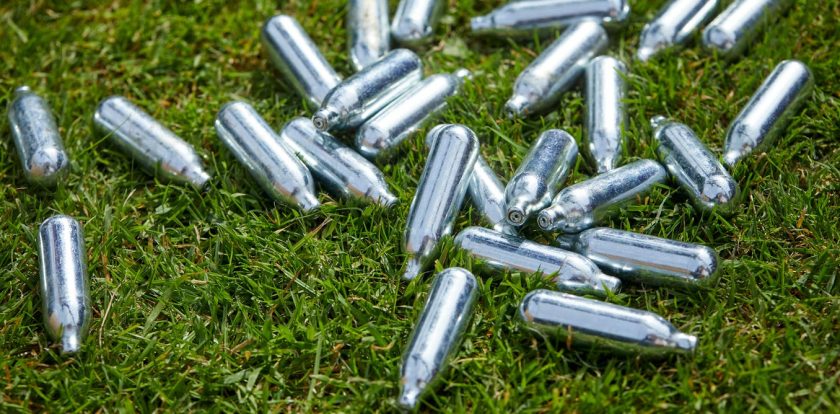 This article is old - Published: Monday, Mar 27th, 2023
Perpetrators of anti-social behaviour will face "swift and visible" justice, increased fines, and enhanced drug testing as part of a new crackdown launched by Prime Minister Rishi Sunak today. ‌​‌‌‌​‌‌‍‌​‌‌‌​‌​‍‌​‌‌‌​‌​
Under the plans, possession of laughing gas, also known as nitrous oxide, will be made a criminal offence for the first time, and tighter controls on retailers will be introduced to prevent the supply of the gas for misuse. ‌​‌‌‌​‌‌‍‌​‌‌‌​‌​‍‌​‌‌‌​‌​
The 'drug' is now the third most used among 16 to 24-year-olds and the UK Government says it is linked to "nuisance or anti-social behaviour." ‌​‌‌‌​‌‌‍‌​‌‌‌​‌​‍‌​‌‌‌​‌​
The odourless substance is used in medicine, as an anaesthetic, and in catering to make whipped cream. ‌​‌‌‌​‌‌‍‌​‌‌‌​‌​‍‌​‌‌‌​‌​
The gas is usually inhaled by discharging a canister containing small amounts of the gas into a balloon. ‌​‌‌‌​‌‌‍‌​‌‌‌​‌​‍‌​‌‌‌​‌​ ‌​‌‌‌​‌‌‍‌​‌‌‌​‌​‍‌​‌‌‌​‌​
It is small silver whipped-cream chargers that people buy for recreational use, the discarded canisters have become a visible and unpleasant littering problem. ‌​‌‌‌​‌‌‍‌​‌‌‌​‌​‍‌​‌‌‌​‌​
The ban comes after the independent Advisory Council on the Misuse of Drugs (ACMD) warned against it, saying it would be disproportionate to the level of harm associated with the substance. ‌​‌‌‌​‌‌‍‌​‌‌‌​‌​‍‌​‌‌‌​‌​
The ACMD also noted that such a ban could create significant burdens for legitimate uses of the substance. ‌​‌‌‌​‌‌‍‌​‌‌‌​‌​‍‌​‌‌‌​‌​
The move has been criticised by some experts, who argue that criminalising possession of nitrous oxide will increase health and social harms associated with it, creating new costs across the criminal justice system. ‌​‌‌‌​‌‌‍‌​‌‌‌​‌​‍‌​‌‌‌​‌​
Steve Rolles, a senior policy analyst at the Transform Drug Policy Foundation, said that the government should instead direct resources towards risk education for vulnerable groups and restrict sales of the larger nitrous canisters that have no legitimate use. ‌​‌‌‌​‌‌‍‌​‌‌‌​‌​‍‌​‌‌‌​‌​
Rolles also suggested that the government could adopt a recycling deposit scheme for nitrous canisters to reduce litter. ‌​‌‌‌​‌‌‍‌​‌‌‌​‌​‍‌​‌‌‌​‌​
Anti-social behaviour ‌​‌‌‌​‌‌‍‌​‌‌‌​‌​‍‌​‌‌‌​‌​
The Anti-Social Behaviour Action Plan aims to establish a 'zero-tolerance approach' to all forms of anti-social behaviour and give police and local authorities the tools they need to tackle the problem. ‌​‌‌‌​‌‌‍‌​‌‌‌​‌​‍‌​‌‌‌​‌​
Under the plan, 16 areas in England and Wales will be funded to support either new 'hotspot' police and enforcement patrols in areas with the highest rates of anti-social behaviour, or trial a new 'Immediate Justice' scheme to deliver swift and visible punishments. ‌​‌‌‌​‌‌‍‌​‌‌‌​‌​‍‌​‌‌‌​‌​
Offenders could be made to wear high-vis vests or jumpsuits and work under supervision to pick up litter, remove graffiti, and wash police cars as punishment for their actions. ‌​‌‌‌​‌‌‍‌​‌‌‌​‌​‍‌​‌‌‌​‌​
The trialblazers will be launched as soon as possible and both schemes will be rolled out across England and Wales from 2024, north Wales is not included as yet. ‌​‌‌‌​‌‌‍‌​‌‌‌​‌​‍‌​‌‌‌​‌​
Police will also be given new powers to crackdown on illegal drug use, including expanding powers for drug testing on arrest and more drugs tested for. ‌​‌‌‌​‌‌‍‌​‌‌‌​‌​‍‌​‌‌‌​‌​
A new reporting tool will also be developed over the next twelve months to act as a digital one-stop-shop where people can quickly and easily report incidents of anti-social behaviour when they occur. ‌​‌‌‌​‌‌‍‌​‌‌‌​‌​‍‌​‌‌‌​‌​
The tool will help address problems people have faced when trying to report these sorts of crimes due to a lack of clarity around how to raise an issue or who to speak to, or a lack of confidence that these crimes will be dealt with seriously. ‌​‌‌‌​‌‌‍‌​‌‌‌​‌​‍‌​‌‌‌​‌​
The Anti-Social Behaviour Action Plan is critical to addressing the public's priorities and delivering safer streets so that we can level up across the country, according to Secretary of State for Levelling Up, Housing and Communities Michael Gove. ‌​‌‌‌​‌‌‍‌​‌‌‌​‌​‍‌​‌‌‌​‌​
Other measures announced include increasing the punishment for those who graffiti, litter or fly tip with fines of up to £500 and £1,000. ‌​‌‌‌​‌‌‍‌​‌‌‌​‌​‍‌​‌‌‌​‌​
The UK government plans to repeal the Vagrancy Act of 1824, which criminalizes people who are homeless. ‌​‌‌‌​‌‌‍‌​‌‌‌​‌​‍‌​‌‌‌​‌​
The government has pledged £2 billion over three years to help end rough sleeping. To combat criminal gangs who organize begging networks, police and councils will be given tools to direct people towards support services such as accommodation and mental health and substance misuse services. ‌​‌‌‌​‌‌‍‌​‌‌‌​‌​‍‌​‌‌‌​‌​
Home Secretary Suella Braverman said: "The British public are fed up with crime and nuisance behaviour in their neighbourhoods inflicting misery on people." ‌​‌‌‌​‌‌‍‌​‌‌‌​‌​‍‌​‌‌‌​‌​
"There is no such thing as petty crime – not only does anti-social behaviour leave people feeling unsafe, it can also be a gateway into serious criminality." ‌​‌‌‌​‌‌‍‌​‌‌‌​‌​‍‌​‌‌‌​‌​
"It has always been my priority to give police the powers they need to deliver a common-sense approach to cutting crime, which puts the law-abiding majority first, and that's what this action plan delivers." ‌​‌‌‌​‌‌‍‌​‌‌‌​‌​‍‌​‌‌‌​‌​
Spotted something? Got a story? Send a Facebook Message | A direct message on Twitter | Email: News@Deeside.com
---
Latest News
Detailed plans for brand new £110m Women and Children's building at the Countess of Chester Hospital to be unveiled
---