Police: Drugs raids were 'culmination' of work to dismantle Organised Crime Group operating in Deeside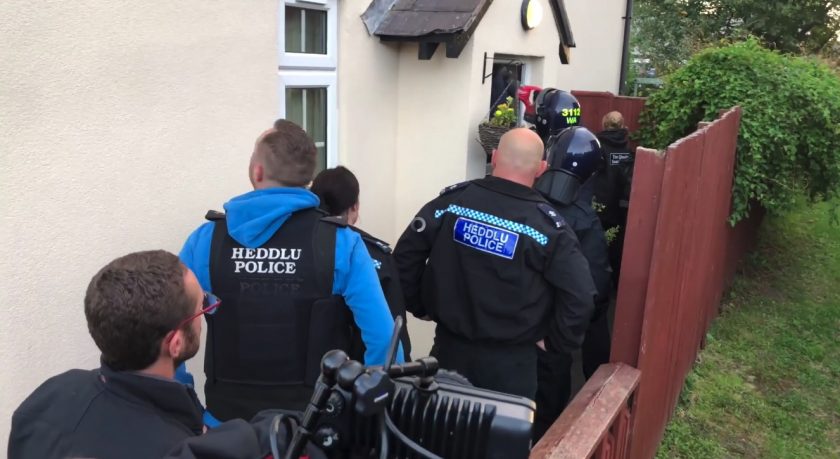 This article is old - Published: Friday, Sep 6th, 2019
Police have said Thursday's huge operation targeting 'County Lines' drug gangs in North Wales and Merseyside saw the "culmination of months of work" into dismantling an Organised Crime Group (OCG) operating in Deeside. ‌​‌‌‌​‌‌‍‌​‌‌‌​‌​‍‌​‌‌‌​‌​
More than 300 officers carried out dawn raids at addresses across Flintshire, Conwy, Anglesey and Merseyside targeting those who peddle hard drugs such as heroin and crack cocaine in the region, coordinated raids also took place in Scotland. ‌​‌‌‌​‌‌‍‌​‌‌‌​‌​‍‌​‌‌‌​‌​
"Yesterday saw the culmination of months of work into dismantling an Organised Crime Group operating in Deeside. ‌​‌‌‌​‌‌‍‌​‌‌‌​‌​‍‌​‌‌‌​‌​

A big step in making North Flintshire a safer place." ‌​‌‌‌​‌‌‍‌​‌‌‌​‌​‍‌​‌‌‌​‌​

North Flintshire Local Policing Team ‌​‌‌‌​‌‌‍‌​‌‌‌​‌​‍‌​‌‌‌​‌​
County Lines' is a term used when drug gangs from big cities expand their operations to smaller towns, often using violence to drive out local dealers and exploiting children and vulnerable people to sell drugs. ‌​‌‌‌​‌‌‍‌​‌‌‌​‌​‍‌​‌‌‌​‌​
Police searched 24 separate locations during the operation, seven in North Wales, fifteen in Merseyside and two in Scotland. ‌​‌‌‌​‌‌‍‌​‌‌‌​‌​‍‌​‌‌‌​‌​
Sixteen people – seven men and two women from Merseyside, four men and two women from North Wales and one man from the Dumfries area of Scotland were taken into custody, a number of unspecified items were also seized. ‌​‌‌‌​‌‌‍‌​‌‌‌​‌​‍‌​‌‌‌​‌​
All those arrested have been questioned at police stations across the region for various offences including conspiracy to supply controlled drugs and money laundering, police have said. ‌​‌‌‌​‌‌‍‌​‌‌‌​‌​‍‌​‌‌‌​‌​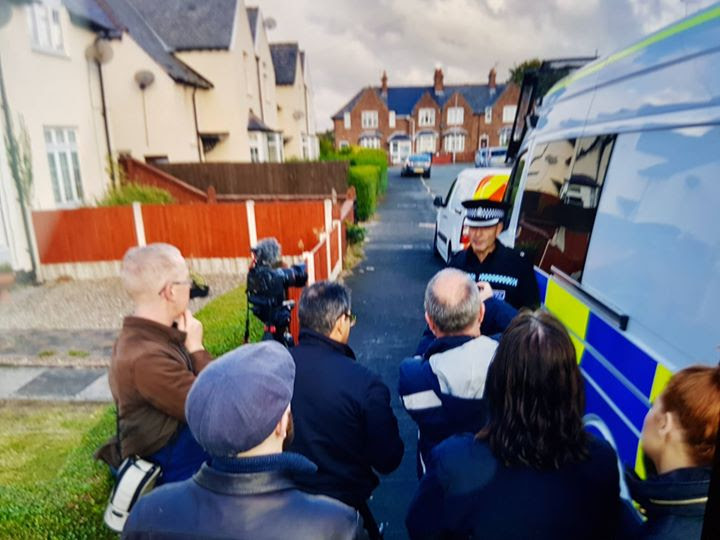 ‌​‌‌‌​‌‌‍‌​‌‌‌​‌​‍‌​‌‌‌​‌​
[Superintendent Mark Pierce talking to reporters on Thursday following a raid on a property in Garden City] ‌​‌‌‌​‌‌‍‌​‌‌‌​‌​‍‌​‌‌‌​‌​
Speaking during the operation, Superintendent Mark Pierce of North Wales Police, said: ‌​‌‌‌​‌‌‍‌​‌‌‌​‌​‍‌​‌‌‌​‌​
"Today's operation has been a massive undertaking and I'd like to thank and pay tribute to all those officers involved, including our colleagues from Merseyside, Scotland and the Serious Organised Crime Unit. ‌​‌‌‌​‌‌‍‌​‌‌‌​‌​‍‌​‌‌‌​‌​

"Over the last few months local communities will have seen our determination to address their concerns by making successful arrests. ‌​‌‌‌​‌‌‍‌​‌‌‌​‌​‍‌​‌‌‌​‌​

This is a continuation of that process and another example of our listening to, and acting on intelligence." ‌​‌‌‌​‌‌‍‌​‌‌‌​‌​‍‌​‌‌‌​‌​
"Keeping our communities safe remains our top priority. ‌​‌‌‌​‌‌‍‌​‌‌‌​‌​‍‌​‌‌‌​‌​

We will persistently target those who bring drugs into our communities from outside North Wales in line with the force policy of directly targeting serious and organised crime. ‌​‌‌‌​‌‌‍‌​‌‌‌​‌​‍‌​‌‌‌​‌​

Operations such as this demonstrate we listen to and act on concerns raised by our communities. ‌​‌‌‌​‌‌‍‌​‌‌‌​‌​‍‌​‌‌‌​‌​

Distribution of controlled drugs will not be tolerated and we will continue to take action to disrupt this activity. ‌​‌‌‌​‌‌‍‌​‌‌‌​‌​‍‌​‌‌‌​‌​

We will protect communities by putting those involved in front of the courts where on conviction they will likely be given significant custodial sentences." ‌​‌‌‌​‌‌‍‌​‌‌‌​‌​‍‌​‌‌‌​‌​
How do you know if County Lines drug dealing is happening in your area?
‌​‌‌‌​‌‌‍‌​‌‌‌​‌​‍‌​‌‌‌​‌​
Some signs to look out for include: ‌​‌‌‌​‌‌‍‌​‌‌‌​‌​‍‌​‌‌‌​‌​
An increase in visitors and cars to a house or flat
New faces appearing at the house or flat
New and regularly changing residents (e.g different accents compared to local accent
Change in resident's mood and/or demeanour (e.g. secretive/ withdrawn/ aggressive/ emotional)
Substance misuse and/or drug paraphernalia
Changes in the way young people you might know dress
Unexplained, sometimes unaffordable new things (e.g clothes, jewellery, cars etc)
Residents or young people you know going missing, maybe for long periods of time
Young people seen in different cars/taxis driven by unknown adults
Young people seeming unfamiliar with your community or where they are
Truancy, exclusion, disengagement from school
An increase in anti-social behaviour in the community
Unexplained injuries
What to do if you have concerns
The best advice is to trust your instincts. Even if someone isn't involved in county lines drug dealing, they may be being exploited in some other way, so it's always worth speaking out. ‌​‌‌‌​‌‌‍‌​‌‌‌​‌​‍‌​‌‌‌​‌​

Information can be passed to North Wales Police direct via the web live chat http://www.north-wales.police.uk/contact/chat-support.aspx or by phoning 101 ‌​‌‌‌​‌‌‍‌​‌‌‌​‌​‍‌​‌‌‌​‌​

If you would rather remain anonymous, you can contact the independent charity Crimestoppers on 0800 555 111. ‌​‌‌‌​‌‌‍‌​‌‌‌​‌​‍‌​‌‌‌​‌​

If you notice something linked to the railways, you can report concerns to the British Transport Police by texting 61016 from your mobile. In an emergency dial 999. ‌​‌‌‌​‌‌‍‌​‌‌‌​‌​‍‌​‌‌‌​‌​

If you are a young person who is worried about your involvement, or a friend's involvement in county lines ‌​‌‌‌​‌‌‍‌​‌‌‌​‌​‍‌​‌‌‌​‌​

A good option is to speak to an adult you trust and talk to them about your concerns. ‌​‌‌‌​‌‌‍‌​‌‌‌​‌​‍‌​‌‌‌​‌​

You can also call Childline on 0800 1111. Childline is private and confidential service where you can talk to specially trained counsellors about anything that is worrying you. ‌​‌‌‌​‌‌‍‌​‌‌‌​‌​‍‌​‌‌‌​‌​

Alternatively, speak to a children and young people's service like Catch 22. ‌​‌‌‌​‌‌‍‌​‌‌‌​‌​‍‌​‌‌‌​‌​

They work with children and young people of any age to help get them out of situations they're worried about, and have helped lots of children and young people involved in County Lines. ‌​‌‌‌​‌‌‍‌​‌‌‌​‌​‍‌​‌‌‌​‌​

‌​‌‌‌​‌‌‍‌​‌‌‌​‌​‍‌​‌‌‌​‌​ Spotted something? Got a story? Send a Facebook Message | A direct message on Twitter | Email: News@Deeside.com
---
Latest News
Flintshire Councillor says therapy equipment under public ownership is being flogged at car boot sales and charity shops
---