Over 31,000 patients waiting more than two years for NHS treatment in Wales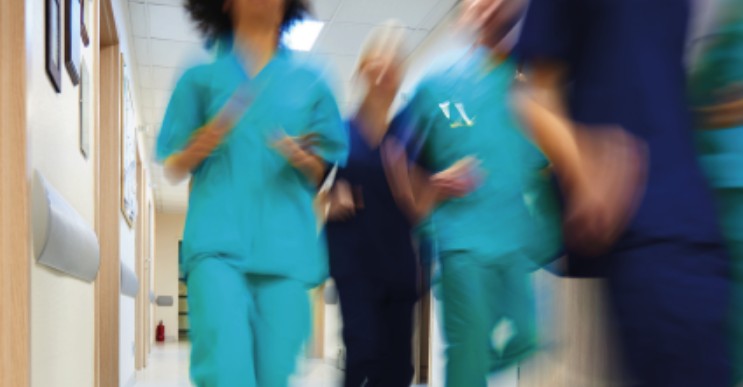 The Welsh government has failed to hit its target of eliminating two year waits for most NHS specialities. ‌​‌‌‌​‌‌‍‌​‌‌‌​‌​‍‌​‌‌‌​‌​ ‌​‌‌‌​‌‌‍‌​‌‌‌​‌​‍‌​‌‌‌​‌​
Figures released today show that 31,726 people were still waiting over two years to receive treatment as of the end of March ‌​‌‌‌​‌‌‍‌​‌‌‌​‌​‍‌​‌‌‌​‌​ ‌​‌‌‌​‌‌‍‌​‌‌‌​‌​‍‌​‌‌‌​‌​
12 months ago Health Minister Eluned Morgan unveiled plans to cut NHS waiting times by 2025. ‌ ‌​‌‌‌​‌‌‍‌​‌‌‌​‌​‍‌​‌‌‌​‌​ ‌​‌‌‌​‌‌‍‌​‌‌‌​‌​‍‌​‌‌‌​‌​
Speaking last year Ms Morgan said that it an interim target and that the Welsh Government "should eliminate the number waiting for longer than two years in most specialities by March 2023." ‌ ‌​‌‌‌​‌‌‍‌​‌‌‌​‌​‍‌​‌‌‌​‌​ ‌​‌‌‌​‌‌‍‌​‌‌‌​‌​‍‌​‌‌‌​‌​
But figures released today show that despite this targets thousands of patients are waiting longer than two years for treatment. ‌​‌‌‌​‌‌‍‌​‌‌‌​‌​‍‌​‌‌‌​‌​ ‌​‌‌‌​‌‌‍‌​‌‌‌​‌​‍‌​‌‌‌​‌​
In March there were about 734,700 patient pathways waiting to start treatment – with 135,800 waiting over a year. ‌​‌‌‌​‌‌‍‌​‌‌‌​‌​‍‌​‌‌‌​‌​ ‌​‌‌‌​‌‌‍‌​‌‌‌​‌​‍‌​‌‌‌​‌​
After falling for five consecutive months, this was an increase of over 2,000 patients from February, high in historical context and 58.5 per cent higher than February 2020. ‌​‌‌‌​‌‌‍‌​‌‌‌​‌​‍‌​‌‌‌​‌​ ‌​‌‌‌​‌‌‍‌​‌‌‌​‌​‍‌​‌‌‌​‌​
The health minister has today acknowledged that more still needs to be done to hit the target, but has stated that the majority of those waits waiting longer than two years are in "seven speciality areas, that were recognised as difficult to clear when the ambitious targets were set a year ago." ‌​‌‌‌​‌‌‍‌​‌‌‌​‌​‍‌​‌‌‌​‌​ ‌​‌‌‌​‌‌‍‌​‌‌‌​‌​‍‌​‌‌‌​‌​
Those areas are Dermatology, General Surgery, Ophthalmology, Urology, Gynaecology, Orthopaedics and Ear, Nose and Throat. ‌​‌‌‌​‌‌‍‌​‌‌‌​‌​‍‌​‌‌‌​‌​ ‌​‌‌‌​‌‌‍‌​‌‌‌​‌​‍‌​‌‌‌​‌​
Today's figures also show an improvement in ambulance response times, which this year recorded its worst response time on record. ‌​‌‌‌​‌‌‍‌​‌‌‌​‌​‍‌​‌‌‌​‌​ ‌​‌‌‌​‌‌‍‌​‌‌‌​‌​‍‌​‌‌‌​‌​
During April 53.0 per cent of red calls (immediately life-threatening) received an emergency response within eight minutes – the best figures recorded in almost a year. ‌​‌‌‌​‌‌‍‌​‌‌‌​‌​‍‌​‌‌‌​‌​ ‌​‌‌‌​‌‌‍‌​‌‌‌​‌​‍‌​‌‌‌​‌​
However this is still well below the Welsh Government target of 65 per cent of red calls to have a response within eight minutes. ‌​‌‌‌​‌‌‍‌​‌‌‌​‌​‍‌​‌‌‌​‌​ ‌​‌‌‌​‌‌‍‌​‌‌‌​‌​‍‌​‌‌‌​‌​
‌​‌‌‌​‌‌‍‌​‌‌‌​‌​‍‌​‌‌‌​‌​ ‌​‌‌‌​‌‌‍‌​‌‌‌​‌​‍‌​‌‌‌​‌​
In April there were an estimated 87,100 attendances to Wales' emergency departments. This was an average of 2,903 emergency department attendances per day; 24 attendances more per day on average than in the previous month and 129 more than April 2022. ‌​‌‌‌​‌‌‍‌​‌‌‌​‌​‍‌​‌‌‌​‌​ ‌​‌‌‌​‌‌‍‌​‌‌‌​‌​‍‌​‌‌‌​‌​
In Wrexham 53.3 per cent of patients spent less than four hours at the emergency department – which is on par with its performance in March. ‌​‌‌‌​‌‌‍‌​‌‌‌​‌​‍‌​‌‌‌​‌​ ‌​‌‌‌​‌‌‍‌​‌‌‌​‌​‍‌​‌‌‌​‌​
72.4 per cent of attendees were seen within eight hours and 82.6 per cent in 12 hours. ‌​‌‌‌​‌‌‍‌​‌‌‌​‌​‍‌​‌‌‌​‌​ ‌​‌‌‌​‌‌‍‌​‌‌‌​‌​‍‌​‌‌‌​‌​
BMA Cymru Wales Chair Dr Iona Collins said today's figures are a "stark reminder of the NHS' failings in Wales." ‌​‌‌‌​‌‌‍‌​‌‌‌​‌​‍‌​‌‌‌​‌​ ‌​‌‌‌​‌‌‍‌​‌‌‌​‌​‍‌​‌‌‌​‌​
Dr Collins has now urged the Welsh Government to "incentivise doctors to come and work and stay in NHS Wales and equip them with the tools to deliver the service." ‌​‌‌‌​‌‌‍‌​‌‌‌​‌​‍‌​‌‌‌​‌​ ‌​‌‌‌​‌‌‍‌​‌‌‌​‌​‍‌​‌‌‌​‌​
‌​‌‌‌​‌‌‍‌​‌‌‌​‌​‍‌​‌‌‌​‌​ ‌​‌‌‌​‌‌‍‌​‌‌‌​‌​‍‌​‌‌‌​‌​
Welsh Conservative Shadow Health Minister, Russell George MS compared waiting times in Wales with England, stating that two year waits have "virtually been eliminated over the border." ‌​‌‌‌​‌‌‍‌​‌‌‌​‌​‍‌​‌‌‌​‌​ ‌​‌‌‌​‌‌‍‌​‌‌‌​‌​‍‌​‌‌‌​‌​
He said: "This is completely unacceptable for the tens of thousands of people in Wales waiting years for treatment and the nearly 1-in-4 waiting for treatment in Wales overall. ‌​‌‌‌​‌‌‍‌​‌‌‌​‌​‍‌​‌‌‌​‌​ ‌​‌‌‌​‌‌‍‌​‌‌‌​‌​‍‌​‌‌‌​‌​
"The Labour Health Minister needs to urgently address these figures and listen to Welsh Conservative calls to rapidly roll out surgical hubs and enact a workforce plan to get on top of this backlog." ‌​‌‌‌​‌‌‍‌​‌‌‌​‌​‍‌​‌‌‌​‌​ ‌​‌‌‌​‌‌‍‌​‌‌‌​‌​‍‌​‌‌‌​‌​
Plaid Cymru spokesperson for health and care, Rhun ap Iorwerth MS said: "Now we're into spring, it's clear that we're no longer talking about seasonal pressures – we're talking about a deep rooted inability to get to grips with the grid-lock in our NHS. ‌​‌‌‌​‌‌‍‌​‌‌‌​‌​‍‌​‌‌‌​‌​ ‌​‌‌‌​‌‌‍‌​‌‌‌​‌​‍‌​‌‌‌​‌​
"With more and more people being added to waiting lists every day, and a desperately overloaded social care sector unable to cope with step down care needs, we can't speed the flow of patients through the system until that is addressed. ‌​‌‌‌​‌‌‍‌​‌‌‌​‌​‍‌​‌‌‌​‌​ ‌​‌‌‌​‌‌‍‌​‌‌‌​‌​‍‌​‌‌‌​‌​
‌​‌‌‌​‌‌‍‌​‌‌‌​‌​‍‌​‌‌‌​‌​ ‌​‌‌‌​‌‌‍‌​‌‌‌​‌​‍‌​‌‌‌​‌​
"Welsh Government's inability to improve waiting times sufficiently for patients – missing their own targets in the process, and even showing apparent denial that they weren't on course to meet them – raises serious questions about Labour's credibility in terms of running the health service. ‌​‌‌‌​‌‌‍‌​‌‌‌​‌​‍‌​‌‌‌​‌​ ‌​‌‌‌​‌‌‍‌​‌‌‌​‌​‍‌​‌‌‌​‌​
"I don't think it's impossible for us to put together a vision and to deliver on that vision in a way that delivers better healthcare than we currently see being delivered here in Wales today. ‌​‌‌‌​‌‌‍‌​‌‌‌​‌​‍‌​‌‌‌​‌​ ‌​‌‌‌​‌‌‍‌​‌‌‌​‌​‍‌​‌‌‌​‌​
"But when Labour can't manage to their own targets, it's hard to have any confidence in their ability to fix these issues." ‌​‌‌‌​‌‌‍‌​‌‌‌​‌​‍‌​‌‌‌​‌​ ‌​‌‌‌​‌‌‍‌​‌‌‌​‌​‍‌​‌‌‌​‌​
Health Minister Eluned Morgan said: "I have written to the health boards to express my disappointment that they have not hit the target for people waiting over two years for treatment. ‌​‌‌‌​‌‌‍‌​‌‌‌​‌​‍‌​‌‌‌​‌​ ‌​‌‌‌​‌‌‍‌​‌‌‌​‌​‍‌​‌‌‌​‌​
"I want to see more innovation, like at Ysbyty Gwynedd, where more than 90% of breast cancer surgery is performed as day cases, allowing patients to be managed more efficiently and recover more comfortably and sooner at home. ‌​‌‌‌​‌‌‍‌​‌‌‌​‌​‍‌​‌‌‌​‌​ ‌​‌‌‌​‌‌‍‌​‌‌‌​‌​‍‌​‌‌‌​‌​
"The most urgent cases must still be prioritised, but I expect health boards to work through their waiting lists more quickly. ‌​‌‌‌​‌‌‍‌​‌‌‌​‌​‍‌​‌‌‌​‌​ ‌​‌‌‌​‌‌‍‌​‌‌‌​‌​‍‌​‌‌‌​‌​
‌​‌‌‌​‌‌‍‌​‌‌‌​‌​‍‌​‌‌‌​‌​ ‌​‌‌‌​‌‌‍‌​‌‌‌​‌​‍‌​‌‌‌​‌​
This includes by treating in-turn; increasing significantly the number of the longest waits through more day cases; provision of dedicated ring-fenced planned care beds; more efficient use of theatres; and reducing cancellations, late starts and early finishes of surgery. ‌​‌‌‌​‌‌‍‌​‌‌‌​‌​‍‌​‌‌‌​‌​ ‌​‌‌‌​‌‌‍‌​‌‌‌​‌​‍‌​‌‌‌​‌​
"A year on from the launch of our Six Goals for Urgent and Emergency Care Programme, there are signs of encouragement in today's urgent and emergency care figures, while we recognise there is still more work to be done. ‌​‌‌‌​‌‌‍‌​‌‌‌​‌​‍‌​‌‌‌​‌​ ‌​‌‌‌​‌‌‍‌​‌‌‌​‌​‍‌​‌‌‌​‌​
"Our ambulance service continues to receive historically high levels of red calls, where we have seen a 99 per cent increase over the past four years. ‌​‌‌‌​‌‌‍‌​‌‌‌​‌​‍‌​‌‌‌​‌​ ‌​‌‌‌​‌‌‍‌​‌‌‌​‌​‍‌​‌‌‌​‌​
"The number of red ambulance calls attended within the eight-minute target was 5.6 percentage points higher than in March, and 83% of red calls were answered within 15 minutes. ‌​‌‌‌​‌‌‍‌​‌‌‌​‌​‍‌​‌‌‌​‌​ ‌​‌‌‌​‌‌‍‌​‌‌‌​‌​‍‌​‌‌‌​‌​
"The average time spent by patients in Emergency Departments was just under 2 hours 40 minutes, an improvement on last month. ‌​‌‌‌​‌‌‍‌​‌‌‌​‌​‍‌​‌‌‌​‌​ ‌​‌‌‌​‌‌‍‌​‌‌‌​‌​‍‌​‌‌‌​‌​
"While I am disappointed that health boards have missed their two-year waiting list target, I am pleased to see significant improvements have been made and I will continue to hold health boards to account." ‌​‌‌‌​‌‌‍‌​‌‌‌​‌​‍‌​‌‌‌​‌​ ‌​‌‌‌​‌‌‍‌​‌‌‌​‌​‍‌​‌‌‌​‌​
Spotted something? Got a story? Send a Facebook Message | A direct message on Twitter | Email: News@Deeside.com
---
Latest News
---