New smart motorway plans being scrapped but two in North West will be completed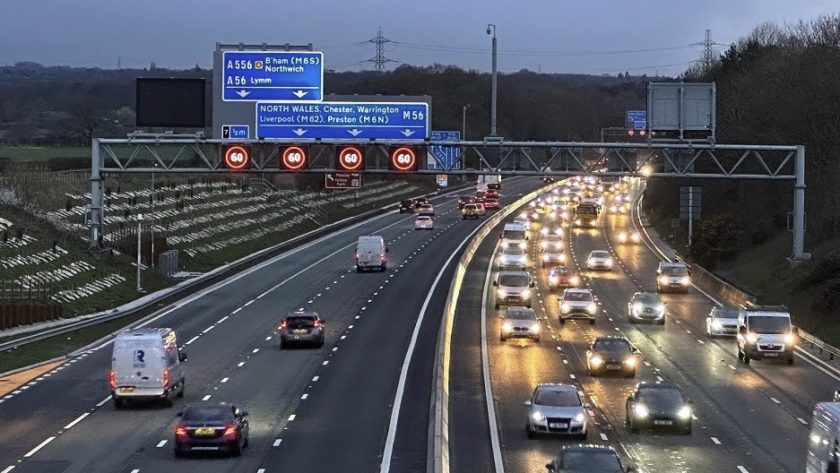 The UK government has announced that it is cancelling the building of all new smart motorways over cost and safety concerns. ‌​‌‌‌​‌‌‍‌​‌‌‌​‌​‍‌​‌‌‌​‌​
Some 14 planned schemes, including 11 already on pause and three down for construction, will be scrapped due to a lack of public confidence and finances. ‌​‌‌‌​‌‌‍‌​‌‌‌​‌​‍‌​‌‌‌​‌​
As they are already 75% complete, the conversion of two sections of motorway into smart motorways in the North West will be finished. ‌​‌‌‌​‌‌‍‌​‌‌‌​‌​‍‌​‌‌‌​‌​
Smart motorways are a stretch of road where technology is used to regulate traffic flow and ease congestion. They also use the hard shoulder as an extra lane of traffic, which critics claim has led to road deaths. ‌​‌‌‌​‌‌‍‌​‌‌‌​‌​‍‌​‌‌‌​‌​
Removing hard shoulders reduces the number of places for drivers to stop in the event of a breakdown or accident, raising concerns over safety. ‌​‌‌‌​‌‌‍‌​‌‌‌​‌​‍‌​‌‌‌​‌​
Initial estimations suggest constructing future smart motorway schemes would have cost more than £1 billion and cancelling these schemes will allow more time to track public confidence in smart motorways over a longer period. ‌​‌‌‌​‌‌‍‌​‌‌‌​‌​‍‌​‌‌‌​‌​
Prime Minister Rishi Sunak said: ‌​‌‌‌​‌‌‍‌​‌‌‌​‌​‍‌​‌‌‌​‌​
"All drivers deserve to have confidence in the roads they use to get around the country." ‌​‌‌‌​‌‌‍‌​‌‌‌​‌​‍‌​‌‌‌​‌​
"That's why last year I pledged to stop the building of all new smart motorways, and today I'm making good on that promise." ‌​‌‌‌​‌‌‍‌​‌‌‌​‌​‍‌​‌‌‌​‌​
"Many people across the country rely on driving to get to work, to take their children to school and go about their daily lives and I want them to be able to do so with full confidence that the roads they drive on are safe." ‌​‌‌‌​‌‌‍‌​‌‌‌​‌​‍‌​‌‌‌​‌​
Transport Secretary Mark Harper said: ‌​‌‌‌​‌‌‍‌​‌‌‌​‌​‍‌​‌‌‌​‌​
"We want the public to know that this government is listening to their concerns." ‌​‌‌‌​‌‌‍‌​‌‌‌​‌​‍‌​‌‌‌​‌​
"Today's announcement means no new smart motorways will be built, recognising the lack of public confidence felt by drivers and the cost pressures due to inflation." ‌​‌‌‌​‌‌‍‌​‌‌‌​‌​‍‌​‌‌‌​‌​
Independent road safety campaigner, Meera Naran, whose 8-year-old son Dev, died in a motorway collision on the M6 in 2018, said: ‌​‌‌‌​‌‌‍‌​‌‌‌​‌​‍‌​‌‌‌​‌​
"Since successfully campaigning for the 18-point action plan, £900 million commitment and the pause in the roll out in January 2022, there has been a lot of joined up thinking in mutually coming to this decision. ‌​‌‌‌​‌‌‍‌​‌‌‌​‌​‍‌​‌‌‌​‌​
"I thank ministers and executives for inviting me to work alongside them in memory of Dev, towards a mutual goal and for their commitment over the years. ‌​‌‌‌​‌‌‍‌​‌‌‌​‌​‍‌​‌‌‌​‌​
The government and National Highways said they will continue to invest £900 million in further safety improvements on existing smart motorways. ‌​‌‌‌​‌‌‍‌​‌‌‌​‌​‍‌​‌‌‌​‌​
This includes progressing plans on installing 150 extra emergency areas across the network in line with the commitments made in response to the Transport Select Committee, as well as further improving the performance of stopped vehicle detection technology on every all lane running smart motorway. ‌​‌‌‌​‌‌‍‌​‌‌‌​‌​‍‌​‌‌‌​‌​
The government will also continue to give motorists clear advice when using existing smart motorways. ‌​‌‌‌​‌‌‍‌​‌‌‌​‌​‍‌​‌‌‌​‌​
While no new stretches of road will be converted into smart motorways, the M56 J6-8 and M6 J21a-26 will be completed given they are already over three quarters constructed. ‌​‌‌‌​‌‌‍‌​‌‌‌​‌​‍‌​‌‌‌​‌​
RAC road safety spokesman Simon Williams said: ‌​‌‌‌​‌‌‍‌​‌‌‌​‌​‍‌​‌‌‌​‌​
"This is a watershed announcement and a victory for everyone who has campaigned against these motorways that, by their design, put drivers in more danger should they be unlucky enough to break down on one." ‌​‌‌‌​‌‌‍‌​‌‌‌​‌​‍‌​‌‌‌​‌​
"Our research shows all lane running smart motorways are deeply unpopular with drivers so we're pleased the Government has finally arrived at the same conclusion." ‌​‌‌‌​‌‌‍‌​‌‌‌​‌​‍‌​‌‌‌​‌​
"It's now vitally important that plans are made for making the hundreds of existing miles of these types of motorway as safe as possible." ‌​‌‌‌​‌‌‍‌​‌‌‌​‌​‍‌​‌‌‌​‌​
"The possibility of converting all lane running stretches to the 'dynamic hard shoulder' configuration, where the hard shoulder is open and closed depending on the levels of traffic, could be one option the Government considers." ‌​‌‌‌​‌‌‍‌​‌‌‌​‌​‍‌​‌‌‌​‌​
Spotted something? Got a story? Send a Facebook Message | A direct message on Twitter | Email: News@Deeside.com
---
Latest News
---