New Class 230 trains on Wrexham Bidston line are "performing very well" says TfW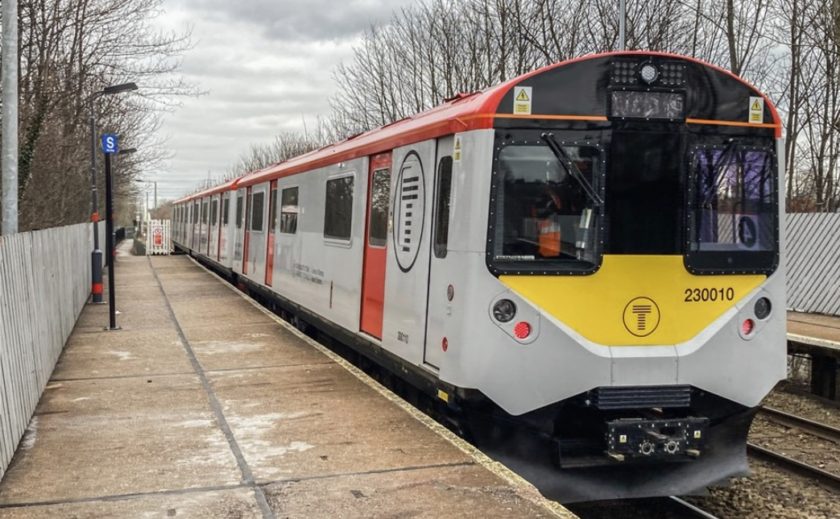 Transport for Wales (TfW) has said its Class 230 trains have been "performing very well" after finally entering passenger service on the Borderlands Line this week, four years later than first planned. ‌​‌‌‌​‌‌‍‌​‌‌‌​‌​‍‌​‌‌‌​‌​
TfW owns five diesel/battery Class 230 trains, which use the bogies and aluminium bodyshells of withdrawn London Underground trains. ‌​‌‌‌​‌‌‍‌​‌‌‌​‌​‍‌​‌‌‌​‌​
They were intended to come into service in 2019, but TfW only took delivery of units from Vivarail in July 2020. ‌​‌‌‌​‌‌‍‌​‌‌‌​‌​‍‌​‌‌‌​‌​
Staff training requirements were hampered by the pandemic, leading to further delays. Other delays have been caused by what TfW called "thermal incidents," including a small fire on one of the units due to overheating batteries. ‌​‌‌‌​‌‌‍‌​‌‌‌​‌​‍‌​‌‌‌​‌​
Vivarail then went into administration, causing a further headache for TfW. ‌​‌‌‌​‌‌‍‌​‌‌‌​‌​‍‌​‌‌‌​‌​
Following a period of fault-free testing, TfW finally decided to run the Class 230 passenger service on the Borderlands Line, initially with a 2-hourly service and rail replacement buses filling in the gaps. ‌​‌‌‌​‌‌‍‌​‌‌‌​‌​‍‌​‌‌‌​‌​
The first service for fare-paying passengers departed Wrexham Central at 7:31 am on Monday. It arrived at Shotton on time at 8:05 am. ‌​‌‌‌​‌‌‍‌​‌‌‌​‌​‍‌​‌‌‌​‌​
The train arrived at Bidston only four minutes late, but with only one train working the line, there is little margin for delay. ‌​‌‌‌​‌‌‍‌​‌‌‌​‌​‍‌​‌‌‌​‌​
The train struggled to keep to the timetable by the afternoon. The delay to the service ticked up, and by 1:30 pm, it was running nearly 20 minutes late. ‌​‌‌‌​‌‌‍‌​‌‌‌​‌​‍‌​‌‌‌​‌​
The 2:58 pm from Bidston arrived at Wrexham General at 3:54 pm, 25 minutes late. With no chance of pulling back any time, the return leg to Bidston was cancelled. ‌​‌‌‌​‌‌‍‌​‌‌‌​‌​‍‌​‌‌‌​‌​
The unit later left Wrexham at 5:42 pm but was 59 minutes late at Shotton, where it was terminated due to traction equipment problems. Tuesday saw a similar story, with delays of up to 25 minutes and another cancellation. ‌​‌‌‌​‌‌‍‌​‌‌‌​‌​‍‌​‌‌‌​‌​
We asked TfW for their assessment so far, a spokesperson said: "With the exception of some issues at the end of the day on Monday, the Class 230s have generally been performing very well since starting passenger service on Wrexham-Bidston route." ‌​‌‌‌​‌‌‍‌​‌‌‌​‌​‍‌​‌‌‌​‌​
"This follows significant testing and driver training over many months. When introducing new trains, it is common for minor issues to occur during the initial period following entry into service, as testing cannot fully replicate the passenger service environment and operation." ‌​‌‌‌​‌‌‍‌​‌‌‌​‌​‍‌​‌‌‌​‌​
TfW added: "The Class 230 is a modern battery-diesel hybrid with higher performance than any of the rest of the TfW fleet. As a result, it has a very different driving style which will take drivers a little while to get used to. Timings will become consistent as drivers become more familiar with the trains." ‌​‌‌‌​‌‌‍‌​‌‌‌​‌​‍‌​‌‌‌​‌​
Wednesday's performance appeared to be an improvement, but the service still struggled to keep to the timetable. ‌​‌‌‌​‌‌‍‌​‌‌‌​‌​‍‌​‌‌‌​‌​
On Thursday the train taken out of service in the early afternoon due to a problem with the brakes. ‌​‌‌‌​‌‌‍‌​‌‌‌​‌​‍‌​‌‌‌​‌​
No trains have run on the Wrexham to Bidston line on Friday, and according to the Real Time Trains website, none are scheduled for Saturday and Sunday. ‌​‌‌‌​‌‌‍‌​‌‌‌​‌​‍‌​‌‌‌​‌​
A Wrexham Bidston Rail User Association spokesperson said: "The WBRUA has supported the development and introduction of the Class 230 trains from the outset and wants to see these trains achieve the performance that the Association was told they would deliver." ‌​‌‌‌​‌‌‍‌​‌‌‌​‌​‍‌​‌‌‌​‌​
"We are continuing to monitor the day-to-day performance and were pleased to see an improvement in running times on Wednesday." ‌​‌‌‌​‌‌‍‌​‌‌‌​‌​‍‌​‌‌‌​‌​
"Even on Day-1, the train performed a great deal better than its predecessors on the steep climb southbound from Shotton station, a clear indication of what the WBRUA hopes will follow in reliable day-to-day operation." ‌​‌‌‌​‌‌‍‌​‌‌‌​‌​‍‌​‌‌‌​‌​
Quoting 'industry insiders' Rail Business UK writes, "timing runs on the Borderlands Line had shown that the Class 230s can keep to sectional running times. ‌​‌‌‌​‌‌‍‌​‌‌‌​‌​‍‌​‌‌‌​‌​
A TfW source also told Rail Business UK  "the torque from these sets is high and instant, acceleration is quite amazing, but the drivers need to be confident and allow the traction control to do its stuff. " ‌​‌‌‌​‌‌‍‌​‌‌‌​‌​‍‌​‌‌‌​‌​
"Most drivers have only been used to diesel sets, the Class 230s have diesel engines but they perform like an electric train and it will take time for the drivers to get used to driving in a different way." ‌​‌‌‌​‌‌‍‌​‌‌‌​‌​‍‌​‌‌‌​‌​
Spotted something? Got a story? Send a Facebook Message | A direct message on Twitter | Email: News@Deeside.com
---
Latest News
---