National day of reflection – One year on since the start of the first lockdown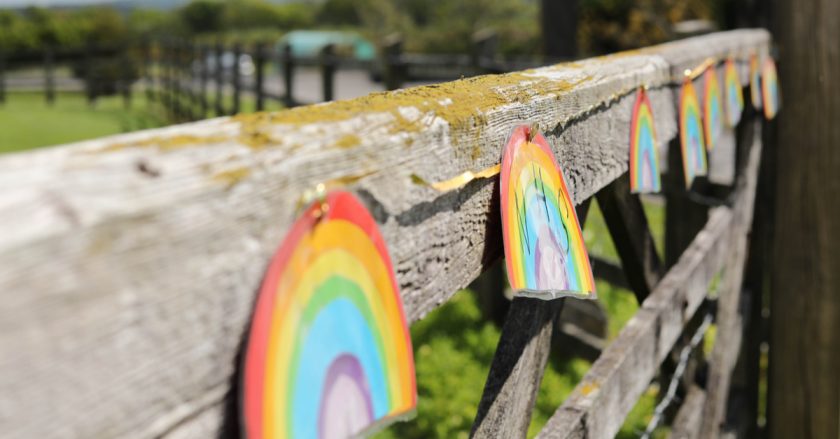 This article is old - Published: Tuesday, Mar 23rd, 2021
It's been one year since Prime Minister Boris Johnson – in a live address to the UK nations – told people to stay home to help stop the spread of Coronavirus. ‌​‌‌‌​‌‌‍‌​‌‌‌​‌​‍‌​‌‌‌​‌​
When the first national lockdown was announced the total number of recorded deaths linked to coronavirus in the UK stood at 335, four of those were in Wales. ‌​‌‌‌​‌‌‍‌​‌‌‌​‌​‍‌​‌‌‌​‌​
Since then there has been over 126,000 suspected Covid-19 deaths in the UK, in Wales, 5,488 Covid related deaths have been reported to Public Health Wales. ‌​‌‌‌​‌‌‍‌​‌‌‌​‌​‍‌​‌‌‌​‌​
Since the March lockdown there have been significant restrictions on people's lives – including not being able to see loved ones, visit relatives or friends in hospitals and care homes, social distancing, mask wearing and until recently – the requirement to stay at home. ‌​‌‌‌​‌‌‍‌​‌‌‌​‌​‍‌​‌‌‌​‌​
We've also seen the introduction a firebreak, local lockdowns and a further national lockdown all taking place within the last 12 months in attempts to halt the spread of the virus. ‌​‌‌‌​‌‌‍‌​‌‌‌​‌​‍‌​‌‌‌​‌​
There will be a minute's silence, at 12 midday today and a national doorstep vigil, at 8.00pm, to form part of a day of reflection when those who have died in the pandemic will be remembered. ‌​‌‌‌​‌‌‍‌​‌‌‌​‌​‍‌​‌‌‌​‌​
Many prominent buildings and landmarks across the country will be illuminated yellow in the evening including Theatr Clwyd, Flint Castle and the Deeside Rainbow hospital. ‌​‌‌‌​‌‌‍‌​‌‌‌​‌​‍‌​‌‌‌​‌​
Cllr. Marion Bateman, Chair of Flintshire County Council said; ‌​‌‌‌​‌‌‍‌​‌‌‌​‌​‍‌​‌‌‌​‌​
The past year has been difficult for us all as the enormity of the challenges the pandemic placed before us became clear. ‌​‌‌‌​‌‌‍‌​‌‌‌​‌​‍‌​‌‌‌​‌​

Many of us will have been touched by the tragic loss of close relatives, friends, neighbours and colleagues. ‌​‌‌‌​‌‌‍‌​‌‌‌​‌​‍‌​‌‌‌​‌​

There have been so many situations where people have been unable to say goodbye properly to loved ones and to come together to provide the comfort and support that is so necessary for us all to understand and recover from such tragedies. ‌​‌‌‌​‌‌‍‌​‌‌‌​‌​‍‌​‌‌‌​‌​

It is entirely appropriate that we now take time to reflect on our journey through the pandemic, remember those taken from us during these worrying times and how we can all help each other move forward in the months to come. ‌​‌‌‌​‌‌‍‌​‌‌‌​‌​‍‌​‌‌‌​‌​
Cllr. Ian Roberts, Leader of Flintshire County Council said; ‌​‌‌‌​‌‌‍‌​‌‌‌​‌​‍‌​‌‌‌​‌​
Without doubt all our daily lives have been disrupted and changed immeasurably over the last twelve months. ‌​‌‌‌​‌‌‍‌​‌‌‌​‌​‍‌​‌‌‌​‌​

We have all sacrificed many of the freedoms that we had taken for granted. ‌​‌‌‌​‌‌‍‌​‌‌‌​‌​‍‌​‌‌‌​‌​

On 23 March, we rightly remember those who succumbed to the pandemic and the heartbreak suffered by so many families. ‌​‌‌‌​‌‌‍‌​‌‌‌​‌​‍‌​‌‌‌​‌​

We must also reflect on and applaud the efforts, skills and determination of those who have sought to keep us safe and keep vital services running at this time. ‌​‌‌‌​‌‌‍‌​‌‌‌​‌​‍‌​‌‌‌​‌​

Our health services, emergency services and carers have worked tirelessly to care for and protect us. ‌​‌‌‌​‌‌‍‌​‌‌‌​‌​‍‌​‌‌‌​‌​

Council staff, frontline and support services, have put so much effort and commitment into ensuring the essential services we provide are maintained. ‌​‌‌‌​‌‌‍‌​‌‌‌​‌​‍‌​‌‌‌​‌​

Our schools, colleges and universities have been tireless in their determination to maintain education services and support for our children and young people. ‌​‌‌‌​‌‌‍‌​‌‌‌​‌​‍‌​‌‌‌​‌​

The tremendous efforts of shop workers and delivery drivers and many others have allowed us to continue with our daily lives. ‌​‌‌‌​‌‌‍‌​‌‌‌​‌​‍‌​‌‌‌​‌​

We have made great progress in our understanding of coronavirus in recent months and what we must all do to keep each other safe. ‌​‌‌‌​‌‌‍‌​‌‌‌​‌​‍‌​‌‌‌​‌​

As we move gradually closer to easing the regulations and returning to a level of normality now is the time, more than ever, to ensure that we continue to follow the rules. ‌​‌‌‌​‌‌‍‌​‌‌‌​‌​‍‌​‌‌‌​‌​
The First Minister of Wales Mark Drakeford will take part in the National Coronavirus Commemorative Event held at 5:15pm today. ‌​‌‌‌​‌‌‍‌​‌‌‌​‌​‍‌​‌‌‌​‌​
The event will bring the nation together to pay our respects to those we've lost and express our sympathy to those who are grieving for their loved ones. ‌​‌‌‌​‌‌‍‌​‌‌‌​‌​‍‌​‌‌‌​‌​
It will be a chance to reflect on how the pandemic has had a profound impact on every community in Wales and celebrate how people in those communities have sustained each other. ‌​‌‌‌​‌‌‍‌​‌‌‌​‌​‍‌​‌‌‌​‌​
Ifor ap Glyn the National Poet of Wales will read a poem written especially for the Commemoration and the Morriston Hospital Emergency Department Choir have recorded a special performance for the event. ‌​‌‌‌​‌‌‍‌​‌‌‌​‌​‍‌​‌‌‌​‌​
The First Minister will also take part in a minute silence at midday to remember those who have died over the last year. ‌​‌‌‌​‌‌‍‌​‌‌‌​‌​‍‌​‌‌‌​‌​
Mark Drakeford said, ‌​‌‌‌​‌‌‍‌​‌‌‌​‌​‍‌​‌‌‌​‌​
Over the last 12 months, the pandemic has turned all our lives upside down. ‌​‌‌‌​‌‌‍‌​‌‌‌​‌​‍‌​‌‌‌​‌​

Too many families have lost loved ones and close friends and so many people haven't had a chance to say goodbye because of all the changes coronavirus has meant to our lives. ‌​‌‌‌​‌‌‍‌​‌‌‌​‌​‍‌​‌‌‌​‌​

"t's really important we have an opportunity to come together to reflect on the last year and to unite to support each other through this tough time. ‌​‌‌‌​‌‌‍‌​‌‌‌​‌​‍‌​‌‌‌​‌​
The National Coronavirus Commemorative Event will presented by Huw Edwards and broadcast at 5:15pm on BBC One Wales and S4C. ‌​‌‌‌​‌‌‍‌​‌‌‌​‌​‍‌​‌‌‌​‌​
Spotted something? Got a story? Send a Facebook Message | A direct message on Twitter | Email: News@Deeside.com
---
Latest News
---