Met Office: Very high levels of pollen in Wales today and Thursday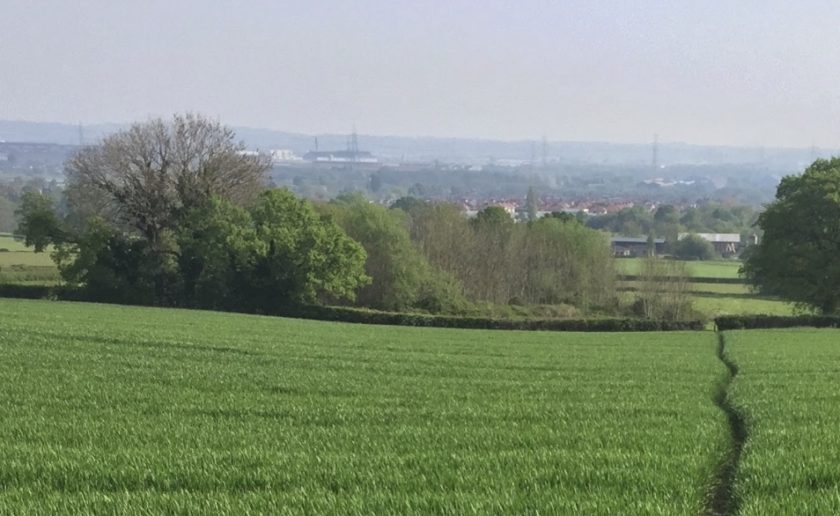 Wales is experiencing a very high pollen count today and tomorrow, according to the pollen count monitoring network, causing discomfort for hay fever sufferers across the country.` ‌​‌‌‌​‌‌‍‌​‌‌‌​‌​‍‌​‌‌‌​‌​
Hay fever is an allergic reaction to pollen, typically when it comes into contact with a sufferers mouth, nose, eyes, and throat. ‌​‌‌‌​‌‌‍‌​‌‌‌​‌​‍‌​‌‌‌​‌​
People who suffer from it are likely to experience symptoms such as sneezing, coughing, a runny or blocked nose, itchy eyes, and fatigue. ‌​‌‌‌​‌‌‍‌​‌‌‌​‌​‍‌​‌‌‌​‌​
Tree pollen from birch, plane, willow, ash, and oak, as well as fungal spores including Pleospora, Aspergillus, and Penicillium are currently in peak season, causing discomfort for many. ‌​‌‌‌​‌‌‍‌​‌‌‌​‌​‍‌​‌‌‌​‌​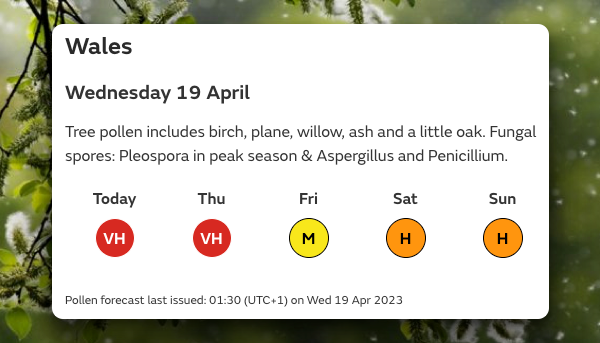 ‌​‌‌‌​‌‌‍‌​‌‌‌​‌​‍‌​‌‌‌​‌​
[The pollen count monitoring network combines Met Office weather data with expertise from organisations such as the National Pollen and Aerobiological Unit to produce pollen forecasts for 5 days ahead across the whole of the UK.] ‌​‌‌‌​‌‌‍‌​‌‌‌​‌​‍‌​‌‌‌​‌​
Hay fever is usually worse between late March and September, especially when it's warm, humid, and windy. ‌​‌‌‌​‌‌‍‌​‌‌‌​‌​‍‌​‌‌‌​‌​
This is when the pollen count is at its highest. It is important for people with hay fever to keep their medication close by, to avoid the worst of the symptoms. ‌​‌‌‌​‌‌‍‌​‌‌‌​‌​‍‌​‌‌‌​‌​
If you have asthma, you might also experience a tight feeling in your chest, shortness of breath, wheezing, and coughing. Hay fever can last for weeks or months, unlike a cold, which usually goes away after 1 to 2 weeks. ‌​‌‌‌​‌‌‍‌​‌‌‌​‌​‍‌​‌‌‌​‌​
The NHS says there's currently no cure for hay fever, but you can do things to ease your symptoms when the pollen count is high. ‌​‌‌‌​‌‌‍‌​‌‌‌​‌​‍‌​‌‌‌​‌​
Putting Vaseline around your nostrils to trap pollen, wearing wraparound sunglasses to stop pollen getting into your eyes, and showering and changing clothes after being outside to wash pollen off are all helpful tips. ‌​‌‌‌​‌‌‍‌​‌‌‌​‌​‍‌​‌‌‌​‌​
Staying indoors whenever possible, keeping windows and doors shut, vacuuming regularly, and buying a pollen filter for the air vents in your car and a vacuum cleaner with a HEPA filter are also effective ways of minimizing exposure to pollen. ‌​‌‌‌​‌‌‍‌​‌‌‌​‌​‍‌​‌‌‌​‌​
However, it is important to note that people with high temperatures or who do not feel well enough to do their normal activities should try to stay at home and avoid contact with others. ‌​‌‌‌​‌‌‍‌​‌‌‌​‌​‍‌​‌‌‌​‌​
The NHS advises people with hay fever, speak to your pharmacist who can give advice and suggest the best treatments, like antihistamine drops, tablets, or nasal sprays to help with itchy and watery eyes, sneezing, and a blocked nose. ‌​‌‌‌​‌‌‍‌​‌‌‌​‌​‍‌​‌‌‌​‌​
Nonetheless, if your symptoms are getting worse or do not improve after taking medicines from the pharmacy, it is essential to see a GP. ‌​‌‌‌​‌‌‍‌​‌‌‌​‌​‍‌​‌‌‌​‌​
In some cases, GPs may prescribe a steroid treatment, such as a steroid nasal spray. ‌​‌‌‌​‌‌‍‌​‌‌‌​‌​‍‌​‌‌‌​‌​
If steroids and other hay fever treatments do not work, the GP may refer you for immunotherapy, which means you'll be given small amounts of pollen as an injection or tablet to slowly build up your immunity to pollen. ‌​‌‌‌​‌‌‍‌​‌‌‌​‌​‍‌​‌‌‌​‌​
However, it is important to note that immunotherapy is a specialist service that may not be available everywhere. ‌​‌‌‌​‌‌‍‌​‌‌‌​‌​‍‌​‌‌‌​‌​
‌​‌‌‌​‌‌‍‌​‌‌‌​‌​‍‌​‌‌‌​‌​
‌​‌‌‌​‌‌‍‌​‌‌‌​‌​‍‌​‌‌‌​‌​
‌​‌‌‌​‌‌‍‌​‌‌‌​‌​‍‌​‌‌‌​‌​
Spotted something? Got a story? Send a Facebook Message | A direct message on Twitter | Email: News@Deeside.com
---
Latest News
Detailed plans for brand new £110m Women and Children's building at the Countess of Chester Hospital to be unveiled
---