Labour Councillor warns of devastating impact on communities if controversial Local Development Plan is approved​‌‌‌​‌‌‍‌​‌‌‌​‌​‍‌​‌‌‌​‌​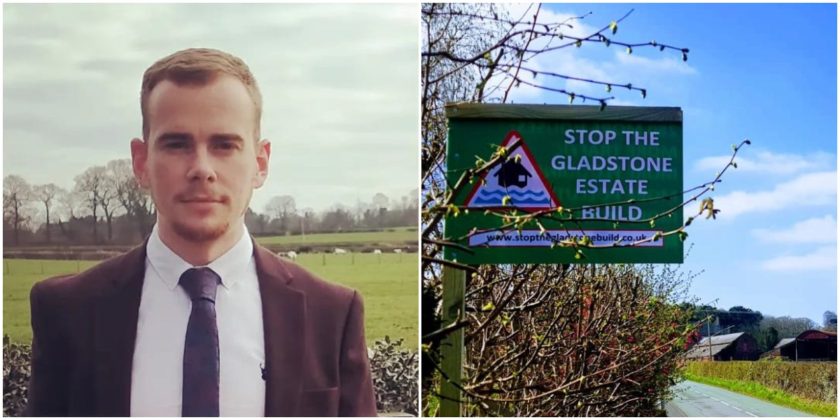 A Flintshire Councillor has called for other members to join in voting against the council's Local Development Plan ahead of a crunch vote on Tuesday. ‌​‌‌‌​‌‌‍‌​‌‌‌​‌​‍‌​‌‌‌​‌​
Hawarden Mancot's Labour Cllr Sam Swash is set to vote against the wishes of his own party's leadership at a crunch meeting of the full council tomorrow, in which Flintshire's Local Development Plan (LDP) is set to be approved. ‌​‌‌‌​‌‌‍‌​‌‌‌​‌​‍‌​‌‌‌​‌​
The LDP earmarks sites across the county on which thousands of houses can be built over the next few years. Labour-led Flintshire is one of just two local authorities in Wales, the other being Wrexham, which does not currently have a plan in place, being nearly eight years behind schedule. ‌​‌‌‌​‌‌‍‌​‌‌‌​‌​‍‌​‌‌‌​‌​
Flintshire's plan has been examined by the Welsh Government and independent planning inspectorate, deeming it ready for approval. But during the consultation period concerns have been raised about the impact a development would have on infrastructure, schools and amenities in some areas. ‌​‌‌‌​‌‌‍‌​‌‌‌​‌​‍‌​‌‌‌​‌​
One of the sites earmarked for housing in the plan is land between Ash Lane and Park Avenue in Hawarden, with proposals to build more than 280 homes on green land there. The site has proven controversial, with over 2,500 people signing a petition opposing it and hundreds of placards being erected in gardens protesting the plans. ‌​‌‌‌​‌‌‍‌​‌‌‌​‌​‍‌​‌‌‌​‌​
Describing the plan as "dangerously late and completely inadequate", Cllr Swash has pleaded with colleagues to reject the plan on Tuesday. ‌​‌‌‌​‌‌‍‌​‌‌‌​‌​‍‌​‌‌‌​‌​
He said: "At no point has anybody attempted to make a positive case for the adoption of this plan, and that speaks volumes. Everybody knows the strain our local communities are under and yet we are being encouraged to make that situation even worse. ‌​‌‌‌​‌‌‍‌​‌‌‌​‌​‍‌​‌‌‌​‌​
"A vote for this LDP is a vote to condemn my residents to more flooding of their homes, longer waits at the doctors and a bigger battle to get their children into local schools." ‌​‌‌‌​‌‌‍‌​‌‌‌​‌​‍‌​‌‌‌​‌​
Whilst accepting the need for more housing in the county, Cllr Swash criticised the plan for providing what he feels are the wrong sort of homes in the wrong places. ‌​‌‌‌​‌‌‍‌​‌‌‌​‌​‍‌​‌‌‌​‌​
He added: "We have a huge housing crisis in this country, caused by a total lack of social and affordable house building. Of the 7,870 houses being proposed in this plan, less than 2,300 will be affordable, meaning at least 65 per cent will be unaffordable for the vast majority." ‌​‌‌‌​‌‌‍‌​‌‌‌​‌​‍‌​‌‌‌​‌​
"The Council are trying to tell residents that this plan will help tackle the housing crisis, when in fact, it will do the complete opposite. This plan will wreck finite existing community green spaces and fill them with houses that most people simply cannot afford. ‌​‌‌‌​‌‌‍‌​‌‌‌​‌​‍‌​‌‌‌​‌​
"We could, and should, be using brownfield sites to build social housing. Instead, if approved, this plan will actively perpetuate the housing crisis and sell future generations down the river." ‌​‌‌‌​‌‌‍‌​‌‌‌​‌​‍‌​‌‌‌​‌​
Last week the cabinet member for planning Mold East Cllr Chris Bithell (Lab) backed the plan and said he hoped it would be judged by members of the public on its merits as a whole and not on individual parts that they may have issues with. ‌​‌‌‌​‌‌‍‌​‌‌‌​‌​‍‌​‌‌‌​‌​
Speaking at a cabinet meeting last week, Cllr Bithell said: "Planning for growth inevitably involves making some difficult decisions, particularly about releasing land for development in certain areas. ‌​‌‌‌​‌‌‍‌​‌‌‌​‌​‍‌​‌‌‌​‌​
"The fact that not everyone will be happy with aspects of the plan is par for the course in planning. ‌​‌‌‌​‌‌‍‌​‌‌‌​‌​‍‌​‌‌‌​‌​
"Two terms spring to mind when considering these viewpoints, namely nimbyism (not in my back yard) and banana (build anywhere not anywhere near anybody) which sums up the attitude of many in respect of land and future housing development. ‌​‌‌‌​‌‌‍‌​‌‌‌​‌​‍‌​‌‌‌​‌​
"Thank goodness councillors and planners in the past have been brave and bold enough to make those difficult and often unpopular decisions in the face of opposition. ‌​‌‌‌​‌‌‍‌​‌‌‌​‌​‍‌​‌‌‌​‌​
"We have to provide land for housing in sustainable locations and that is what we believe we have done in the plan, and that has now been endorsed by the inspector." ‌​‌‌‌​‌‌‍‌​‌‌‌​‌​‍‌​‌‌‌​‌​
A final vote to adopt the Local Development Plan will be taken by Flintshire County Council at its meeting tomorrow, with all councillors having the chance to have their say. ‌​‌‌‌​‌‌‍‌​‌‌‌​‌​‍‌​‌‌‌​‌​
By Rory Sheehan – Local Democracy Reporter ‌​‌‌‌​‌‌‍‌​‌‌‌​‌​‍‌​‌‌‌​‌​
Spotted something? Got a story? Send a Facebook Message | A direct message on Twitter | Email: News@Deeside.com
---
Latest News
---