Huge police operation targeting cross-border criminals takes place in Deeside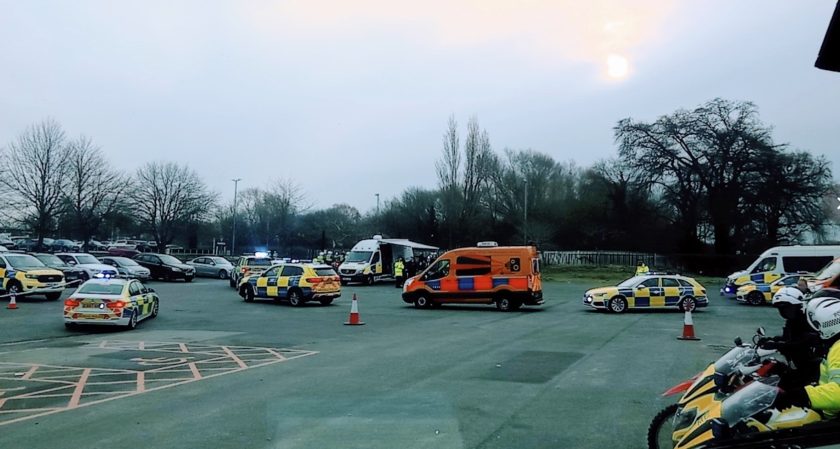 This article is old - Published: Wednesday, Mar 8th, 2023
A huge police operation aimed at cracking down on cross-border criminal activities has been taking place across Flintshire, Wrexham and parts of Cheshire today. ‌​‌‌‌​‌‌‍‌​‌‌‌​‌​‍‌​‌‌‌​‌​
As part of Operation Crossbow, the day of action took place this morning, Wednesday 8 March – saw Cheshire Constabulary join forces with North Wales Police and British Transport Police in a bid to disrupt and deny criminals using the road and railway networks between borders. ‌​‌‌‌​‌‌‍‌​‌‌‌​‌​‍‌​‌‌‌​‌​
More than 200 officers flooded the main arterial routes in and out of Chester and North Wales aiming to flush out any potential criminals using the transport network to commit crime. ‌​‌‌‌​‌‌‍‌​‌‌‌​‌​‍‌​‌‌‌​‌​
Big police operation in @shitchester this morning. 80 police vehicles leaving Chester on Sealand Road this morning. ‌​‌‌‌​‌‌‍‌​‌‌‌​‌​‍‌​‌‌‌​‌​

— James Kirby (@kirbydesign) March 8, 2023 ‌​‌‌‌​‌‌‍‌​‌‌‌​‌​‍‌​‌‌‌​‌​

A number of Deeside residents have been in contact with Deeside.com asking about the large police presence in the area. ‌​‌‌‌​‌‌‍‌​‌‌‌​‌​‍‌​‌‌‌​‌​
Meena said she saw a convoy of 20 police cars and vans being driven through Connah's Quay. ‌​‌‌‌​‌‌‍‌​‌‌‌​‌​‍‌​‌‌‌​‌​
Helen said there were "so many police gathered on the Deeside Industrial A548 around 9am this morning." ‌​‌‌‌​‌‌‍‌​‌‌‌​‌​‍‌​‌‌‌​‌​
"They appeared to have a drone overhead,  they went in a convoy which include the speed camera van, undercover cars, scrambler bikes and motorbikes." ‌​‌‌‌​‌‌‍‌​‌‌‌​‌​‍‌​‌‌‌​‌​
@DeesideDotCom any idea why at least 20 police cars and vans, and 2 police motorcycles passed through CQ in convoy this morning? 🚔🚓🚔🚓 ‌​‌‌‌​‌‌‍‌​‌‌‌​‌​‍‌​‌‌‌​‌​

— Menna Withington (@CymraesMenna) March 8, 2023 ‌​‌‌‌​‌‌‍‌​‌‌‌​‌​‍‌​‌‌‌​‌​

While police across both force areas targeted road and rail networks running between Cheshire, Flintshire and Wrexham, North West Police Marine Unit carried out boat patrols on the River Dee. ‌​‌‌‌​‌‌‍‌​‌‌‌​‌​‍‌​‌‌‌​‌​
Supporting our colleagues today with boat patrols on the River Dee 👌🏻 #OpCrossbow #InternationalWomensDay @cheshirepolice @ChNWPoliceDogs @BTPCheshire @CheshireRCU pic.twitter.com/hI4PYlmsDr ‌​‌‌‌​‌‌‍‌​‌‌‌​‌​‍‌​‌‌‌​‌​

— North West Police Underwater Search & Marine Unit (@NWPoliceDivers) March 8, 2023 ‌​‌‌‌​‌‌‍‌​‌‌‌​‌​‍‌​‌‌‌​‌​
‌​‌‌‌​‌‌‍‌​‌‌‌​‌​‍‌​‌‌‌​‌​
Police parked at key locations and used Automatic Number Plate Recognition (ANPR) to monitor vehicles crossing between the counties with stop checks being made on vehicles linked to criminal activity or believed to be operating on the roads illegally. ‌​‌‌‌​‌‌‍‌​‌‌‌​‌​‍‌​‌‌‌​‌​
In addition, officers from British Transport Police also patrolled the rail routes into Chester. ‌​‌‌‌​‌‌‍‌​‌‌‌​‌​‍‌​‌‌‌​‌​
While out targeting criminals, Cheshire officers were equipped with Operator Initiated Facial Recognition (OIFR) which allows officers to check the identity of someone who is believed to have provided false details and are unable to show identification. ‌​‌‌‌​‌‌‍‌​‌‌‌​‌​‍‌​‌‌‌​‌​
OIFR allows officers to promptly compare photographs of offenders to a reference image database to assist them with confirming the identity of the person in front of them. ‌​‌‌‌​‌‌‍‌​‌‌‌​‌​‍‌​‌‌‌​‌​
‌​‌‌‌​‌‌‍‌​‌‌‌​‌​‍‌​‌‌‌​‌​
North Wales Police Assistant Chief Constable Chris Allsop said: "This successful day of action achieved its main objective of coming together with colleagues in Cheshire Police and the British Transport Police to disrupt against criminals who rely on the roads and rail network to cross the North Wales and Cheshire border to commit offences. " ‌​‌‌‌​‌‌‍‌​‌‌‌​‌​‍‌​‌‌‌​‌​
"With a strong link between serious and organised crime and the illegal use of vehicles, it was vital that we worked together to target these main arterial routes to disrupt criminals operating in our areas. " ‌​‌‌‌​‌‌‍‌​‌‌‌​‌​‍‌​‌‌‌​‌​
"We cannot underestimate the impact of cross-border crime on our local communities. County Line gangs exploit the most vulnerable people in our communities, including children and young people. They are intimated, coerced, threatened and often subject to violence." ‌​‌‌‌​‌‌‍‌​‌‌‌​‌​‍‌​‌‌‌​‌​
"We remain absolutely committed to working with neighbouring forces to pursue offenders and together, we will continue to make North Wales the safest place to live, work and visit. ‌​‌‌‌​‌‌‍‌​‌‌‌​‌​‍‌​‌‌‌​‌​
"I hope this operation has reassured residents that we will do all we can to protect the public we serve and take those who commit crimes off our streets." ‌​‌‌‌​‌‌‍‌​‌‌‌​‌​‍‌​‌‌‌​‌​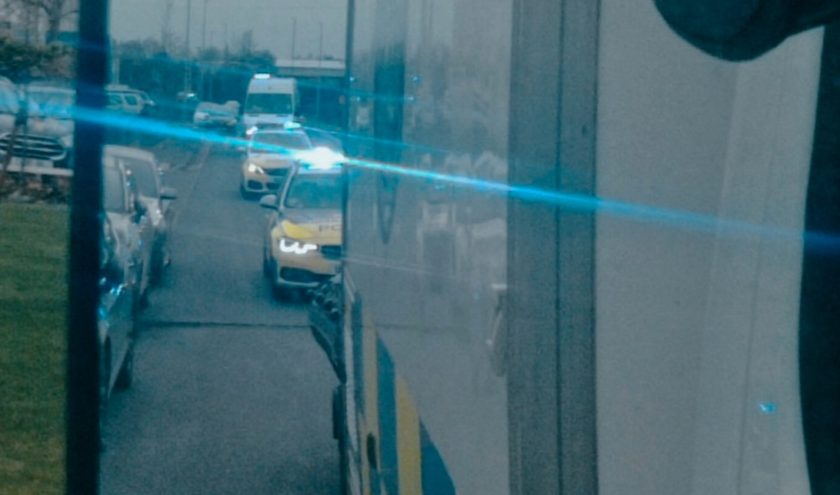 ‌​‌‌‌​‌‌‍‌​‌‌‌​‌​‍‌​‌‌‌​‌​
ACC Allsop added: "Operations of this scale are always led by our most skilled and talented officers, and as we celebrate International Women's Day today, I am pleased that this major operation was led by two female gold commanders for both North Wales and Cheshire Police, in addition to two female Chief Inspectors from North Wales Police." ‌​‌‌‌​‌‌‍‌​‌‌‌​‌​‍‌​‌‌‌​‌​
"This is just one example of the amazing work our female officers and staff undertake every day and is testament to their hard work and dedication to their roles." ‌​‌‌‌​‌‌‍‌​‌‌‌​‌​‍‌​‌‌‌​‌​
Chief inspector Dave Rams of British Transport Police said: "Our officers continue to patrol trains in and out of the city targeting those who are intent on using the railway in pursuit of their criminal endeavours. ‌​‌‌‌​‌‌‍‌​‌‌‌​‌​‍‌​‌‌‌​‌​
"Working together by combining our resources sends a powerful message to criminals that they will be stopped. ‌​‌‌‌​‌‌‍‌​‌‌‌​‌​‍‌​‌‌‌​‌​
"Whether you are a rail passenger or a member or rail staff we are always focused on your safety. ‌​‌‌‌​‌‌‍‌​‌‌‌​‌​‍‌​‌‌‌​‌​
"To report a crime on the network or if you spot something that doesn't look right you can text us discreetly using our 61016 number. In an emergency always call 999." ‌​‌‌‌​‌‌‍‌​‌‌‌​‌​‍‌​‌‌‌​‌​
Spotted something? Got a story? Send a Facebook Message | A direct message on Twitter | Email: News@Deeside.com
---
Latest News
---