Frustration as Flintshire receives lowest share of EU replacement fund in North Wales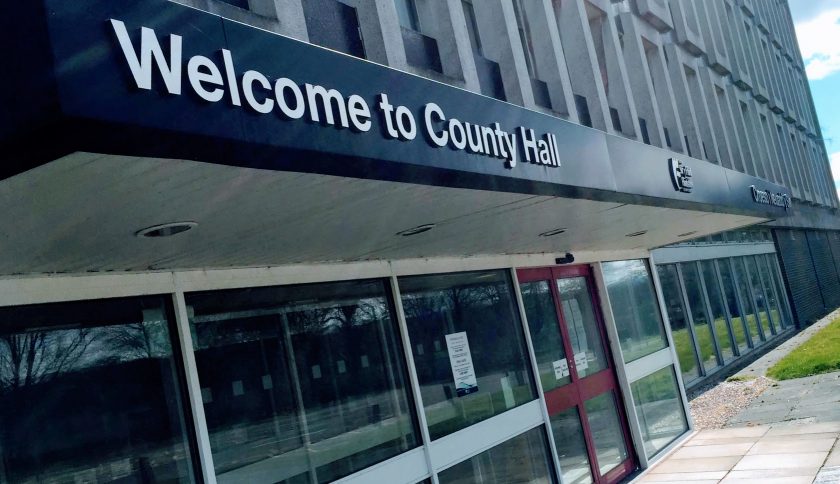 This article is old - Published: Wednesday, Jul 13th, 2022
Senior councillors have expressed their frustration after Flintshire was allocated the lowest share of money to replace EU funding in North Wales. ‌​‌‌‌​‌‌‍‌​‌‌‌​‌​‍‌​‌‌‌​‌​
The UK Government's Shared Prosperity Fund has been set up in the wake of Brexit to take the place of EU structural funds to help deprived areas. ‌​‌‌‌​‌‌‍‌​‌‌‌​‌​‍‌​‌‌‌​‌​
Details have been published of how much each of the six local authority areas in the region will receive over the next three years, with the area collectively allocated £126m. ‌​‌‌‌​‌‌‍‌​‌‌‌​‌​‍‌​‌‌‌​‌​
However, the figures show Flintshire will get little over half of the £21.2m being given to Denbighshire, which stands to be the largest beneficiary of the fund. ‌​‌‌‌​‌‌‍‌​‌‌‌​‌​‍‌​‌‌‌​‌​
The county's share of £10.8m compares to almost £20.3m for Conwy, £20.2m for Gwynedd, nearly £18.8m for neighbouring Wrexham and around £13.3m for Anglesey. ‌​‌‌‌​‌‌‍‌​‌‌‌​‌​‍‌​‌‌‌​‌​
Members of Flintshire Council's ruling Labour cabinet have hit out at the Westminster government over the relatively low sum. ‌​‌‌‌​‌‌‍‌​‌‌‌​‌​‍‌​‌‌‌​‌​
Speaking at a meeting held yesterday (Tuesday, July 12), David Healey, portfolio holder for climate change and economy, said: "Overall, across the UK the fund promises £2.5bn over a period of three years with an end date of 2025. ‌​‌‌‌​‌‌‍‌​‌‌‌​‌​‍‌​‌‌‌​‌​
"North Wales is to benefit from this by £126m, but here in Flintshire I think we can raise an eyebrow at the relatively small amount that we are expected to receive in relation to some of the other local authorities of £10.8m
"We are sadly, using the UK Government's criteria, 20th out of 22 authorities in Wales in terms of what's been allocated. ‌​‌‌‌​‌‌‍‌​‌‌‌​‌​‍‌​‌‌‌​‌​
"If anybody was expecting a better deal from the UK Government than we get from the Welsh Government, then we certainly haven't, and it is disappointing. ‌​‌‌‌​‌‌‍‌​‌‌‌​‌​‍‌​‌‌‌​‌​
"That means that we do have to utter words of caution, that over the three years, it's actually not going to go all that far." ‌​‌‌‌​‌‌‍‌​‌‌‌​‌​‍‌​‌‌‌​‌​
Wales will receive almost a quarter of the total fund, which is aimed at investing in projects focused around three main themes. ‌​‌‌‌​‌‌‍‌​‌‌‌​‌​‍‌​‌‌‌​‌​
Local authorities will be expected to put money into schemes centred on communities and place, support for local businesses and people and skills. ‌​‌‌‌​‌‌‍‌​‌‌‌​‌​‍‌​‌‌‌​‌​
The UK Government has set a 16-week timescale for regions to create and submit an investment strategy. ‌​‌‌‌​‌‌‍‌​‌‌‌​‌​‍‌​‌‌‌​‌​
The deadline is August 1, 2022 with the delivery of the projects expected to start in September. ‌​‌‌‌​‌‌‍‌​‌‌‌​‌​‍‌​‌‌‌​‌​
Andrew Farrow, Flintshire's chief officer for the economy, said: "This is UK Government money which effectively replaces EU money, and we never did very well out of EU funding either. ‌​‌‌‌​‌‌‍‌​‌‌‌​‌​‍‌​‌‌‌​‌​
"That might explain the low contribution that we've got here. ‌​‌‌‌​‌‌‍‌​‌‌‌​‌​‍‌​‌‌‌​‌​
"It's also important to note that the allocation within the report is exactly that – it's an allocation. ‌​‌‌‌​‌‌‍‌​‌‌‌​‌​‍‌​‌‌‌​‌​
"This isn't competitive bidding that we were involved in, unlike Levelling Up funding, so it's a question of how we're going to spend that allocation." ‌​‌‌‌​‌‌‍‌​‌‌‌​‌​‍‌​‌‌‌​‌​
Cllr Sean Bibby, cabinet member for housing and regeneration, also voiced his frustration at the level of funding allocated. ‌​‌‌‌​‌‌‍‌​‌‌‌​‌​‍‌​‌‌‌​‌​
He compared the amount for Flintshire to that earmarked for neighbouring Wrexham. ‌​‌‌‌​‌‌‍‌​‌‌‌​‌​‍‌​‌‌‌​‌​
He said: "Wrexham, which has a very similar economic and demographic profile as us, wasn't in an objective one area previously. ‌​‌‌‌​‌‌‍‌​‌‌‌​‌​‍‌​‌‌‌​‌​
"Totting up the figures from the core funding and dividing it by the population estimates that we just had from the census release, Flintshire is roughly £70 per head and Wrexham is around £140 per head. ‌​‌‌‌​‌‌‍‌​‌‌‌​‌​‍‌​‌‌‌​‌​
"It's roughly double per head which Wrexham is receiving compared to Flintshire. ‌​‌‌‌​‌‌‍‌​‌‌‌​‌​‍‌​‌‌‌​‌​
"I think that's quite an interesting stat and one that definitely raises some eyebrows." ‌​‌‌‌​‌‌‍‌​‌‌‌​‌​‍‌​‌‌‌​‌​
Cabinet members approved proposals to push forward with Flintshire's strategy for the money at the end of the debate. ‌​‌‌‌​‌‌‍‌​‌‌‌​‌​‍‌​‌‌‌​‌​
They also decided to send a letter to the UK Government outlining their concerns over the council's low funding allocation. ‌​‌‌‌​‌‌‍‌​‌‌‌​‌​‍‌​‌‌‌​‌​
Liam Randall – Local Democracy Reporter (more here). ‌​‌‌‌​‌‌‍‌​‌‌‌​‌​‍‌​‌‌‌​‌​
Spotted something? Got a story? Send a Facebook Message | A direct message on Twitter | Email: News@Deeside.com
---
Latest News
---