From LED lighting to solar farms: Councillors set to review Flintshire Council's Climate Change Strategy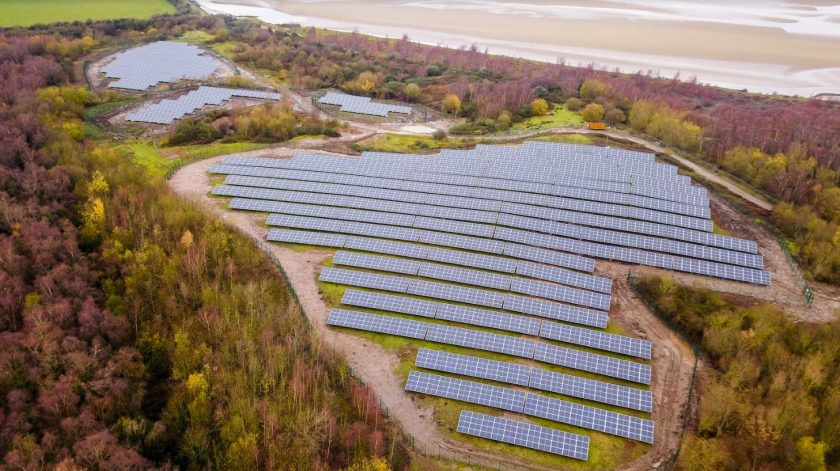 Flintshire County Council is set to review its Climate Change Strategy, which was adopted in February 2022, at a Cabinet meeting on February 23. ‌​‌‌‌​‌‌‍‌​‌‌‌​‌​‍‌​‌‌‌​‌​
The strategy focuses on reducing carbon emissions in the areas of Buildings, Mobility and Transport, Procurement, Land Use, and Behaviour. ‌​‌‌‌​‌‌‍‌​‌‌‌​‌​‍‌​‌‌‌​‌​
The council aims to improve energy efficiency and reduce carbon emissions by upgrading buildings with LED lighting, improved insulation and Building Management Systems (BMS), as well as investing in renewable energy by installing solar PV and wind turbines. ‌​‌‌‌​‌‌‍‌​‌‌‌​‌​‍‌​‌‌‌​‌​
Flintshire has also reduced heating in buildings by 3%, electricity use in buildings by 37% and electricity in street lighting by 44%. ‌​‌‌‌​‌‌‍‌​‌‌‌​‌​‍‌​‌‌‌​‌​
Councillor David Healey, Flintshire's Cabinet Member for Climate Change and Economy, said: "We also work with occupiers and contractors to fit energy reduction measures in homes including insulation, LED light bulbs, energy use meters, solar energy and improved heating systems such as air source heat pumps." ‌​‌‌‌​‌‌‍‌​‌‌‌​‌​‍‌​‌‌‌​‌​
Flintshire has set up a working group to develop its EV Transition plan and has installed 15 public access EV charging points in public car parks. ‌​‌‌‌​‌‌‍‌​‌‌‌​‌​‍‌​‌‌‌​‌​
The council is also committed to bridging gaps in the active travel network. ‌​‌‌‌​‌‌‍‌​‌‌‌​‌​‍‌​‌‌‌​‌​
To reduce emissions from procurement, Flintshire is reviewing its Procurement Strategy to include measures to weigh contracts by their carbon impact. ‌​‌‌‌​‌‌‍‌​‌‌‌​‌​‍‌​‌‌‌​‌​
The Council has also mapped land areas to understand their carbon absorption and is identifying key sites to progress feasibility. ‌​‌‌‌​‌‌‍‌​‌‌‌​‌​‍‌​‌‌‌​‌​
Flintshire is investing in renewable energy schemes such as hydro power and has launched two new solar farms that could generate up to 3MW of electricity. ‌​‌‌‌​‌‌‍‌​‌‌‌​‌​‍‌​‌‌‌​‌​
Flintshire's municipal waste sent to Parc Adfer in Deeside has the potential to power more than 45,000 homes. ‌​‌‌‌​‌‌‍‌​‌‌‌​‌​‍‌​‌‌‌​‌​
Chair of the Climate Change Committee, Councillor Alisdair Ibbotson, said: "The Council has a responsibility to consider how we can incorporate climate change considerations into our procurement in a way that is proportionate and relevant and influences the market." ‌​‌‌‌​‌‌‍‌​‌‌‌​‌​‍‌​‌‌‌​‌​
"Reducing emissions from procured goods and services is a significant part of our climate response." ‌​‌‌‌​‌‌‍‌​‌‌‌​‌​‍‌​‌‌‌​‌​
The Council has 109 nature areas with a reduced mowing regime and wildflower seeding to promote biodiversity. ‌​‌‌‌​‌‌‍‌​‌‌‌​‌​‍‌​‌‌‌​‌​
Councillor Healey stated that reducing the Council's carbon emissions alone would not achieve the net zero Wales by 2050 goal, and called for local businesses, voluntary organizations, public services and residents to work towards reducing their carbon emissions. ‌​‌‌‌​‌‌‍‌​‌‌‌​‌​‍‌​‌‌‌​‌​
Flintshire has secured a degree apprentice in 'Low Carbon Energy and Sustainability' in partnership with Wrexham Glyndwr University to support its green skills initiative. ‌​‌‌‌​‌‌‍‌​‌‌‌​‌​‍‌​‌‌‌​‌​
Councillor Healey said: "We were successful in securing a degree apprentice in 'Low Carbon Energy and Sustainability' through Welsh Government's initiative to invest in green skills." ‌​‌‌‌​‌‌‍‌​‌‌‌​‌​‍‌​‌‌‌​‌​
"This placement is in partnership with Wrexham Glyndwr University and is already proving to be a valuable resource for the programme." ‌​‌‌‌​‌‌‍‌​‌‌‌​‌​‍‌​‌‌‌​‌​
A Cabinet meeting next Thursday will evaluate the Council's Climate Change Strategy and its progress in achieving the goals of reducing carbon emissions, promoting energy efficiency, and encouraging sustainable living practices. ‌​‌‌‌​‌‌‍‌​‌‌‌​‌​‍‌​‌‌‌​‌​
Spotted something? Got a story? Send a Facebook Message | A direct message on Twitter | Email: News@Deeside.com
---
Latest News
---