Former Flint Mayor Terry Renshaw: "We never thought that we would see this day" after Shrewsbury 24's convictions overturned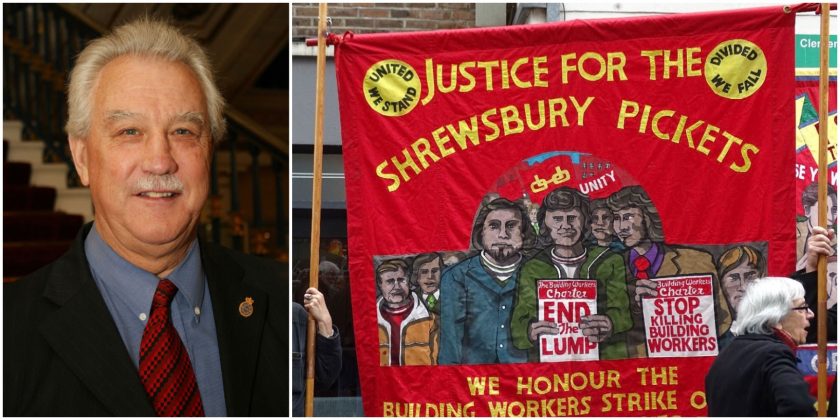 This article is old - Published: Tuesday, Mar 23rd, 2021
"We never thought that we would see this day," a former Mayor of Flint has said after the Court of Appeal overturned the convictions of the so called Shrewsbury 24. ‌​‌‌‌​‌‌‍‌​‌‌‌​‌​‍‌​‌‌‌​‌​
Terry Renshaw was one of 24 men arrested and charged with over 200 offences including unlawful assembly, affray, intimidation and conspiracy to intimidate, five months after the ending of a bitter strike in the 1970's. ‌​‌‌‌​‌‌‍‌​‌‌‌​‌​‍‌​‌‌‌​‌​
Following a series of trials, six of the pickets – including The Royle Family star Ricky Tomlinson – were sent to prison, with the remainder receiving non-custodial sentences. ‌​‌‌‌​‌‌‍‌​‌‌‌​‌​‍‌​‌‌‌​‌​
The pickets have been fighting to secure justice ever since. ‌​‌‌‌​‌‌‍‌​‌‌‌​‌​‍‌​‌‌‌​‌​
Lawyers for 14 of the group argued successfully that their trials in 1973 and 1974 were unfair because original witness statements had been destroyed by the police – a fact withheld at the time from those convicted. ‌​‌‌‌​‌‌‍‌​‌‌‌​‌​‍‌​‌‌‌​‌​
Speaking on behalf of all the pickets, Terry Renshaw said:  "We never thought that we would see this day, when this miscarriage of justice was overturned." ‌​‌‌‌​‌‌‍‌​‌‌‌​‌​‍‌​‌‌‌​‌​
"The Court of Appeal has acknowledged that we did not receive a fair trial." ‌​‌‌‌​‌‌‍‌​‌‌‌​‌​‍‌​‌‌‌​‌​
"The police and the prosecuting authorities used every trick in the book to secure guilty verdicts even if it meant trampling over our rights and manipulating the evidence." ‌​‌‌‌​‌‌‍‌​‌‌‌​‌​‍‌​‌‌‌​‌​
"On behalf of all the pickets I would like to pay tribute to the Shrewsbury 24 Campaign, without whom we would never have achieved this victory." ‌​‌‌‌​‌‌‍‌​‌‌‌​‌​‍‌​‌‌‌​‌​
"In particular we owe a great debt to our Researcher, Eileen Turnbull, for working tirelessly to obtain the crucial evidence that got our case to the Court of Appeal and brought about our victory." ‌​‌‌‌​‌‌‍‌​‌‌‌​‌​‍‌​‌‌‌​‌​
Announcing the decision at the Royal Courts of Justice in London, Lord Justice Fulford said: "These 14 appeals against conviction are allowed across the three trials and on every extant count which the 14 appellants faced." ‌​‌‌‌​‌‌‍‌​‌‌‌​‌​‍‌​‌‌‌​‌​
The judge added: "It would not be in the public interest to order a retrial."
Labour Leader Keir Starmer said: "Fifty years ago 24 workers were charged and some imprisoned for standing up for their rights."
"My thoughts are with the six men who died since the campaign started. It's taken unimaginable determination to ensure justice, finally, prevailed"
Unite general secretary Len McCluskey said: "Today is a joyous and just day for the 24, and for working people everywhere, but these innocent workers should never have been put in this miserable position by the forces of the British state."
"We salute the heroic men and their families and their enormous courage in taking on the apparatus of the state in order to clear their names. History will rightly record their heroism." ‌​‌‌‌​‌‌‍‌​‌‌‌​‌​‍‌​‌‌‌​‌​
"I send my very best wishes to my good friend Ricky Tomlinson, who can take enormous pride from today's ruling, and my thoughts today are with Dessie Warren, who sadly did not live to see justice delivered, and his family who fought on in his name." ‌​‌‌‌​‌‌‍‌​‌‌‌​‌​‍‌​‌‌‌​‌​
"It is also a landmark day in trade union history. For nearly 50 years this group of workers have been defending themselves against deep, criminal injustices perpetrated by the state. Finally, the truth has been heard and justice has been done. " ‌​‌‌‌​‌‌‍‌​‌‌‌​‌​‍‌​‌‌‌​‌​
"On behalf of Unite I want to pay tribute to their determination and to the Shrewsbury 24 Campaign, without whose work and commitment this victory for them and the working class would not have been possible." ‌​‌‌‌​‌‌‍‌​‌‌‌​‌​‍‌​‌‌‌​‌​
"However, this day must also be marked with sadness, sadness for those who have not lived to see justice secured." ‌​‌‌‌​‌‌‍‌​‌‌‌​‌​‍‌​‌‌‌​‌​
"Not only should the pickets never have been convicted, but the failure to overturn such clearly wrongful convictions for so long, casts a dark stain on society." ‌​‌‌‌​‌‌‍‌​‌‌‌​‌​‍‌​‌‌‌​‌​
"It is vital that this miscarriage of justice is never forgotten. The pickets were victims of the state whose agencies, including the police, the judiciary and the intelligence services, conspired to make an example of ordinary trade unionists simply campaigning for better pay and safer working conditions for all building workers." ‌​‌‌‌​‌‌‍‌​‌‌‌​‌​‍‌​‌‌‌​‌​
"The full details of who was involved in these trumped up charges remain shrouded in mystery and it is critical that the government papers from the time are finally published." ‌​‌‌‌​‌‌‍‌​‌‌‌​‌​‍‌​‌‌‌​‌​
"It is essential that such state sponsored injustice is never allowed to happen again and that is particularly critical in the context of the present government which is intent on limiting the right to protest." ‌​‌‌‌​‌‌‍‌​‌‌‌​‌​‍‌​‌‌‌​‌​
"In the light of Norman Tebbit's recent admissions, this verdict has ramifications for every person interested in freedom and human rights." ‌​‌‌‌​‌‌‍‌​‌‌‌​‌​‍‌​‌‌‌​‌​
‌​‌‌‌​‌‌‍‌​‌‌‌​‌​‍‌​‌‌‌​‌​
Spotted something? Got a story? Send a Facebook Message | A direct message on Twitter | Email: News@Deeside.com
---
Latest News
---