UPDATED: Flintshire Council – Don't leave waste out for collection if anyone in your house has had coronavirus symptoms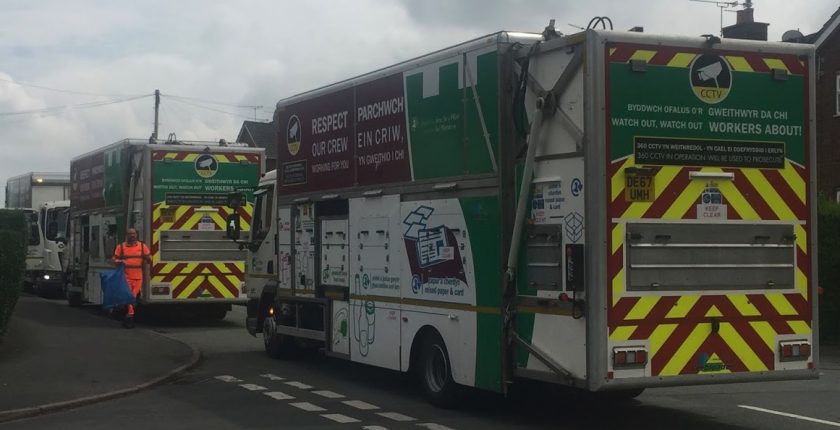 This article is old - Published: Monday, Mar 30th, 2020

Updated: Flintshire Council has issued this update today. March 31. ‌​‌‌‌​‌‌‍‌​‌‌‌​‌​‍‌​‌‌‌​‌​
In the COVID-19 update issued on 30 March 2020 residents received advice about the disposal of waste should their household be self-isolating with Coronavirus symptoms. ‌​‌‌‌​‌‌‍‌​‌‌‌​‌​‍‌​‌‌‌​‌​
FOR CLARITY in this situation the advice is: ‌​‌‌‌​‌‌‍‌​‌‌‌​‌​‍‌​‌‌‌​‌​
Residents are advised to follow the published advice on handling waste if your household is displaying symptoms of Coronavirus. ‌​‌‌‌​‌‌‍‌​‌‌‌​‌​‍‌​‌‌‌​‌​
If you are experiencing the main symptoms – a new, continuous cough and/or a high temperature – please be very careful when disposing of your personal waste (including used tissues and disposable cleaning cloths/wipes) at home. ‌​‌‌‌​‌‌‍‌​‌‌‌​‌​‍‌​‌‌‌​‌​
Please do NOT put any tissues, disposable cloths, and masks (if worn) in the recycling. ‌​‌‌‌​‌‌‍‌​‌‌‌​‌​‍‌​‌‌‌​‌​
All waste that has been in contact with any self-isolated individual should be double-bagged and tied to prevent the spread of the coronavirus. ‌​‌‌‌​‌‌‍‌​‌‌‌​‌​‍‌​‌‌‌​‌​
The government advice for disposal of this waste is as follows: ‌​‌‌‌​‌‌‍‌​‌‌‌​‌​‍‌​‌‌‌​‌​
Personal waste such as used tissues, disposable cleaning cloths and masks should be placed securely within disposable rubbish bags. ‌​‌‌‌​‌‌‍‌​‌‌‌​‌​‍‌​‌‌‌​‌​
These bags should be double-bagged i.e. placed into another second bag, tied securely and kept separate from other waste. ‌​‌‌‌​‌‌‍‌​‌‌‌​‌​‍‌​‌‌‌​‌​
Children, pets and pests should not be able to access this place. Waste should not be left unsupervised on the pavement awaiting collection. ‌​‌‌‌​‌‌‍‌​‌‌‌​‌​‍‌​‌‌‌​‌​
This should be put aside for at least 72 hours before being put in your usual external household waste (black) bin. ‌​‌‌‌​‌‌‍‌​‌‌‌​‌​‍‌​‌‌‌​‌​
If your household is self-isolating because someone has viral symptoms, please do not put your recycling out for collection for 14 days. After 14 days, you can put out your recycling as usual. ‌​‌‌‌​‌‌‍‌​‌‌‌​‌​‍‌​‌‌‌​‌​
Flintshire County Council is ensuring waste collections remain in place during the current situation. We will support all residents and collect from all households who follow our advice. ‌​‌‌‌​‌‌‍‌​‌‌‌​‌​‍‌​‌‌‌​‌​
More information about waste and recycling can be found on the Council's website ‌​‌‌‌​‌‌‍‌​‌‌‌​‌​‍‌​‌‌‌​‌​
https://www.flintshire.gov.uk/en/Resident/Bins-Recycling-and-Waste/COVID-19-Important-Changes-to-Waste-Services.aspx ‌​‌‌‌​‌‌‍‌​‌‌‌​‌​‍‌​‌‌‌​‌​
‌​‌‌‌​‌‌‍‌​‌‌‌​‌​‍‌​‌‌‌​‌​
Earlier report: Residents in Flintshire are being asked not to leave waste and recycling out for collection if anyone in the household has shown symptoms of coronavirus. ‌​‌‌‌​‌‌‍‌​‌‌‌​‌​‍‌​‌‌‌​‌​
Its one of a number of changes to waste collections the council is asking residents to observe during to COVID-19 outbreak. ‌​‌‌‌​‌‌‍‌​‌‌‌​‌​‍‌​‌‌‌​‌​
The latest update was sent out sent via the council's email sign up service today and some of the details can also be found here www.flintshire.gov.uk ‌​‌‌‌​‌‌‍‌​‌‌‌​‌​‍‌​‌‌‌​‌​
Householders have also been asked not to put garden waste into bin bags and into the black bin. ‌​‌‌‌​‌‌‍‌​‌‌‌​‌​‍‌​‌‌‌​‌​
Flintshire council took the "difficult decision" last week to stop garden waste collections, in "order to support staff and the service as a whole during the Coronavirus outbreak." ‌​‌‌‌​‌‌‍‌​‌‌‌​‌​‍‌​‌‌‌​‌​
The council said: "We can reassure everyone that once the service returns to normal, a full year's garden waste collection service will be provided, even if this rolls into next year, with the 2020 payment covering part of next year's collection service if necessary." ‌​‌‌‌​‌‌‍‌​‌‌‌​‌​‍‌​‌‌‌​‌​
The council has also reiterated its message not to put tissues into recycling bags. ‌​‌‌‌​‌‌‍‌​‌‌‌​‌​‍‌​‌‌‌​‌​
Collection crews have reported an increase in the number incidents where tissues have been disposed into the open recycling bags over the few weeks. ‌​‌‌‌​‌‌‍‌​‌‌‌​‌​‍‌​‌‌‌​‌​
More guidance on tissue disposal can be found here: Deeside.com/a-tissue ‌​‌‌‌​‌‌‍‌​‌‌‌​‌​‍‌​‌‌‌​‌​
Resident have been asked to not approach or interact with refuse collection crews under any circumstances in a bid to protect them from COVID-19. ‌​‌‌‌​‌‌‍‌​‌‌‌​‌​‍‌​‌‌‌​‌​
Other guidance in today's update includes asking residents, where possible to rinse bottles and cans left for recycling before leaving out for collection; ‌​‌‌‌​‌‌‍‌​‌‌‌​‌​‍‌​‌‌‌​‌​
Clean the handles of bins and containers before leaving out for collection; minimise your waste; store larger items until further advice is issued wash your hands before and after you handle bins and waste containers. ‌​‌‌‌​‌‌‍‌​‌‌‌​‌​‍‌​‌‌‌​‌​
Any missed refuse and recycling collections can be reported online here: Report-a-collection-problem ‌​‌‌‌​‌‌‍‌​‌‌‌​‌​‍‌​‌‌‌​‌​
You can subscribe to the council email updates here subscriber preferences ‌​‌‌‌​‌‌‍‌​‌‌‌​‌​‍‌​‌‌‌​‌​
The council also uses Twitter (16,000 followers) to communicate some of the latest developments which is particularly useful during the coronavirus crisis. ‌​‌‌‌​‌‌‍‌​‌‌‌​‌​‍‌​‌‌‌​‌​
It is, however, the only local authority in Wales not to use Facebook for its critical COVID-19 related communications. ‌​‌‌‌​‌‌‍‌​‌‌‌​‌​‍‌​‌‌‌​‌​
A rough figure pulled from the Facebook ad network shows there are 67,000 people using the social network users Flintshire. ‌​‌‌‌​‌‌‍‌​‌‌‌​‌​‍‌​‌‌‌​‌​
For many it is the first 'port of call' when accessing and searching for information on the internet. ‌​‌‌‌​‌‌‍‌​‌‌‌​‌​‍‌​‌‌‌​‌​
Staying at home if you think you have coronavirus (self-isolating) ‌​‌‌‌​‌‌‍‌​‌‌‌​‌​‍‌​‌‌‌​‌​
Staying at home and away from others (social distancing) ‌​‌‌‌​‌‌‍‌​‌‌‌​‌​‍‌​‌‌‌​‌​
How to protect extremely vulnerable people (shielding) ‌​‌‌‌​‌‌‍‌​‌‌‌​‌​‍‌​‌‌‌​‌​
‌​‌‌‌​‌‌‍‌​‌‌‌​‌​‍‌​‌‌‌​‌​
Spotted something? Got a story? Send a Facebook Message | A direct message on Twitter | Email: News@Deeside.com
---
Latest News
---