Delyn MP David Hanson set to vote down Theresa May's Brexit deal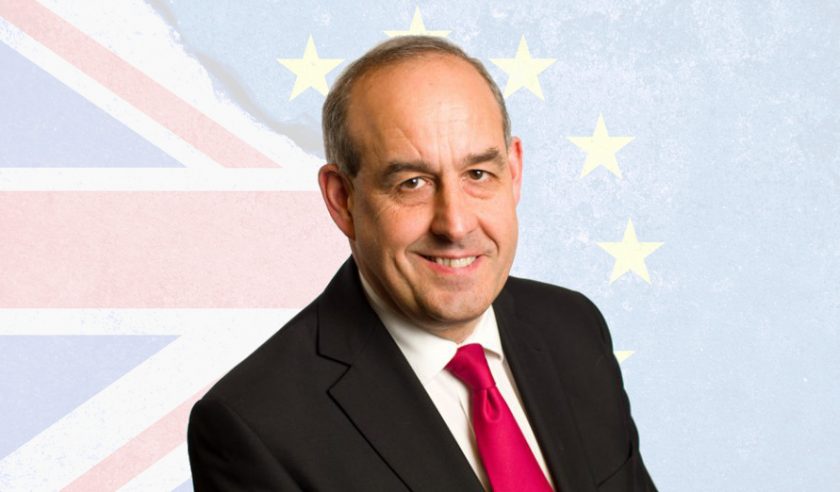 This article is old - Published: Monday, Nov 26th, 2018
A Flintshire MP has said he will vote down Theresa May's Brexit deal when Parliament votes on it next month. ‌​‌‌‌​‌‌‍‌​‌‌‌​‌​‍‌​‌‌‌​‌​
Theresa May has warned of "more division and uncertainty" if MPs reject her Brexit deal which was approved by EU leaders in Brussels on Sunday. ‌​‌‌‌​‌‌‍‌​‌‌‌​‌​‍‌​‌‌‌​‌​
The prime minister said the deal "honours the referendum, protects what we value and sets us on course for a bright future." ‌​‌‌‌​‌‌‍‌​‌‌‌​‌​‍‌​‌‌‌​‌​
Mrs May has vowed to campaign for the agreement with "all her heart" and is "absolutely sure" there is no better deal. ‌​‌‌‌​‌‌‍‌​‌‌‌​‌​‍‌​‌‌‌​‌​
She said on Sunday: "Today marks the culmination of our exit negotiations with the EU – but it also marks the start of a crucial national debate in our country over the next few weeks. ‌​‌‌‌​‌‌‍‌​‌‌‌​‌​‍‌​‌‌‌​‌​
Before Christmas, MPs will vote on this deal. It will be one of the most significant votes that Parliament has held for many years. ‌​‌‌‌​‌‌‍‌​‌‌‌​‌​‍‌​‌‌‌​‌​
On it will depend whether we move forward together into a brighter future or open the door to yet more division and uncertainty. ‌​‌‌‌​‌‌‍‌​‌‌‌​‌​‍‌​‌‌‌​‌​
The British people don't want to spend any more time arguing about Brexit. ‌​‌‌‌​‌‌‍‌​‌‌‌​‌​‍‌​‌‌‌​‌​
They want a good deal done that fulfils the vote and allows us to come together again as a country." ‌​‌‌‌​‌‌‍‌​‌‌‌​‌​‍‌​‌‌‌​‌​
Nearly 100 Conservative MP's have suggested they won't be backing the deal as have several Labour MP's including Delyn's David Hanson. ‌​‌‌‌​‌‌‍‌​‌‌‌​‌​‍‌​‌‌‌​‌​
Mr Hanson, a former Counter-Terrorism and Policing Minister, says he is "deeply concerned" about the lack of facts around the UK's future relationship with EUROPOL, the European Union's law enforcement agency, and the impact on information sharing between UK and European intelligence agencies. ‌​‌‌‌​‌‌‍‌​‌‌‌​‌​‍‌​‌‌‌​‌​
The MP for Delyn also said the proposed deal, which is to be voted on my members of parliament in early December, will undermine the local economy and put jobs at risk. ‌​‌‌‌​‌‌‍‌​‌‌‌​‌​‍‌​‌‌‌​‌​
David Hanson MP said: "I will be voting against the UK Government's Withdrawal Agreement as it does not fulfil the wishes of those who voted leave or remain in the 2016 referendum. ‌​‌‌‌​‌‌‍‌​‌‌‌​‌​‍‌​‌‌‌​‌​
"Moreover, I am deeply concerned by the lack of information on security matters. As a former Counter-Terrorism and Policing Minister in the last Labour Government I know of the value that EUROPOL, EUROJUST and the security partnerships bring for UK safety and security. ‌​‌‌‌​‌‌‍‌​‌‌‌​‌​‍‌​‌‌‌​‌​
Losing these key partnerships will put our security and safety at risk, as well as that of our allies in Europe. ‌​‌‌‌​‌‌‍‌​‌‌‌​‌​‍‌​‌‌‌​‌​
"The Prime Minister was offered a chance to work with Labour after the referendum but she decided to pander to a small group of Conservative MPs. ‌​‌‌‌​‌‌‍‌​‌‌‌​‌​‍‌​‌‌‌​‌​
We are now in the situation where the UK Government is isolated from the needs of people and being held hostage by a small group of ideologically driven MPs. ‌​‌‌‌​‌‌‍‌​‌‌‌​‌​‍‌​‌‌‌​‌​
"The Withdrawal Agreement is bad for Delyn and will undermine our local economy; putting at risk jobs and people's incomes. These are just a few reasons why I will vote against this deal." ‌​‌‌‌​‌‌‍‌​‌‌‌​‌​‍‌​‌‌‌​‌​
Alyn and Deeside MP Mark Tami is also expected to vote against the deal. ‌​‌‌‌​‌‌‍‌​‌‌‌​‌​‍‌​‌‌‌​‌​
Spotted something? Got a story? Send a Facebook Message | A direct message on Twitter | Email: News@Deeside.com
---
Latest News
Deeside politician joins campaigners calling for full contents of 1983 inquiry into sinking of Sir Galahad to be published
---