Concerns raised over number of Flintshire council staff off work due to mental health related issues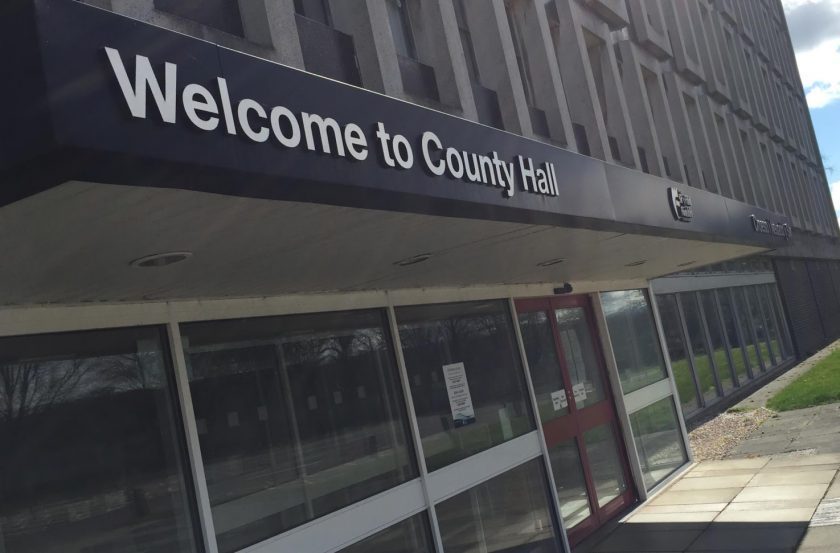 This article is old - Published: Thursday, Jun 13th, 2019
Concerns have been raised about the number of council staff in Flintshire who have been off work because of mental health related issues. ‌​‌‌‌​‌‌‍‌​‌‌‌​‌​‍‌​‌‌‌​‌​
Newly released figures show Flintshire Council's 4,635 full time equivalent staff took an average of over ten days worth of sickness absence in the last year. ‌​‌‌‌​‌‌‍‌​‌‌‌​‌​‍‌​‌‌‌​‌​
It compares to just under nine days in the previous 12 months. ‌​‌‌‌​‌‌‍‌​‌‌‌​‌​‍‌​‌‌‌​‌​
The number one cause was a combination of stress, depression and anxiety, followed by musculoskeletal problems. ‌​‌‌‌​‌‌‍‌​‌‌‌​‌​‍‌​‌‌‌​‌​
The local authority's chief executive said he was worried about the rising prevalence of mental health conditions among council workers, and said extra support was being put in place. ‌​‌‌‌​‌‌‍‌​‌‌‌​‌​‍‌​‌‌‌​‌​
Colin Everett said in some cases staff were living in poverty despite being in work, and have been directed towards financial support as a result. ‌​‌‌‌​‌‌‍‌​‌‌‌​‌​‍‌​‌‌‌​‌​
Family bereavement was also highlighted as another prevalent example where people are facing difficult circumstances. ‌​‌‌‌​‌‌‍‌​‌‌‌​‌​‍‌​‌‌‌​‌​
Speaking at a meeting of backbench councillors in Mold today, Mr Everett said: ‌​‌‌‌​‌‌‍‌​‌‌‌​‌​‍‌​‌‌‌​‌​
"Whilst we can't talk about individual cases, there are cases I've dealt with where people have been dealing with family bereavement. ‌​‌‌‌​‌‌‍‌​‌‌‌​‌​‍‌​‌‌‌​‌​
"There have also been cases where people are actually in in-work poverty.
"We deal with a number of cases and some are very sensitive. ‌​‌‌‌​‌‌‍‌​‌‌‌​‌​‍‌​‌‌‌​‌​
"There is more of a legitimacy now for people to express, report and deal with mental health issues. ‌​‌‌‌​‌‌‍‌​‌‌‌​‌​‍‌​‌‌‌​‌​
"It's a positive thing in society, but perhaps it's impacted more on figures."
Senior officers said the figures reflected the pattern seen across other local authorities in Wales. ‌​‌‌‌​‌‌‍‌​‌‌‌​‌​‍‌​‌‌‌​‌​
They added that the council proactively raises awareness of mental health issues among its workforce. ‌​‌‌‌​‌‌‍‌​‌‌‌​‌​‍‌​‌‌‌​‌​
One member of Flintshire's corporate resources scrutiny committee asked whether the data could be broken down by gender. ‌​‌‌‌​‌‌‍‌​‌‌‌​‌​‍‌​‌‌‌​‌​
Cllr Richard Jones said he felt depression was a problem which particularly affected men. ‌​‌‌‌​‌‌‍‌​‌‌‌​‌​‍‌​‌‌‌​‌​
He said: "Between the ages of 25 and 45, suicide is the biggest cause of death for men. ‌​‌‌‌​‌‌‍‌​‌‌‌​‌​‍‌​‌‌‌​‌​
"I'm not suggesting that women aren't affected by this, but I know men are particularly affected by this kind of stress. ‌​‌‌‌​‌‌‍‌​‌‌‌​‌​‍‌​‌‌‌​‌​
"I don't know whether this percentage can be split into men and women.
"It might show something that we haven't considered." ‌​‌‌‌​‌‌‍‌​‌‌‌​‌​‍‌​‌‌‌​‌​
Officers said the council was working with Mind Cymru to try and improve mental health support. ‌​‌‌‌​‌‌‍‌​‌‌‌​‌​‍‌​‌‌‌​‌​
Meanwhile, they have also spoken to employees to find out whether their issues were work related or concerned with their personal lives. ‌​‌‌‌​‌‌‍‌​‌‌‌​‌​‍‌​‌‌‌​‌​
Sharon Carney, Flintshire's senior manager for human resources and organisational development, said in most cases it stemmed from personal problems. ‌​‌‌‌​‌‌‍‌​‌‌‌​‌​‍‌​‌‌‌​‌​
She said: "Occupational health have done a breakdown and when they meet those who are referred, they'll try and establish whether it's work related stress or personal. ‌​‌‌‌​‌‌‍‌​‌‌‌​‌​‍‌​‌‌‌​‌​
"It's a really important distinction for us and what they're reporting is that on the whole most individuals they talk to are dealing with things going on outside of work. ‌​‌‌‌​‌‌‍‌​‌‌‌​‌​‍‌​‌‌‌​‌​
"Quite often, something which on the face of it seems trivial in work can be the thing that tips them over. ‌​‌‌‌​‌‌‍‌​‌‌‌​‌​‍‌​‌‌‌​‌​
"Rather than reinvent the wheel, we are using Mind action plans because they're proving to be very effective." ‌​‌‌‌​‌‌‍‌​‌‌‌​‌​‍‌​‌‌‌​‌​
By Liam Randall – Local Democracy Reporter (more here). ‌​‌‌‌​‌‌‍‌​‌‌‌​‌​‍‌​‌‌‌​‌​
Spotted something? Got a story? Send a Facebook Message | A direct message on Twitter | Email: News@Deeside.com
---
Latest News
Flintshire Councillor says therapy equipment under public ownership is being flogged at car boot sales and charity shops
---