A "good uptake" of lateral flow testing in schools says Education Minister – but encourages more to take part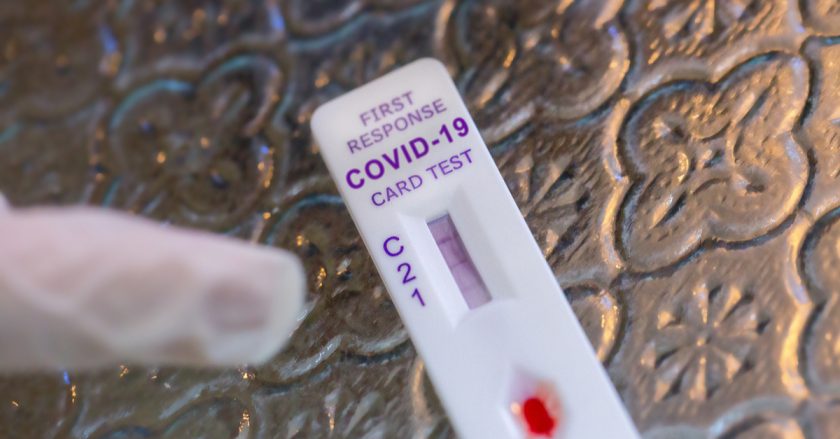 This article is old - Published: Thursday, Mar 18th, 2021
Staff and secondary students are being encouraged to take part in regular lateral flow testing as part of the gradual reopening of schools. ‌​‌‌‌​‌‌‍‌​‌‌‌​‌​‍‌​‌‌‌​‌​
The tests – which offer results within 30 minutes – are being offered to schools and education settings across Wales to pick up asymptomatic cases as part of the gradual return to face-to-face teaching. ‌​‌‌‌​‌‌‍‌​‌‌‌​‌​‍‌​‌‌‌​‌​
Anyone who receives a positive test is asked to self-isolate and take a PCR test within 24 hours. ‌​‌‌‌​‌‌‍‌​‌‌‌​‌​‍‌​‌‌‌​‌​
If that test comes back positive, an individual must continue to isolate for 10 days and their close contacts will be contacted and offered tests. ‌​‌‌‌​‌‌‍‌​‌‌‌​‌​‍‌​‌‌‌​‌​
Speaking to our sister site Wrexham.com, Education Minister Kirsty Williams MS explained that there had been a "good uptake" of the testing amongst staff so far and encouraged those eligible to take part in the testing to help stop the spread of the virus. ‌​‌‌‌​‌‌‍‌​‌‌‌​‌​‍‌​‌‌‌​‌​
Students in years 10, 11 and 13 – who returned to the classroom for the first time this week – are also being invited to test themselves twice a week using the lateral flow devices. ‌​‌‌‌​‌‌‍‌​‌‌‌​‌​‍‌​‌‌‌​‌​
Further information on the uptake amongst these groups are expected within the next two weeks. ‌​‌‌‌​‌‌‍‌​‌‌‌​‌​‍‌​‌‌‌​‌​
For the first time secondary school students are also being asked to wear a mask in the classroom and in areas where social distancing in not possible. ‌​‌‌‌​‌‌‍‌​‌‌‌​‌​‍‌​‌‌‌​‌​
Asked why the tests haven't been used for the previous reopening of schools and colleges, Ms Williams highlighted the new "Kent variant", which is more infectious. ‌​‌‌‌​‌‌‍‌​‌‌‌​‌​‍‌​‌‌‌​‌​
Over the last few months it has become the dominant strain across Wales. ‌​‌‌‌​‌‌‍‌​‌‌‌​‌​‍‌​‌‌‌​‌​
Commenting on the introduction of the tests, Ms Williams said: "It is an additional step that we have put in place to try and identify as many positive cases as we're able to. ‌​‌‌‌​‌‌‍‌​‌‌‌​‌​‍‌​‌‌‌​‌​
"It's been brought in now as an additional precaution as we increase face-to-face teaching once again. ‌​‌‌‌​‌‌‍‌​‌‌‌​‌​‍‌​‌‌‌​‌​
"We're now dealing with a new variant, which we know to be even more infectious. Therefore, it's really important that we find as many cases, especially in those individuals who are asymptomatic and are potentially inadvertently passing the virus on. ‌​‌‌‌​‌‌‍‌​‌‌‌​‌​‍‌​‌‌‌​‌​
"To date, uptake amongst the teaching profession has been very good. This is the first week back for our older students and I will be receiving further information on uptake over the next two weeks before the Easter holidays. ‌​‌‌‌​‌‌‍‌​‌‌‌​‌​‍‌​‌‌‌​‌​
"Children are expected to test themselves at home twice a week. And once we have full two weeks of data, we'll have a better idea of how that has gone. ‌​‌‌‌​‌‌‍‌​‌‌‌​‌​‍‌​‌‌‌​‌​
With the lateral flow devices being voluntary we also asked how staff and students were being encouraged to carry out the twice weekly tests. ‌​‌‌‌​‌‌‍‌​‌‌‌​‌​‍‌​‌‌‌​‌​
Ms Williams explained that seminars with staff in Wales had been held and there had been communication with parents over how the devices work. ‌​‌‌‌​‌‌‍‌​‌‌‌​‌​‍‌​‌‌‌​‌​
She added: "We know that the Welsh public have wanted to take every opportunity to play their part in protecting themselves, their loved ones and the community, and we hope that they will continue to do this. ‌​‌‌‌​‌‌‍‌​‌‌‌​‌​‍‌​‌‌‌​‌​
"I know that students and parents are desperate to have their children back in school and this is an important step that they can play in helping minimise disruption." ‌​‌‌‌​‌‌‍‌​‌‌‌​‌​‍‌​‌‌‌​‌​
The overall case numbers in Wales are now at the lowest they have been since the end of last year, with the rolling seven day average at 42.5 per 100,000. ‌​‌‌‌​‌‌‍‌​‌‌‌​‌​‍‌​‌‌‌​‌​
Although there are some areas where cases are slightly higher, the lower daily caseload has made local outbreaks more apparent. ‌​‌‌‌​‌‌‍‌​‌‌‌​‌​‍‌​‌‌‌​‌​
In terms of the lateral flow devices we asked the minister if these tests are being included in the figures by Public Health Wales and what, if any impact, they are having on the positive proportion of tests each day. ‌​‌‌‌​‌‌‍‌​‌‌‌​‌​‍‌​‌‌‌​‌​
The minister explained: "Yes, potentially, they will if they are positive tests, but we should expect that but that's the purpose of carrying out these tests. ‌​‌‌‌​‌‌‍‌​‌‌‌​‌​‍‌​‌‌‌​‌​
"We know sometimes, especially in younger people, as symptoms can be very, very mild, minor or not, or non-existent. So this is about helping us find that virus when it is what it's not obvious to an individual if they have symptoms, ‌​‌‌‌​‌‌‍‌​‌‌‌​‌​‍‌​‌‌‌​‌​
"I should reinforce to everybody, as always if anybody is showing symptoms, even if they are very mild, then please do isolate and book a PCR test." ‌​‌‌‌​‌‌‍‌​‌‌‌​‌​‍‌​‌‌‌​‌​
Spotted something? Got a story? Send a Facebook Message | A direct message on Twitter | Email: News@Deeside.com
---
Latest News
---