Town council wants to rid its streets of Flintshire's private litter police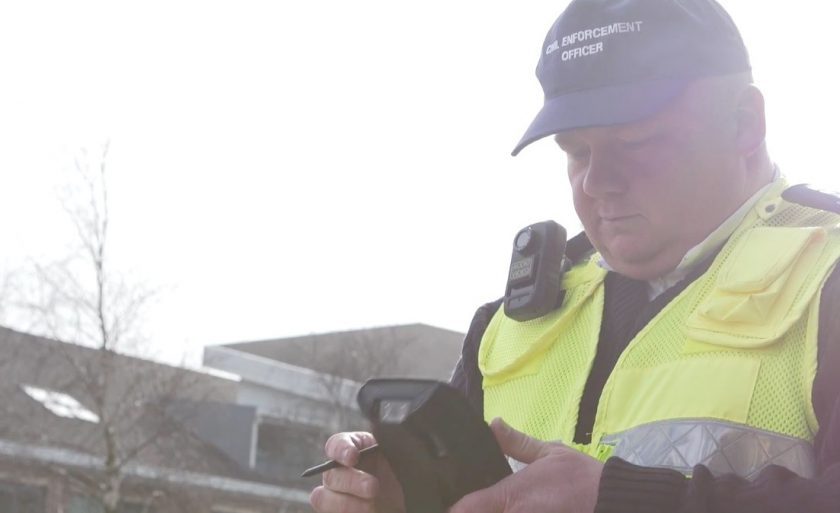 This article is old - Published: Friday, May 25th, 2018
Councillors sitting on Holywell Town Council have backed a motion calling on Flintshire County Council's private litter enforcers to be removed from the town.
Controversial firm Kingdom Security is charged with enforcing litter and dog fouling rules across the the whole of Flintshire.
Body cam wearing enforcement officers patrolling Holywell and other Flintshire towns and green spaces issue £75 fixed penalty notices (FPN's) to people spotted committing 'low-level environmental crimes' such as failing to remove dog waste, dropping cigarette butts and general littering.
Figures released to Deeside.com show the firm is handing out over £22,000 a month in fines in the county every month, over 90% of the fines are for dropping cigarette butts and mainly in busy town centres like Holywell where there is high footfall.
Calls for a stop to Kingdom operations
A motion tabled by Holywell Town Councillor Mike Brooke asked that the town council write to Flintshire County Council and request "a cessation of Kingdom operations in Holywell, in favour of an alternative proposal with new arrangements established to meet the needs of the local community."
That council wants enforcement officers operating in Holywell Town to be employed directly by Flintshire County Council and that they are not paid any kind of bonus or pay enhancement linked to the number of FPNs they issue. 
That a common sense approach is always used, and any cash raised from fines is used in part to go towards litter removal from the town, and the upkeep of bins.
Cllr Brook submitted a detailed account of Kingdom's operations as part of the motion, he noted: 'According to whistle blowers Kingdom security enforcement officers must make 4 FPNs per day in order to cover the daily salaries of Kingdom employees. 
4726 FPN's dished out by Kingdom in 2016/17
Between the period of July 2016 – April 2017 4726 FPNs were issued with 4330 being for the dropping of cigarettes, 100 for dog fouling and 296 for  general litter.'
Cllr Brook said he raised the issue of Kingdom Security operating in Holywell for a number of reasons:
"Kingdom operate as a private company, which means their main concern is their profit, any enforcement of litter or cigarettes being extinguished on the ground should be based around reducing  and ultimately eliminating the problem.

Kingdom do not operate in this way, the just hand out fines to people extinguishing cigarettes, Holywell is a town with no cigarette bins currently, putting a cigarette out in a standard bin could likely lead to fires."

Cllr Brook added: "It's commonly known Kingdom enforcement officers will follow people who are smoking in order to issue an FPN, if their intent was to reduce the issue they would show a more visible presence which they do not do."

"There are no litter warning signs around the town and there has been very little to no advertising that this kind of enforcement was going to be active, their 'zero tolerance' approach to the issue simply ties in to the fact their number one priority is issuing FPNs for the companies profit." He added.
Lucrative income stream
Once fines are collected they are divvied out 85% for Kingdom, 15% to the council who says money is used from the lucrative income stream to fund additional enforcement activity such as targeting dog fouling hot spots.
The county council says Kingdom's service is 'cost neutral' as long as the number of fines remain at the levels they are currently.
However a Flintshire council document suggests there is a 'break even' level based on number of FPN's handed out – 'Outsourcing enforcement duties may reduce costs although this may not be sustainable as FPN numbers fall,' the council document states. 
Initially brought in on a 12 month trial in Flintshire, Kingdom has had a 6-month extension to its contract.
Cllr Brook continues:
"Another strong issue is the financial aspect, any enforcement of littering and the issue of FPNs currently mean that over £250,000 per year is being taken out of Flintshire.

It would make far more sense if Flintshire County Council had their own enforcement process, with FPNs issued went towards the cost of upkeep of the bins, more bins where necessary, it should not be used to line the pockets of limited companies, Cllr Brook added.

"Holywell Town Council voted on contacting Flintshire County Council requesting that Kingdom ceases its operation in the town.

Hopefully other Flintshire town councils will do the same and Flintshire County Council will listen. Using its own enforcement team and not using third party contractors who's only target is bottom line profit." Cllr Brook said.
The outsourcing of environmental enforcement has 'had a beneficial impact on the cleanliness of our town centres and open spaces demonstrated by our improved performance measured through national audits undertaken by Keep Wales Tidy,' according to Steve Jones, the council's chief officer for Streetscene and transportation.
Deeside.com has contacted Flintshire County Council for a comment.
Spotted something? Got a story? Send a Facebook Message | A direct message on Twitter | Email: News@Deeside.com