NOTE: This content is old - Published: Tuesday, Oct 24th, 2017.
The 'digital revolution' is set to bring a boost to Holywell's economy this Christmas after the town council secured the support of Square – a cashless mobile and card payment company founded by Twitter CEO Jack Dorsey.
Square is to provide card readers for every business in the Holywell and Greenfield completely free of charge in the run-up to the festive season.
---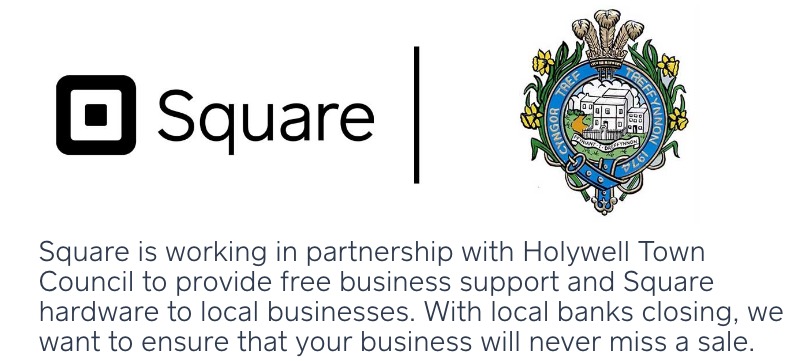 ---
It will mean that shoppers can pay for goods and services across the area on mobile phones using Apple and Android Pay as well as credit and debit cards via the Square card reader businesses will have at the point of purchase.
It is hoped the move will provide a boost for the town's economy as local shoppers can buy goods in the High Street without the need for physical cash.
Square launched in the UK in March 2017, Twitter CEO Jack Dorsey founded the US-based company back in 2009 when he was sacked from Twitter, he returned to Twitter and remains as CEO of both the social network firm and Square.
In July the UK economy hit a landmark: for the first time ever, more than half of all purchases were made by card, not by the coins and notes that have traditionally been the way we paid for items.
Square charges merchants a 1.75pc fee for in-person transactions and 2.5pc for those made online or over the phone however with the partnership in Holywell traders will receive £1,000 in fee-free card processing and a free Square Reader worth £39.
Holywell Town Council Mayor Joe Johnson said:
"The Town Council has been working hard to secure a brighter future for our high street. By working with Square and business leaders we have been able to demonstrate that Holywell and Greenfield are communities moving forward with new technology and not resting on their laurels.
By delivering a cashless culture in Holywell we are taking a positive step forward, a step not taken by any other town in North Wales, to show that we are eager to work with new businesses to secure the heart of our town."
Representatives from Square will be visiting Holywell will be on hand at the Town Council Offices (Holywell Town Council, Bank Place Offices, Holywell, Flintshire, CH8 7T) at the following dates and times to help businesses sign up to the service. Business owners can also collect their free Square reader worth £39+VAT.
•     Tuesday 31st October 1pm – 4pm
•     Wednesday 8th November 1pm – 4pm
•     Wednesday 15th November 1pm – 4pm
Alternatively business owners can sign up online at square.com/holywell, and they will receive their Square reader in the post.
Commenting Delyn MP David Hanson said:
"It has been a pleasure to work with Square to secure a positive future for Holywell and Greenfield. By providing our businesses with free card readers we are able to cut out the need for cash and have a quick and easy payment method ready for people visiting the high street
This is a fantastic example of what we can achieve when the Council, the local business group and a new technology provider work together. Holywell has faced some tough times, but this is another great move forward.
Only recently the community came together to refurbish the high street furniture bringing our high street back to its former glory. Going forward I want to see Holywell being seen as a leader in modern business practices and hope we can build upon this."