NOTE: This content is old - Published: Monday, Apr 30th, 2018.
Traffic on the A494 in Deeside has eased following major delays on both the west and eastbound carriageways after an HGV collided with the central reservation earlier this morning.
The incident happened on the westbound side along Aston Hill, fortunately no one was injured in the crash but debris and fuel affected both sides of the road causing long tailbacks up to Halkyn and past Sealand to the M56.
Two firecrews and a specialist unit from North Wales Fire and Rescue service attended the scene to assist with making the lorry safe and deal with fuel spill on the road.
The lorry was towed from the scene at around 10.20am.
A494 HGV has been recovered and is making its way under tow along Aston Hill W/B still down to one lane as Highways officers and @FlintshireCC Streetscene move in do final clean up. Heavy congestion still in the area.. pic.twitter.com/sb04co7ZBy

— Deeside.com (@DeesideDotCom) April 30, 2018
A494 W/B currently down to 1 lane after HGV collided with central reservation – looks to be a large fuel spill – huge queue on eastbound side back up to Halkyn though that side isn't impacted .. pic.twitter.com/tmzD65x4eU

— Deeside.com (@DeesideDotCom) April 30, 2018
Original information below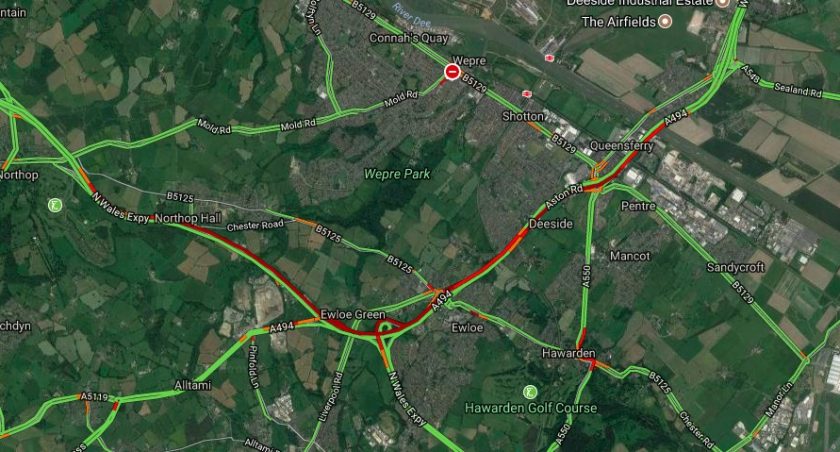 Reports of queuing traffic on the A494 on both the west and eastbound sides due to a collision on Aston Hill.
The westbound carriageway is reported to be partially blocked by due to the collision.
Commenting on Deeside.com's Facebook page Debbie said; "I live opposite. Wagon has hit Central reservation and diesel pouring out. If travelling to North Wales it's on that side of carriageway. Traffic is moving. Road slippy though. If travelling to m56 the delay is not due to the collision, it's due to the idiot rubber neckers all having a good gawp!"
Stuart tolds us; "A lorry has hit a van and both barriers on the a494 on the hill. Fuel tank leaking all over the road. Van driver ok, lorry driver ok."
Helen said; "HGV hit the central reservation and now got a Diesel leak on Aston hill , west bound, but affecting both directions."
Latest traffic report for the area states:
Queueing traffic and partially blocked due to debris on road and accident, a lorry involved on A494 Westbound between A550 Gladstone Way / B5129 Chester Road (Queensferry / Sandycroft Turn Off, Flintshire) and A55 J34 (Ewloe, Drury).
Travel time is 20 minutes.
A lorry has had a blow out causing it to collide with the central reservation causing debris and fuel to spill over the road. Recovery is on route.
Spotted something? Send a Facebook Message | A direct message on Twitter  | Email News@Deeside.com