Concerns over Flintshire council's 'side waste' policy raised in Assembly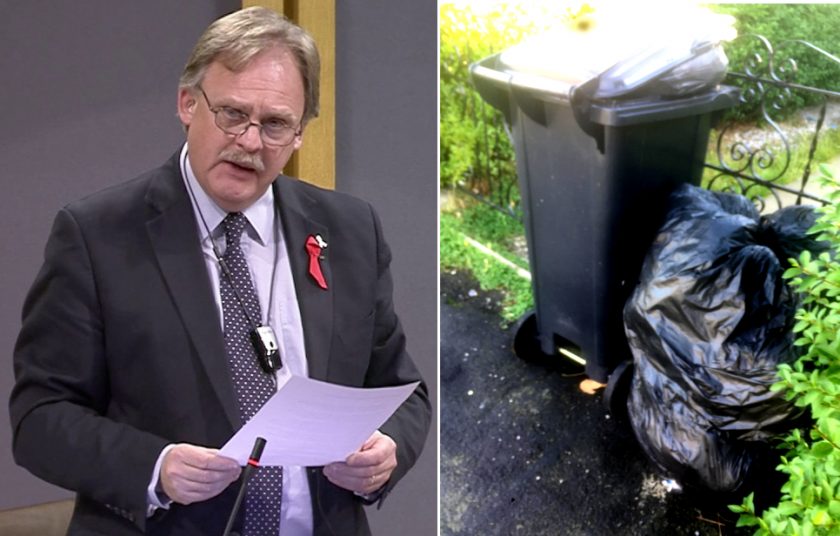 This article is old - Published: Wednesday, Dec 6th, 2017
A North Wales Assembly Member has called for a Welsh Government Statement on refuse and bin bag collections after concerns regarding black bin side waste collections were raised by Flintshire residents.
Mark Isherwood AM said a number his constituents have expressed concern that they are no longer allowed to leave additional bin bags alongside their black bin, and are worried this could lead to fly-tipping.
Raising the matter in Business Statement in the Welsh Assembly, Mr Isherwood said:
"I call for a statement on refuse and bin bag collection – something often raised here, but not in the part of Wales I'm about to refer to.
"Concerns have been raised with me in Flintshire, from Higher Kinnerton to Holywell, that people are no longer allowed to leave any extra black bin bags alongside the council-provided black bin."
One constituent wrote to the AM saying she'd rung County Hall about her extra bin bags and was told they weren't being picked up in a bid to force people to recycle more.
She said: 'I and many others still have non-recyclable refuse to dispose of from time to time, and this is when the Council's policy falls down and creates fly-tipping.
The policy of charging £50 by the Council to take away a single item was, in her words, outrageous, and she simply can't understand why the Council prefers to send out individual lorries to deal with fly tipping rather than collect everything in one go from the pavement.'
Leader of the House and Chief Whip Julie James AM said in terms of domestic waste collection, it is a matter for individual local authorities to decide how best to provide collection services to their residents.
Council set to stop collecting side waste
Flintshire County Council said it provides a weekly food waste collection service and a weekly recycling service for all residents, together with a fortnightly residual waste collection service and that the majority of residents in Flintshire manage to cope without the need for any black bin side waste.
"Council proposals to enforce against such side waste is intended to encourage the residents to recycle as much of their waste as possible." A council spokesperson said.
The council changed its policy on side waste recently, bags of waste which are left next to household refuse bins are placed by the refuse crew into the bin once it has been emptied ready for the next collection.
'The crew will leave an information tag on the bin informing the householder of this action. This will also be reported to the waste support team to be recorded,' according to the council website.
However, walk along any road in Deeside on bin collection day and side waste is still put out with black bins and and disposed of along with the normal bin waste.
The council wants to eventually introduce fixed penalty notices for those households who regularly put out extra bins bags for collection in a bid to further reduce recycling rates and to comply with Welsh Government targets.
"The charge of £50 for bulky waste collections is intended for large one off collections such as fridges and mattresses which residents may find difficult to transport to the Council recycling centres 
There is no evidence that changes to the waste collection service results in additional fly tipping." A council spokesperson added.
Councillor Carolyn Thomas Cabinet Member for Streetscene and Countryside said;
"The Council's waste service is intended for daily household waste and recycling, if residents generate additional waste because of a clear out at home then the Council operates an extensive provision of Household Recycling Centres across the County.
All of the sites are modern and well operated and offer the opportunity to recycle and dispose of any non-recyclable waste.
The sites have been established thanks to lobbying and the vision of the Council and funding from Welsh Government.
Flintshire is one of the most successful recycling counties in Wales and is currently over achieving the recycling target set by Welsh Government.
It is simply not fair on those residents that do recycle their waste, that some residents are not engaging with the recycling service.
These residents need to recycle more – for the good of the environment and to reduce the amount of waste Wales sends to landfill each year.''
Spotted something? Got a story? Send a Facebook Message | A direct message on Twitter | Email: News@Deeside.com