NOTE: This content is old - Published: Tuesday, Jul 10th, 2018.
A Broughton built Lancaster bomber is set to star in an historic 100 plane flypast over London today.
It's 100 days since the Royal Air Force's 100th anniversary on April 1, and the occasion will be marked by the flypast over Buckingham Palace today.
The flypast will begin over Suffolk at around 12.45pm before heading towards London.
It will pass the Olympic Park, Shoreditch and the City before passing over the Mall.
We're really looking forward to flying these 7 beautiful machines over London to mark the RAF's 100th Anniversary today. Thanks to @COAPhoto for this fabulous shot. #RAF100. pic.twitter.com/LiACfAB7rL

— OC BBMF (@BBMF_Spitflyer) July 10, 2018
One of only two Lancaster aircraft remaining in airworthy condition out of the 7,377 that were built, the Battle of Britian Memorial Flight Lancaster will join up to 100 jets, helicopters and aeroplanes above London today as the RAF marks its 100 year anniversary.
PA474 rolled off the production line at the Vickers Armstrong Broughton factory at Hawarden Airfield on 31 May 1945.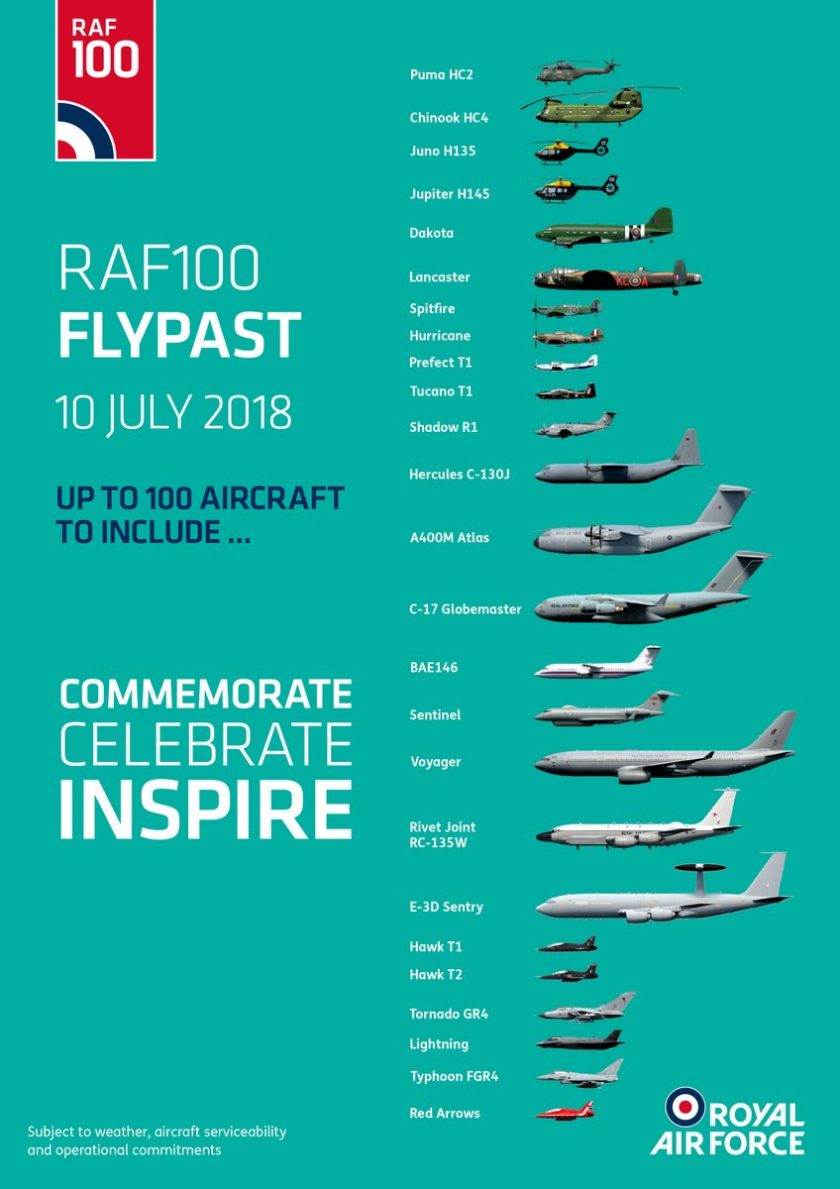 PA474 – was built  just after the war in Europe had come to end and was prepared for use against the Japanese as part of the 'Tiger Force' – the war in the Far East ended before the plane was deployed.
After coming out of storage PA474 was converted for photo reconnaissance work; modifications for these duties included being stripped back to a bare metal silver finish and the all gun turrets were removed, it was then assigned to aerial survey duties with No 82 Squadron in East and South Africa from September 1948 until February 1952.
On return to the United Kingdom, PA474 was going to be used as a pilotless drone by Flight Refuelling Ltd which would likely have led to her loss.
Fortunately, before the conversion started the Air Ministry decided to use a different type of aircraft for the drone programme.
It was then transferred to the Royal College of Aeronautics at Cranfield where she was used as a trial platform for the testing of various experimental aerofoil sections between 1954 and 1964.
In 1964 PA474 was adopted by the Air Historical Branch with a view to putting the aircraft on display as a static exhibit in the proposed RAF Museum at Hendon.
The plane was flown to Wroughton where she was painted in a camouflage paint scheme, though without squadron markings, and it was during this period that the aircraft took part in two films, 'Operation Crossbow' and 'The Guns of Navarone'.
Later in 1964, she was moved to RAF Henlow and grounded in preparation for display at the RAF Museum.
In 1965, Wing Commader D'Arcy, the Commanding Officer of 44 Squadron (then flying Vulcans at RAF Waddington) asked permission for PA474 to be transferred into the care of the Squadron.
A restoration programme began on the Lancaster and by 1966 work was progressing well, permission to fly PA474 regularly was granted in 1967, whilst restoration continued.