NOTE: This content is old - Published: Saturday, Sep 15th, 2018.
Hundreds of volunteers will take to the banks of the River Dee and surrounding areas over the next week for The Big Dee Day 2018 annual clean-up which was launched on Friday September 14
Airbus employees took part in the Big Dee Day 2018 on Friday afternoon to clear litter from the banks of the River Dee.
The annual clean-up brings together volunteers from local businesses, schools and community groups in a week-long effort to improve the local environment.
The 28 Airbus volunteers were joined by four employees from construction firm Galliford Try, main build contractor for the Welsh Government's new Advanced Manufacturing Research Institute (AMRI) currently under construction on the company's Broughton site.
Starting at the footbridge near Saltney Ferry, the volunteers split into two teams in order to clear rubbish from both banks of the river on the first day of the huge clean-up effort.
Airbus has been supporting Big Dee Day since its inception 12 years ago. Airbus Community Relations Manager Phil McGraa, who joined the volunteers, said:
"Big Dee Day is a great initiative that we are proud to support each year and our team of volunteers worked tirelessly today to clear a large amount of rubbish and improve the environment along a stretch of the riverbank.
He added: "Airbus relies on the River Dee to transport its huge A380 aircraft wings from the Broughton factory to the port of Mostyn, where they are then transported by sea ferry for final assembly in Toulouse, so we feel a duty to help keep this beautiful river way looking its best."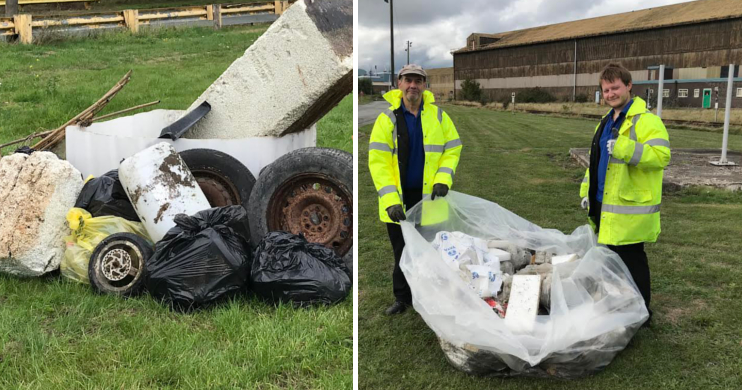 Tata manager Damon Winterbottom sent photographs (above) from their Big Dee Day clean up on Friday.
Volunteers from Tata Steel Shotton carried out a clean up across the huge site and along a large section of the river bank next to the steel works.
Tata teams will carry out further Big Dee Day litter picks and rubbish clearing during the course of the week.
Around 40 organisations will be involved in the clean-up in Flintshire, here are just a few of the clean-up activities taking place:
Greenfield Valley working with the ARCH group to clear up parts of Greenfield Valley (14/9/18)
Hawarden Bridge to Saltney Ferry Bridge litter picking by Sustrans (14/9/18)
Kingspan and Flintshire Countryside Service at Greenfield Dock (14/9/18)
Flintshire Countryside Service, Bagillt Community Garden and Friends of Bagillt Foreshore clearing Bettisfield Bagillt (15/9/18)
Holywell Scouts and Greenfield Valley rangers litter picking and tidying at Greenfield Valley & Greenfield Dock (15/9/18)
Ysgol Bryn Pennant, Warwick Chemicals and Flintshire County Council are brightening up the Wales Coast Path today planting bulbs and scattering seed (17/9/18)
Tesco and Flintshire Countryside Service litter picking and cutting back vegetation at Flint Point (18/9/18)
Friends of Wepre Park and Flintshire Countryside Service litter picking Wepre Brook in Wepre Park (18/9/18)
McDonalds and Flintshire Countryside Service clearing up fly-tip along the Wales Coast Path (19/9/18)
Community clean-upday at Talacre with Keep Wales Tidy and ENI (19/9/18)
Toyota join forces with Groundwork and Flintshire Countryside Service cutting back vegetation up in Connah's Quay (20/9/18)
For further details of how you can get involved please contact Wepre Park Visitor Centre on 01352 703900.