Trains return to Wrexham-Bidston line following 4 day break due to 'minor technical issues'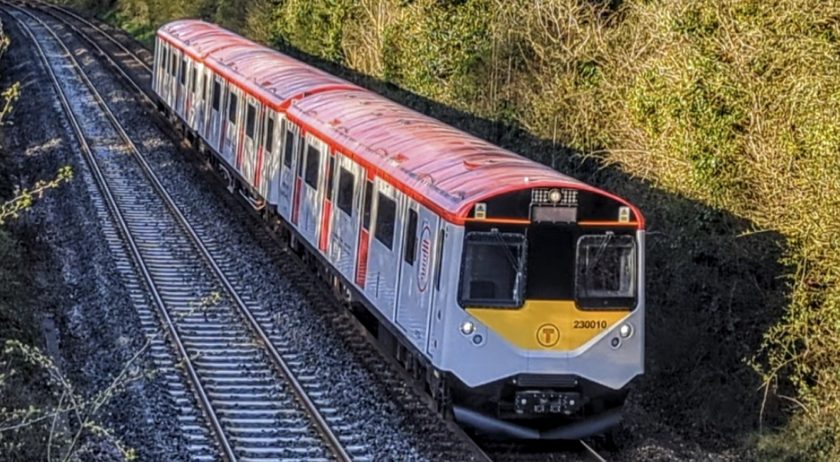 This article is old - Published: Wednesday, Apr 12th, 2023
After a four-day break due to 'minor technical difficulties' a train is back running on the Wrexham-Bidston line today, Wednesday April 12. ‌​‌‌‌​‌‌‍‌​‌‌‌​‌​‍‌​‌‌‌​‌​
Transport for Wales (TfW) reported that their new Class 230 trains have encountered some initial problems since their debut last week, resulting in the cancellation of services over the Easter weekend and in to this week. ‌​‌‌‌​‌‌‍‌​‌‌‌​‌​‍‌​‌‌‌​‌​
The Class 230 units entered passenger service on the Borderlands Line for the first time last Monday, four years later than initially planned. ‌​‌‌‌​‌‌‍‌​‌‌‌​‌​‍‌​‌‌‌​‌​
TfW owns five diesel/battery Class 230 trains, which use the bogies and aluminium bodyshells of withdrawn London Underground trains. ‌​‌‌‌​‌‌‍‌​‌‌‌​‌​‍‌​‌‌‌​‌​
They were intended to come into service in 2019, but TfW only took delivery of units from Vivarail in July 2020. ‌​‌‌‌​‌‌‍‌​‌‌‌​‌​‍‌​‌‌‌​‌​
The hybrid trains, the first in Wales, run on diesel and battery power, are designed to provide more comfortable and efficient journeys for passengers. ‌​‌‌‌​‌‌‍‌​‌‌‌​‌​‍‌​‌‌‌​‌​
Two of the units have been introduced as part of a 'soft launch', allowing TfW to monitor them and make any necessary changes or alterations. ‌​‌‌‌​‌‌‍‌​‌‌‌​‌​‍‌​‌‌‌​‌​
Only one unit was used at any one time for a two-hourly service, with a rail replacement bus service filling in the gaps. ‌​‌‌‌​‌‌‍‌​‌‌‌​‌​‍‌​‌‌‌​‌​
In recent weeks, rail passengers in Flintshire wanting to travel between Wrexham or the Wirral have had to endure an inconvenient and slow bus replacement service that takes twice as long as trains. ‌​‌‌‌​‌‌‍‌​‌‌‌​‌​‍‌​‌‌‌​‌​
The trains that usually run on the Borderlands Line have been withdrawn and sent to service other lines outside of the region. ‌​‌‌‌​‌‌‍‌​‌‌‌​‌​‍‌​‌‌‌​‌​
This is because many TfW Class 175 trains have been taken out of service across the Wales and Borders network following a spate of fires that plagued the trains. ‌​‌‌‌​‌‌‍‌​‌‌‌​‌​‍‌​‌‌‌​‌​
The return of a train service on the line has been a welcome relief for regular commuters who have had to put up with the unreliable bus service. ‌​‌‌‌​‌‌‍‌​‌‌‌​‌​‍‌​‌‌‌​‌​
However, there have been a number of issues with Class 230 trains, one being punctuality, with others being more mechanical. ‌​‌‌‌​‌‌‍‌​‌‌‌​‌​‍‌​‌‌‌​‌​
The Class 230 trains were taken out of service on Thursday and, as of Tuesday, had not returned to service on the line, leaving passengers to rely once again on the rail replacement bus service. ‌​‌‌‌​‌‌‍‌​‌‌‌​‌​‍‌​‌‌‌​‌​
It appears a train service is scheduled to operate today, Wednesday. ‌​‌‌‌​‌‌‍‌​‌‌‌​‌​‍‌​‌‌‌​‌​
Transport for Wales (TfW) previously stated that its Class 230 trains were performing well during the first few days of operation but said it is "common for minor issues to occur during the initial period following entry into service." ‌​‌‌‌​‌‌‍‌​‌‌‌​‌​‍‌​‌‌‌​‌​
On Tuesday, Alexia Course, Transport for Wales' Chief Commercial Officer, said: "We introduced the first Class 230 train into service last week as part of a 'soft launch', which provides us with the flexibility to monitor the trains and make any alterations or changes if needed." ‌​‌‌‌​‌‌‍‌​‌‌‌​‌​‍‌​‌‌‌​‌​
"We've experienced some minor technical issues which impacted services over the Easter weekend, and we're now working to get these resolved, as well as introducing another Class 230 train next week." ‌​‌‌‌​‌‌‍‌​‌‌‌​‌​‍‌​‌‌‌​‌​
TfW has said it is working with British Transport Police after two of the five Class 230 units stabled in Birkenhead were targeted by vandals. ‌​‌‌‌​‌‌‍‌​‌‌‌​‌​‍‌​‌‌‌​‌​
Images circulating on social media show the train units covered in graffiti across large portions of their exteriors. ‌​‌‌‌​‌‌‍‌​‌‌‌​‌​‍‌​‌‌‌​‌​
Ms Course said: "Unfortunately, some of our new trains have already been vandalised, and we'll be working closely with BTP to investigate further." ‌​‌‌‌​‌‌‍‌​‌‌‌​‌​‍‌​‌‌‌​‌​
Dr Andrew Potter, Professor of Transport & Logistics at Cardiff University, said: "The concern will be whether the units are able to maintain the existing timetable… this might be challenging." ‌​‌‌‌​‌‌‍‌​‌‌‌​‌​‍‌​‌‌‌​‌​
"Given the end-to-end journey times, there is little scope for catching up any late running." ‌​‌‌‌​‌‌‍‌​‌‌‌​‌​‍‌​‌‌‌​‌​
"This then leads to journeys either running short, for example turning around at Wrexham General, or being cancelled altogether." ‌​‌‌‌​‌‌‍‌​‌‌‌​‌​‍‌​‌‌‌​‌​
"Passengers want a reliable train service, and it will be important for the new trains to provide this." ‌​‌‌‌​‌‌‍‌​‌‌‌​‌​‍‌​‌‌‌​‌​
"Once the units are in more regular service, it will be easier to assess if the issues on journey time can be addressed." ‌​‌‌‌​‌‌‍‌​‌‌‌​‌​‍‌​‌‌‌​‌​
Spotted something? Got a story? Send a Facebook Message | A direct message on Twitter | Email: News@Deeside.com
---
Latest News
---