Tips for Preparing for the Exam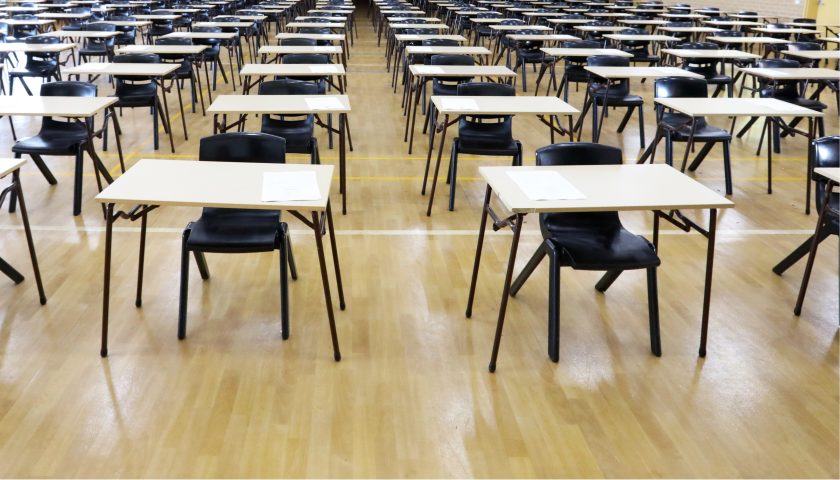 Being a student comes with many responsibilities, including passing exams each semester. See how to prepare for any exam without stress and pass it with flying colors.  ‌​‌‌‌​‌‌‍‌​‌‌‌​‌​‍‌​‌‌‌​‌​
Tips for Preparing for the Exam
Students have to pass at least a dozen exams each year. Some of them are harder than others, yet all seem to be rather stressful. It's important to learn how to prepare for the exams efficiently and without worries. Sure, each student will have their own approach to such big days. However, there are universal strategies that work for everyone. So, let's see how you can ace those exams in just a few steps.  ‌​‌‌‌​‌‌‍‌​‌‌‌​‌​‍‌​‌‌‌​‌​
Give yourself plenty of time
Many students tend to squeeze all the exam revisions within several weeks before exams. Such a method is common yet highly ineffective. There is no need for push revision till the very last moment. Of course, some students believe it is best for recalling important information. However, colleges don't need to test your memory abilities. They want to see how well you understand the materials.  ‌​‌‌‌​‌‌‍‌​‌‌‌​‌​‍‌​‌‌‌​‌​
Hence, you will do yourself a favor by thinking about exams long before they approach. For instance, you can start your revision after the first weeks of school. Go back to your notes. See what concepts or ideas are less clear to you. Spend some time editing your notes, expanding explanations to the learned concepts, practicing ideas and theories you've learned previously, etc.  ‌​‌‌‌​‌‌‍‌​‌‌‌​‌​‍‌​‌‌‌​‌​
The best revision method is to be confident and well-versed in the concepts you learned throughout the semester. Hence, you should give yourself time to learn each week. Create a study plan for the month ahead. A few hours per week should be enough to revise all recent materials and enhance your knowledge. This way, the approach of the exam session won't be a big issue. You have been preparing for that for a long time! Now, you just need to run the final revision and face the challenge head-on. ‌​‌‌‌​‌‌‍‌​‌‌‌​‌​‍‌​‌‌‌​‌​
Practice different study methods 
All students learn differently. You should find the learning style that fits you best. Also, mixing up several revision techniques to get better results is highly recommended. You should start by going back to your syllabus. Use it as a guide for your preparations. It will show you all the big topics and ideas you should have learned during the semester. It may also consist of articles and textbook sections you should have read. Go through all that material once again. See how well you remember each topic. Re-read your notes. Highlight all the essential thoughts you may use during exams.  ‌​‌‌‌​‌‌‍‌​‌‌‌​‌​‍‌​‌‌‌​‌​
Secondly, try several learning approaches once you've gathered useful data. For example, you can practice the old-fashioned flashcard techniques. Write down questions and answers you expect to see during the exam. Use applications for more convenience. Also, consider talking to your teachers before exams. Ask them what to expect or where you should pay attention most. Perhaps, they'll give you a clue on where to focus or what type of questions they plan to give.  ‌​‌‌‌​‌‌‍‌​‌‌‌​‌​‍‌​‌‌‌​‌​
Finally, you can also read some of the myassignmenthelp reviews and order help online. Professionally written research papers can cover all the knowledge gaps and questions you might have had before exams.  ‌​‌‌‌​‌‌‍‌​‌‌‌​‌​‍‌​‌‌‌​‌​
Learn to cope with stress 
Sometimes, fear and pressure can take the best of you. Students often neglect the importance of mastering stress-coping mechanisms when preparing for exams. Yet, stress is a common factor in grade cuts. Students can come to the exam fully prepared, knowing all the information they need to pass an exam with flying colors. Yet, they start to panic once they enter the room. Stress immediately blocks their thinking processes, leaving room only for fear and doubts.  ‌​‌‌‌​‌‌‍‌​‌‌‌​‌​‍‌​‌‌‌​‌​
It is a sad-sad story. Unfortunately, it is true for many young people. Students are not well-equipped to fight stress. They struggle with it, give in to their worst thoughts, and lose focus on the things in front of them. That's why you must consider your stress-coping mechanism before the exams.  ‌​‌‌‌​‌‌‍‌​‌‌‌​‌​‍‌​‌‌‌​‌​
For one, you should stop viewing these tests as the end of the world. You will have many exams in your life. Not all of them are worth stressing about to such a degree. Creating a more relaxed study environment will help you release the pressure and approach exams differently. Secondly, you can practice meditation or special breathing techniques to keep your mind calm during high-pressure times.  ‌​‌‌‌​‌‌‍‌​‌‌‌​‌​‍‌​‌‌‌​‌​
Take care of yourself
Finally, how well you'll do during exams also depends on how well you feel in general. So if you haven't slept for several nights, had too many caffeinated and sugary drinks, and barely exercised while drinking enough water, your brain activity will be at its lowest. You will struggle to memorize things, stay concentrated for a long time, analyze new data, or even motivate yourself to study. Not to mention that such a weak state will also make you vulnerable to stress and anxiety. Overall, being that mean to yourself before important exams is the biggest mistake you can make. ‌​‌‌‌​‌‌‍‌​‌‌‌​‌​‍‌​‌‌‌​‌​
So, start to take care of yourself. Start by eating well. A balanced diet will keep you energized and create a better mood. Also, it will promote brain work, enhancing your focus and reaction. Secondly, don't neglect sleep. Studies show that a good night's sleep helps you process the information you learn during the day. Hence, sleep helps you memorize things better. Lastly, engage in some physical exercise. It will get your blood running, delivering more oxygen to the brain while also boosting your mood and confidence. ‌​‌‌‌​‌‌‍‌​‌‌‌​‌​‍‌​‌‌‌​‌​
Lastly, learn to give yourself a break every once in a while. Take a long walk. Watch a movie and spend time with friends. Reward yourself for your hard work. Perhaps, order an essay from professionals at proessays.net to give yourself time to rest. Remember, you need to be calm and focused during the exams. ‌​‌‌‌​‌‌‍‌​‌‌‌​‌​‍‌​‌‌‌​‌​
Spotted something? Got a story? Send a Facebook Message | A direct message on Twitter | Email: News@Deeside.com
---
Latest News
---