Rate of inflation eases slightly but still remains above 10%, according to ONS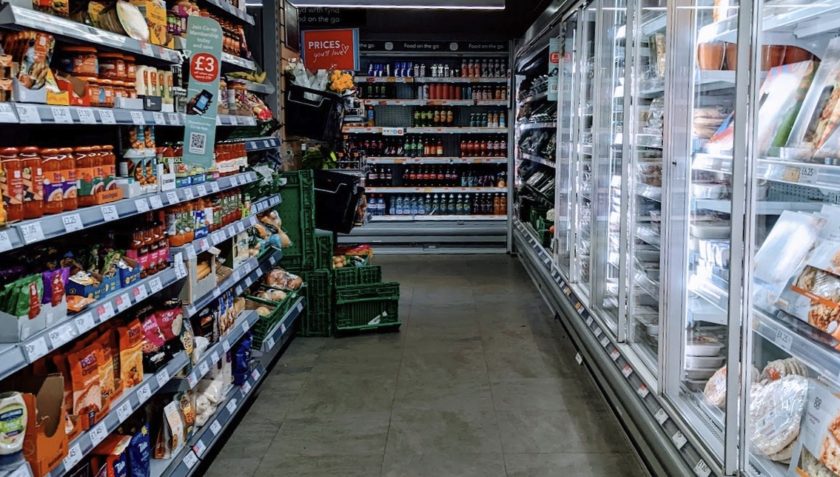 The rate of inflation has eased slightly but still remains above 10%, according to official figures. ‌​‌‌‌​‌‌‍‌​‌‌‌​‌​‍‌​‌‌‌​‌​
The Office for National Statistics (ONS) reported that the Consumer Prices Index (CPI) measure slowed to 10.1% in March from 10.4% the previous month. ‌​‌‌‌​‌‌‍‌​‌‌‌​‌​‍‌​‌‌‌​‌​
The biggest upward pressures on inflation in March were energy bills and food – with an annual rise of 19.2 per cent – the highest since August 1977. ‌​‌‌‌​‌‌‍‌​‌‌‌​‌​‍‌​‌‌‌​‌​
On the month, the biggest downward pressure came from motors fuels where prices fell by 5.9 per cent in the year to March 2023, compared with a rise of 4.6 per cent in February. ‌​‌‌‌​‌‌‍‌​‌‌‌​‌​‍‌​‌‌‌​‌​
Fuel prices fell back below levels seen a year ago when Russia's war in Ukraine prompted a spike in oil costs. ‌​‌‌‌​‌‌‍‌​‌‌‌​‌​‍‌​‌‌‌​‌​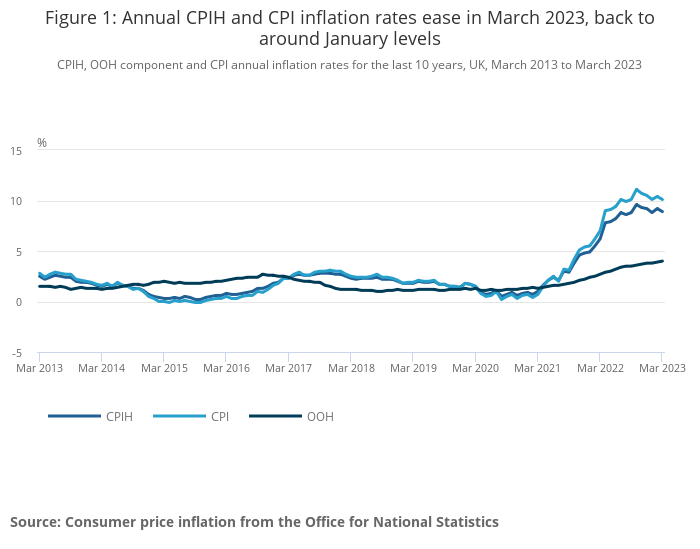 ‌​‌‌‌​‌‌‍‌​‌‌‌​‌​‍‌​‌‌‌​‌​
The cost of essential food items, including cheddar cheese, white bread, and porridge oats, has surged by as much as 80% in the UK according to a recent analysis by consumer watchdog Which? ‌​‌‌‌​‌‌‍‌​‌‌‌​‌​‍‌​‌‌‌​‌​ ‌​‌‌‌​‌‌‍‌​‌‌‌​‌​‍‌​‌‌‌​‌​
Which? found that the average supermarket food and drink prices in March 2023 were 17.2% higher than in March 2022, with certain items experiencing more significant increases. ‌​‌‌‌​‌‌‍‌​‌‌‌​‌​‍‌​‌‌‌​‌​ ‌​‌‌‌​‌‌‍‌​‌‌‌​‌​‍‌​‌‌‌​‌​
Cheddar cheese, for instance, saw an average increase of 28.3% across all supermarkets. The most significant rise occurred with Dragon Welsh Mature Cheddar 180g at Asda, which went from £1 to £1.80 – a year-on-year increase of 80%. ‌​‌‌‌​‌‌‍‌​‌‌‌​‌​‍‌​‌‌‌​‌​ ‌​‌‌‌​‌‌‍‌​‌‌‌​‌​‍‌​‌‌‌​‌​
The modest decrease in inflation rates could bring some relief to UK households facing financial pressures, but the ongoing energy crisis and increasing food prices continue to pose concerns for many. ‌​‌‌‌​‌‌‍‌​‌‌‌​‌​‍‌​‌‌‌​‌​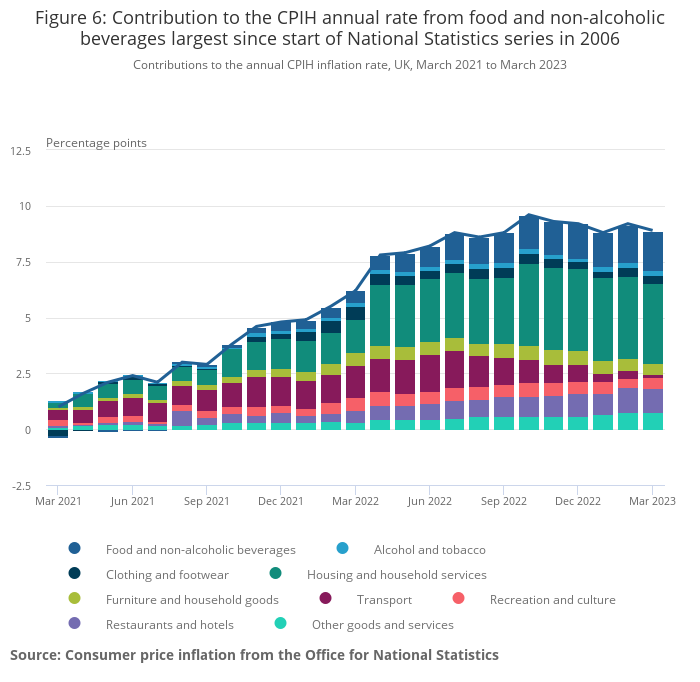 ‌​‌‌‌​‌‌‍‌​‌‌‌​‌​‍‌​‌‌‌​‌​
Gerald Fitzner Chief Economist, ONS said: "Inflation eased slightly in March, but remains at a high level." ‌​‌‌‌​‌‌‍‌​‌‌‌​‌​‍‌​‌‌‌​‌​
"The main drivers of the decline were motor fuel prices and heating oil costs, both of which fell after sharp rises at the same time last year." ‌​‌‌‌​‌‌‍‌​‌‌‌​‌​‍‌​‌‌‌​‌​
"Clothing, furniture and household goods prices increased, but more slowly than a year ago." ‌​‌‌‌​‌‌‍‌​‌‌‌​‌​‍‌​‌‌‌​‌​
"However, these were partially offset by the cost of food, which is still climbing steeply, with bread and cereal price inflation at a record high." ‌​‌‌‌​‌‌‍‌​‌‌‌​‌​‍‌​‌‌‌​‌​
"The overall costs facing business have been largely stable since last summer, although prices remain high." ‌​‌‌‌​‌‌‍‌​‌‌‌​‌​‍‌​‌‌‌​‌​
Think Tank Resolution Foundation analysis shows that the effective inflation rate for the poorest tenth of households was around 3.5 percentage points higher than for the richest tenth of households in March. ‌​‌‌‌​‌‌‍‌​‌‌‌​‌​‍‌​‌‌‌​‌​
James Smith, Research Director at the Resolution Foundation, said: ‌​‌‌‌​‌‌‍‌​‌‌‌​‌​‍‌​‌‌‌​‌​
"Many countries have experienced big recent falls in prices pressures, but Britain has not followed suit and remains mired in double digit inflation. ‌​‌‌‌​‌‌‍‌​‌‌‌​‌​‍‌​‌‌‌​‌​
"Headline inflation should fall sharply next month as the effect of last April's energy price spike falls out of the data." ‌​‌‌‌​‌‌‍‌​‌‌‌​‌​‍‌​‌‌‌​‌​
"But the acceleration of food price inflation to nearly 20 per cent is a major cause for concern, particularly for low-income families who spend a far greater share of their income on food than richer households." ‌​‌‌‌​‌‌‍‌​‌‌‌​‌​‍‌​‌‌‌​‌​
TUC General Secretary Paul Nowak said: ‌​‌‌‌​‌‌‍‌​‌‌‌​‌​‍‌​‌‌‌​‌​
"With prices still rising much faster than wages, working families are desperate for better news on pay. ‌​‌‌‌​‌‌‍‌​‌‌‌​‌​‍‌​‌‌‌​‌​
"But Rishi Sunak is dragging his heels on meaningful negotiations to resolve pay disputes. And yet he goes easy on the oil and gas giants treating families like cash machines. ‌​‌‌‌​‌‌‍‌​‌‌‌​‌​‍‌​‌‌‌​‌​
"Sunak has his priorities wrong – his government should reward work, not wealth. We need negotiations to settle the current disputes, and a plan to get wages rising across the economy." ‌​‌‌‌​‌‌‍‌​‌‌‌​‌​‍‌​‌‌‌​‌​
‌​‌‌‌​‌‌‍‌​‌‌‌​‌​‍‌​‌‌‌​‌​
Spotted something? Got a story? Send a Facebook Message | A direct message on Twitter | Email: News@Deeside.com
---
Latest News
---