No trains on the Wrexham – Bidston line today – Saturday November 24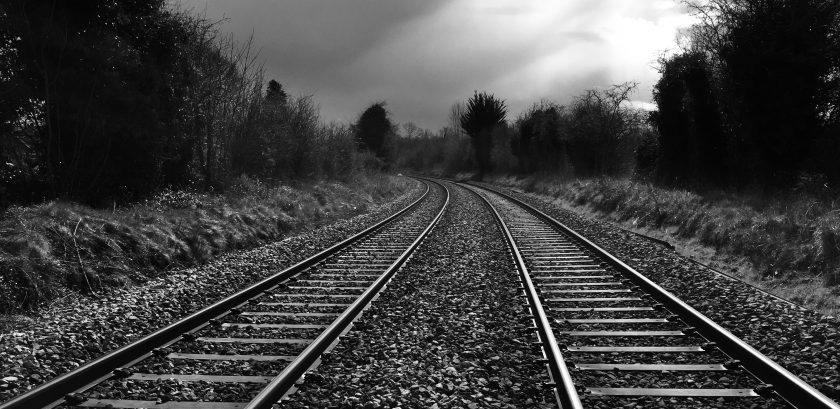 This article is old - Published: Saturday, Nov 24th, 2018

Transport for Wales have pulled all train services from the Wrexham to Bidston line today due to the need for extra 'capacity' in Cardiff for the Wales v South Africa rugby international. ‌​‌‌‌​‌‌‍‌​‌‌‌​‌​‍‌​‌‌‌​‌​
TfW say: "Throughout Saturday there will be less capacity available than usual for a major event day and some services will run as a rail replacement bus service." ‌​‌‌‌​‌‌‍‌​‌‌‌​‌​‍‌​‌‌‌​‌​
A bus service taking around twice as long as a normal train journey between Wrexham and Bidston will operated as a rail replacement: Link to timetable ‌​‌‌‌​‌‌‍‌​‌‌‌​‌​‍‌​‌‌‌​‌​
A statement from TfW says: ‌​‌‌‌​‌‌‍‌​‌‌‌​‌​‍‌​‌‌‌​‌​
"Ongoing issues associated with recent storms in combination with ageing trains have led to an unprecedented number, around a third, of trains being out of service, and this has meant that reduced services are running across the network. ‌​‌‌‌​‌‌‍‌​‌‌‌​‌​‍‌​‌‌‌​‌​
Many services have been amended and priority given to the areas of greatest need." ‌​‌‌‌​‌‌‍‌​‌‌‌​‌​‍‌​‌‌‌​‌​
Taking rolling stock from Wrexham to Bidston line to service lines in Cardiff is nothing new. ‌​‌‌‌​‌‌‍‌​‌‌‌​‌​‍‌​‌‌‌​‌​
Arriva Trains Wales began doing the same on weekends when large scale sporting events were taking place in the Welsh capital, TfW have carried on with the same practice. ‌​‌‌‌​‌‌‍‌​‌‌‌​‌​‍‌​‌‌‌​‌​
Two weeks ago when an international rugby match was taking place in Cardiff on the Saturday the last train Wrexham to Bidston train on Friday night was cancelled and a reduced service operated over the line on Saturday. ‌​‌‌‌​‌‌‍‌​‌‌‌​‌​‍‌​‌‌‌​‌​
Over the past week passengers using stations along the Wrexham to Bidston line which includes Shotton High Level, have been suffering disrupted journeys due to the train company running a reduced service. ‌​‌‌‌​‌‌‍‌​‌‌‌​‌​‍‌​‌‌‌​‌​
There has only been one train operating on the line which has meant trains running every two hours, with the replacement bus service filling the gaps left in the timetable. ‌​‌‌‌​‌‌‍‌​‌‌‌​‌​‍‌​‌‌‌​‌​
By contrast passengers commuting along the Rhymney line from Caerphilly and Cardiff have enjoyed a disruption free 'Good Service' with trains pulling up to the platform every 15 minutes or so. ‌​‌‌‌​‌‌‍‌​‌‌‌​‌​‍‌​‌‌‌​‌​
It's a significant comparison, both the Rhymney and Wrexham – Bidston lines are serviced by the same Class 150 diesel multi unit trains. ‌​‌‌‌​‌‌‍‌​‌‌‌​‌​‍‌​‌‌‌​‌​
While there is just one train operating on what Alyn and Deeside MP Mark Tami describes as the "incredibly important line" through Flintshire, local lines around Cardiff and the Valleys appears to have running normal times tables with little to no disruption. ‌​‌‌‌​‌‌‍‌​‌‌‌​‌​‍‌​‌‌‌​‌​
A snapshot of TfW routes show a 'Good Service' on Valleys and Cardiff Local routes compared to disruption elsewhere in Wales. ‌​‌‌‌​‌‌‍‌​‌‌‌​‌​‍‌​‌‌‌​‌​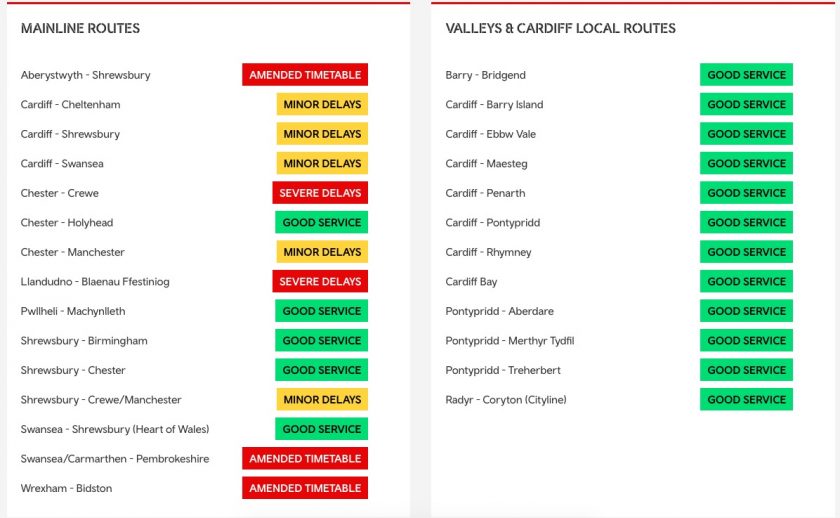 ‌​‌‌‌​‌‌‍‌​‌‌‌​‌​‍‌​‌‌‌​‌​
‌​‌‌‌​‌‌‍‌​‌‌‌​‌​‍‌​‌‌‌​‌​
‌​‌‌‌​‌‌‍‌​‌‌‌​‌​‍‌​‌‌‌​‌​
‌​‌‌‌​‌‌‍‌​‌‌‌​‌​‍‌​‌‌‌​‌​
Colin Lea, Customer Experience Director for Transport for Wales Rail Services, who said: ‌​‌‌‌​‌‌‍‌​‌‌‌​‌​‍‌​‌‌‌​‌​
"We are committed to delivering the best possible service for passengers and we apologise for the short notice changes to services and reduced number of trains in operation. ‌​‌‌‌​‌‌‍‌​‌‌‌​‌​‍‌​‌‌‌​‌​
"Safety is our top priority and many of our trains are too damaged to run. ‌​‌‌‌​‌‌‍‌​‌‌‌​‌​‍‌​‌‌‌​‌​
This means we have around 20 less trains available to us than normal. Progress is being made and we have sent trains away to other parts of the UK for repair, plus running our depot repair equipment around the clock with staff working overtime through the night. ‌​‌‌‌​‌‌‍‌​‌‌‌​‌​‍‌​‌‌‌​‌​
This equipment, which we inherited from the previous operator, is however 33 years old and is not as effective as more modern kit. ‌​‌‌‌​‌‌‍‌​‌‌‌​‌​‍‌​‌‌‌​‌​
"The scale of the situation means that we do not expect to be able to return to the normal level of service for a further two to three weeks. As trains are repaired they will of course be returned to use immediately. ‌​‌‌‌​‌‌‍‌​‌‌‌​‌​‍‌​‌‌‌​‌​
Wherever possible, we aim to provide bus alternatives to train services where the shortage of trains it most affected, and enable tickets to be used on other public transport providers and alternative train operators. We thank them for their help in this difficult situation. ‌​‌‌‌​‌‌‍‌​‌‌‌​‌​‍‌​‌‌‌​‌​
"Ahead of autumn next year, we have committed to invest in additional and better trains, more modern depot repair equipment and also in technology to help when train wheels slide on the rails (a form of anti-lock braking). ‌​‌‌‌​‌‌‍‌​‌‌‌​‌​‍‌​‌‌‌​‌​
We remain resolutely focused on delivering the best possible service for passengers today, whilst planning for a better future and transformation in time." ‌​‌‌‌​‌‌‍‌​‌‌‌​‌​‍‌​‌‌‌​‌​
Spotted something? Got a story? Send a Facebook Message | A direct message on Twitter | Email: News@Deeside.com
---
Latest News
Leading voice in solar sector urges businesses to switch to renewable energy or risk closure due to soaring costs
---