New triage system aims to reduce wait times at Wrexham Hospital emergency department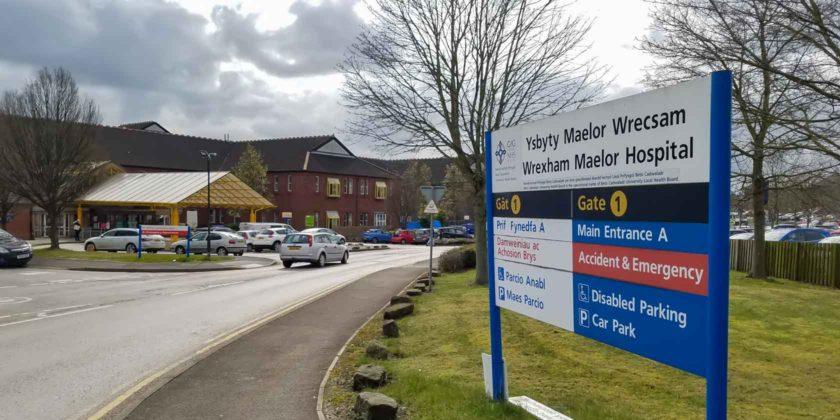 Wrexham Maelor Hospital has introduced a new triage process in its Emergency Department, aimed at streamlining patient care and reducing wait times. ‌​‌‌‌​‌‌‍‌​‌‌‌​‌​‍‌​‌‌‌​‌​
Patients who attend the Emergency Department will be asked various questions by a medical professional to determine their course of treatment. ‌​‌‌‌​‌‌‍‌​‌‌‌​‌​‍‌​‌‌‌​‌​
They may need to be seen by an emergency doctor in the department, referred directly to a specialist clinic in the hospital, a minor injuries unit, Urgent Primary Care Centre (UPCC), pharmacist, or a GP practice. ‌​‌‌‌​‌‌‍‌​‌‌‌​‌​‍‌​‌‌‌​‌​
Rob Fenwick, Emergency Consultant Nurse leading the initiative, stated, "By introducing this new approach, we're hoping to ensure those who do need emergency care will be seen quicker, and those who are unwell but don't need to be seen by an emergency doctor in our department, will be directed to another more appropriate service." ‌​‌‌‌​‌‌‍‌​‌‌‌​‌​‍‌​‌‌‌​‌​
The department trialled this new approach at the end of 2022 and early 2023, finding that 60% of attending patients did not require an emergency doctor. ‌​‌‌‌​‌‌‍‌​‌‌‌​‌​‍‌​‌‌‌​‌​
Clinical Director of Emergency Care at Wrexham Maelor Hospital's Emergency Department, John Harris, emphasised that these patients still required care from a healthcare professional, but not necessarily an emergency doctor. ‌​‌‌‌​‌‌‍‌​‌‌‌​‌​‍‌​‌‌‌​‌​
Similar streaming procedures are in place at the Emergency Departments of Ysbyty Glan Clwyd and Ysbyty Gwynedd, aimed at signposting patients to the most appropriate service for their medical needs. ‌​‌‌‌​‌‌‍‌​‌‌‌​‌​‍‌​‌‌‌​‌​
A range of alternative services is also available in Flintshire and Wrexham, including Community Pharmacies, Urgent Primary Care Centres, Minor Injuries Units, out of hours support, and mental health support. ‌​‌‌‌​‌‌‍‌​‌‌‌​‌​‍‌​‌‌‌​‌​
Alternative services available in Flintshire and Wrexham: ‌​‌‌‌​‌‌‍‌​‌‌‌​‌​‍‌​‌‌‌​‌​
Community Pharmacy ‌​‌‌‌​‌‌‍‌​‌‌‌​‌​‍‌​‌‌‌​‌​
Community pharmacies can provide expert advice and guidance about treating common ailments, conditions and their symptoms, including for minor cuts, upset stomach, dental pain and repeat prescriptions. ‌​‌‌‌​‌‌‍‌​‌‌‌​‌​‍‌​‌‌‌​‌​
Before visiting your GP, speak with your pharmacist, they can help decide if you should see a doctor and can provide you with other information about other health services. ‌​‌‌‌​‌‌‍‌​‌‌‌​‌​‍‌​‌‌‌​‌​
Many pharmacies are open outside of usual hours and into the evening. ‌​‌‌‌​‌‌‍‌​‌‌‌​‌​‍‌​‌‌‌​‌​
Urgent Primary Care Centres ‌​‌‌‌​‌‌‍‌​‌‌‌​‌​‍‌​‌‌‌​‌​
There are two Urgent Primary Care Centres (UPCC) in the East area, located in Mold Community Hospital and Wrexham Maelor Hospital. ‌​‌‌‌​‌‌‍‌​‌‌‌​‌​‍‌​‌‌‌​‌​
UPCCs treat patients with urgent primary care needs on the same day, creating capacity to support GP surgeries and reducing unnecessary Emergency Department attendances. ‌​‌‌‌​‌‌‍‌​‌‌‌​‌​‍‌​‌‌‌​‌​
This is a referral only service from either your GP or the Emergency Department. For more information and examples of conditions that can be seen at a UPCC click here. ‌​‌‌‌​‌‌‍‌​‌‌‌​‌​‍‌​‌‌‌​‌​
Minor Injuries Unit ‌​‌‌‌​‌‌‍‌​‌‌‌​‌​‍‌​‌‌‌​‌​
There are currently two Minor Injury Units (MIU) in the East area, located in Holywell Community Hospital and Mold Community Hospital. There is also one based in Oswestry Community Hospital. ‌​‌‌‌​‌‌‍‌​‌‌‌​‌​‍‌​‌‌‌​‌​
MIUs are nurse led and treat injuries that are not critical or life threatening. They usually offer much shorter waiting times compared to the Emergency Department. ‌​‌‌‌​‌‌‍‌​‌‌‌​‌​‍‌​‌‌‌​‌​
Normally, no appointment is needed, however some units ask the public to call in advance so a patient can be assessed over the phone and advised of the most appropriate place and time to attend. ‌​‌‌‌​‌‌‍‌​‌‌‌​‌​‍‌​‌‌‌​‌​
There are plans to open an MIU in Wrexham Maelor Hospital later this year. ‌​‌‌‌​‌‌‍‌​‌‌‌​‌​‍‌​‌‌‌​‌​
For more information and examples of conditions that can be seen at an MIU click here. ‌​‌‌‌​‌‌‍‌​‌‌‌​‌​‍‌​‌‌‌​‌​
Out of hours support ‌​‌‌‌​‌‌‍‌​‌‌‌​‌​‍‌​‌‌‌​‌​
You can now call NHS Wales 111 for free access to urgent medical support and guidance in North Wales. This easy-to-remember number is free and provides access to both GP Out of Hours services and the health advice. ‌​‌‌‌​‌‌‍‌​‌‌‌​‌​‍‌​‌‌‌​‌​
Call NHS 111 Wales if your condition is urgent but not life threatening or if you need urgent medical attention from outside GP normal opening hours that cannot wait until the next working day. Call 999 in a medical emergency. ‌​‌‌‌​‌‌‍‌​‌‌‌​‌​‍‌​‌‌‌​‌​
Mental health support ‌​‌‌‌​‌‌‍‌​‌‌‌​‌​‍‌​‌‌‌​‌​
If you need to talk to someone – or you're concerned about a loved one – call NHS Wales 111 and select option 2 to speak to a dedicated member of our mental health team. ‌​‌‌‌​‌‌‍‌​‌‌‌​‌​‍‌​‌‌‌​‌​
They are there 24 hours a day, seven days a week – offering urgent mental health support to people of all ages across North Wales. ‌​‌‌‌​‌‌‍‌​‌‌‌​‌​‍‌​‌‌‌​‌​
The number is free to call from a landline or mobile, even if you have no credit left. ‌​‌‌‌​‌‌‍‌​‌‌‌​‌​‍‌​‌‌‌​‌​
See our mental health hub for further information and alternative mental health support resources. ‌​‌‌‌​‌‌‍‌​‌‌‌​‌​‍‌​‌‌‌​‌​
Spotted something? Got a story? Send a Facebook Message | A direct message on Twitter | Email: News@Deeside.com
---
Latest News
---