Met Office predicts icy blast this week, RAC urges drivers to prepare for cold snap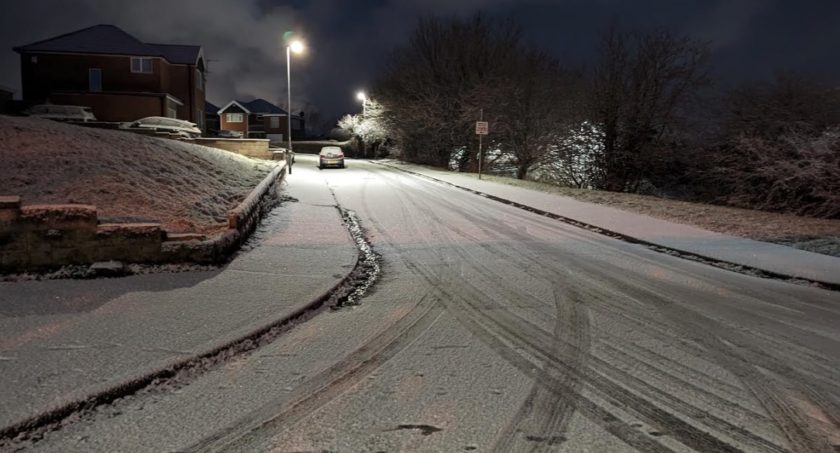 Drivers are being urged to prepare their vehicles for a cold snap this weekend, as the Met Office warns of much colder conditions this week. ‌​‌‌‌​‌‌‍‌​‌‌‌​‌​‍‌​‌‌‌​‌​
Locally overnight temperatures are forecast to drop to between -2ºC and -4ºC between Monday and Wednesday, though, unlike other areas of the UK, there doesn't appear to be any snow predicted. ‌​‌‌‌​‌‌‍‌​‌‌‌​‌​‍‌​‌‌‌​‌​

‌​‌‌‌​‌‌‍‌​‌‌‌​‌​‍‌​‌‌‌​‌​
The RAC has advised drivers to use this weekend to check their cars to reduce the potential for vehicle breakdowns and ensure they are ready for the cold weather. ‌​‌‌‌​‌‌‍‌​‌‌‌​‌​‍‌​‌‌‌​‌​
The motoring organisation has emphasised the importance of having a car battery that is in good condition. ‌​‌‌‌​‌‌‍‌​‌‌‌​‌​‍‌​‌‌‌​‌​
RAC spokesperson Rod Dennis said that if a car struggles to start, "the battery may need charging by taking the vehicle for at least a 30-minute drive, or it could be a sign that the battery is about to fail and will need replacing." ‌​‌‌‌​‌‌‍‌​‌‌‌​‌​‍‌​‌‌‌​‌​
Tyres with plenty of tread are also essential in cold conditions, as they provide the necessary grip on icy roads. ‌​‌‌‌​‌‌‍‌​‌‌‌​‌​‍‌​‌‌‌​‌​
Mr Dennis recommends that drivers should replace any well-worn tyres that are approaching the legal tread limit as a matter of urgency, and also ensure that their tyres are checked for damage and inflated to the correct pressures. ‌​‌‌‌​‌‌‍‌​‌‌‌​‌​‍‌​‌‌‌​‌​
Drivers are also advised to check their cars' oil and coolant levels and top up if necessary. ‌​‌‌‌​‌‌‍‌​‌‌‌​‌​‍‌​‌‌‌​‌​
With the potential for vehicle breakdowns to increase significantly during a sudden switch to considerably colder conditions, drivers are advised to take proactive measures to avoid being caught off-guard. ‌​‌‌‌​‌‌‍‌​‌‌‌​‌​‍‌​‌‌‌​‌​
Mr Dennis said: "Checking their vehicles this weekend will not only help to reduce the chances of running into problems next week, but also ensure the safety of all road users during the cold snap." ‌​‌‌‌​‌‌‍‌​‌‌‌​‌​‍‌​‌‌‌​‌​
"The Met Office has predicted that the cold snap will last until mid-March, with possible snow and icy conditions." ‌​‌‌‌​‌‌‍‌​‌‌‌​‌​‍‌​‌‌‌​‌​
"Drivers are encouraged to stay up-to-date with the latest weather forecasts and travel advice before setting off on journeys, particularly in areas where there is a higher risk of snow and ice." ‌​‌‌‌​‌‌‍‌​‌‌‌​‌​‍‌​‌‌‌​‌​
"While it is important for drivers to take steps to prepare their vehicles for the colder weather, it is also crucial to drive responsibly and with caution during the cold snap." ‌​‌‌‌​‌‌‍‌​‌‌‌​‌​‍‌​‌‌‌​‌​
The RAC advises drivers to allow extra time for journeys, drive slower than usual, and leave more space between their vehicle and the one in front. ‌​‌‌‌​‌‌‍‌​‌‌‌​‌​‍‌​‌‌‌​‌​
It's turning colder next week, but could we see any snow? ❄️ pic.twitter.com/Zp6mNCpzVw ‌​‌‌‌​‌‌‍‌​‌‌‌​‌​‍‌​‌‌‌​‌​

— Met Office (@metoffice) March 2, 2023 ‌​‌‌‌​‌‌‍‌​‌‌‌​‌​‍‌​‌‌‌​‌​
‌​‌‌‌​‌‌‍‌​‌‌‌​‌​‍‌​‌‌‌​‌​
Spotted something? Got a story? Send a Facebook Message | A direct message on Twitter | Email: News@Deeside.com
---
Latest News
---