Leading voice in solar sector urges businesses to switch to renewable energy or risk closure due to soaring costs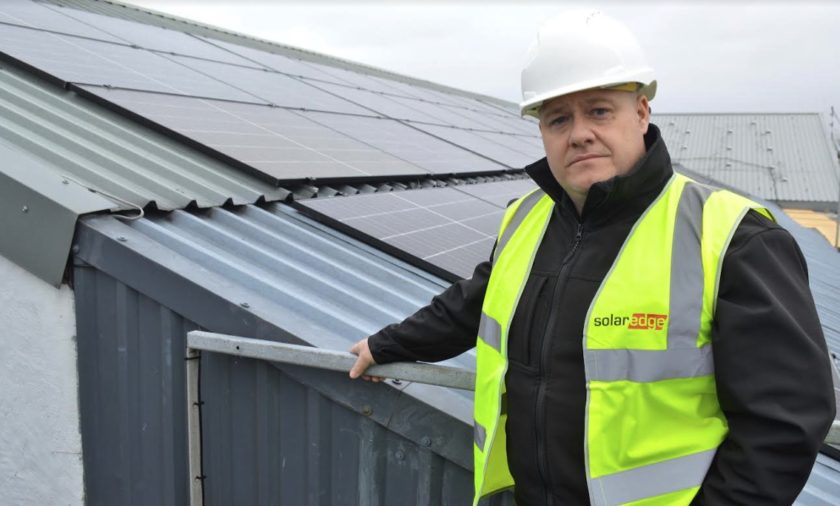 This article is old - Published: Tuesday, Mar 28th, 2023
A leading voice in the solar sector urged businesses to switch to renewable energy now or risk closure due to soaring costs. ‌​‌‌‌​‌‌‍‌​‌‌‌​‌​‍‌​‌‌‌​‌​
Across the UK, the combined triple threat of rising gas and electricity bills, supply chain issues and a decrease in consumer spending is hitting the private sector hard. ‌​‌‌‌​‌‌‍‌​‌‌‌​‌​‍‌​‌‌‌​‌​
With no sign of a U-turn in sight, Gareth Jones, Managing Director of Carbon Zero Renewables – part of the Carbon Zero Group based in Deeside, Old Colwyn, St Asaph, Mochdre and Llandudno – warned business owners they need to move to solar power and sustainable alternatives before it's too late. ‌​‌‌‌​‌‌‍‌​‌‌‌​‌​‍‌​‌‌‌​‌​
A report by Experian revealed up to a third of SMEs in the UK will be unable to absorb the continuing rise in costs, and Gareth believes for their long-term survival, people can no longer "bury their heads in the sand". ‌​‌‌‌​‌‌‍‌​‌‌‌​‌​‍‌​‌‌‌​‌​
Elsewhere, the ICAEW (Institute of Chartered Accountants in England and Wales) revealed in the last year, more than 367,300 businesses in the UK have been forced to shut down. ‌​‌‌‌​‌‌‍‌​‌‌‌​‌​‍‌​‌‌‌​‌​
"This number is staggering but what we don't know is how many of them closed due to increased costs mainly down to energy price increases. My guess is quite a high number," said Gareth. ‌​‌‌‌​‌‌‍‌​‌‌‌​‌​‍‌​‌‌‌​‌​
Current Vice President of the Federation of Master Builders for Wales and Net Zero Ambassador for the North Wales and Mersey Dee Business Council, he added: "It is vital companies make a switch to renewable energy now, rather than waiting and waiting to see if the price of gas and electricity will fall, because even if it does, long-term that's not the solution. ‌​‌‌‌​‌‌‍‌​‌‌‌​‌​‍‌​‌‌‌​‌​
"From a financial and environmental perspective, moving away from traditional fuel and energy is the right path because we have already seen so many firms make difficult decisions and even close because the cost-of-living crisis has had such a rapid and detrimental impact, with gas and electricity bills one of the key factors. ‌​‌‌‌​‌‌‍‌​‌‌‌​‌​‍‌​‌‌‌​‌​
"Obviously for any business these bills are going up and up, and larger organisations such as manufacturers with multiple sites or a huge premises are going to be hit hard. ‌​‌‌‌​‌‌‍‌​‌‌‌​‌​‍‌​‌‌‌​‌​
"This is the time to get serious, because for some they will likely need planning permission, they'll need more solar panels and a bigger system, and that takes time, it doesn't happen overnight. ‌​‌‌‌​‌‌‍‌​‌‌‌​‌​‍‌​‌‌‌​‌​
"Some large projects can take up to 12 months to get to installation phase. However, smaller commercial projects can be installed within three months depending on our workload, and we have to factor in potential shortages of equipment during peak times – the sooner solar panels are installed, the sooner you make savings." ‌​‌‌‌​‌‌‍‌​‌‌‌​‌​‍‌​‌‌‌​‌​
Gareth believes any business owner that's not thinking long term and at lowering their carbon footprint needs a reality check. ‌​‌‌‌​‌‌‍‌​‌‌‌​‌​‍‌​‌‌‌​‌​
"We are meeting with dozens of businesses owners a week, helping them navigate these tough times," he said. ‌​‌‌‌​‌‌‍‌​‌‌‌​‌​‍‌​‌‌‌​‌​
"We are not saying this to worry people, we see the repercussions every day and are here for them. There is assistance out there, so pick up the phone. We need to come together and avoid any more businesses disappearing because in this volatile market, the problem is not going to go away." ‌​‌‌‌​‌‌‍‌​‌‌‌​‌​‍‌​‌‌‌​‌​
Carbon Zero Renewables is forging new partnerships in different industries – notably retail, tourism, and hospitality – and Gareth says more and more people are seeing the benefits ahead of the summer months. ‌​‌‌‌​‌‌‍‌​‌‌‌​‌​‍‌​‌‌‌​‌​
"Whatever the business, energy is a big part of it, and this is the time to make key decisions, before the colder autumn and winter period," he added. ‌​‌‌‌​‌‌‍‌​‌‌‌​‌​‍‌​‌‌‌​‌​
"Solar panels are reliable – it doesn't have to be a bright sunny, day for them to work – and we can forecast quite easily how much it's going to generate and save per year, whatever the geographical location, giving customers peace of mind. ‌​‌‌‌​‌‌‍‌​‌‌‌​‌​‍‌​‌‌‌​‌​
"Ultimately, for holiday parks, big retail units, business estates and buildings of that size it could save tens of thousands over a period of years, so we hope people will start to make the move, for their bottom line and for the environment. The systems we are installing are the latest technology and the also some of the safest on the market." ‌​‌‌‌​‌‌‍‌​‌‌‌​‌​‍‌​‌‌‌​‌​
One company to have taken that advice is Palins Holiday Park in Kinmel Bay, whose park manager Louis Ellis said: "We are moving to become a greener and more energy efficient site so installing solar panels was the natural next step as we look to continue lowering our carbon footprint and energy costs and becoming an even more sustainable business." ‌​‌‌‌​‌‌‍‌​‌‌‌​‌​‍‌​‌‌‌​‌​
For support, guidance, and more information on renewable energy options, visit the website www.carbonzerorenewables.co.uk or call 08450 34 35 40. ‌​‌‌‌​‌‌‍‌​‌‌‌​‌​‍‌​‌‌‌​‌​
Spotted something? Got a story? Send a Facebook Message | A direct message on Twitter | Email: News@Deeside.com
---
Latest News
---