Labour MPs keep Jade's Law pressure up in Parliament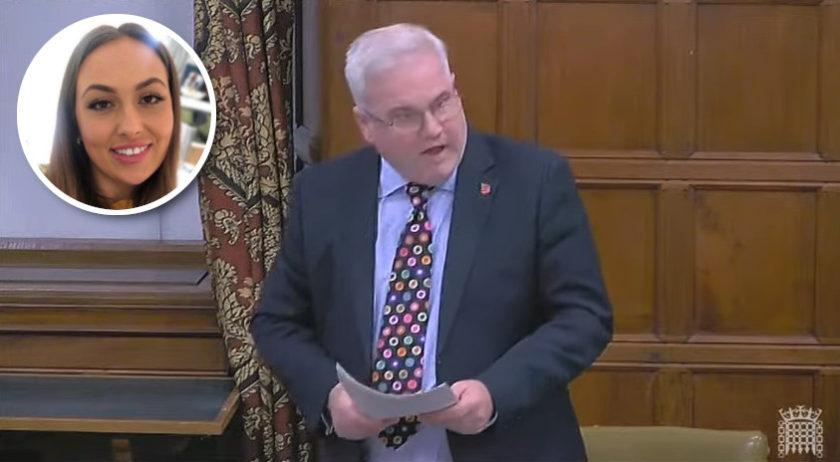 Labour MPs are keeping up the pressure in Parliament to enact Jade's Law despite disappointment at the UK Government's refusal to do so. ‌​‌‌‌​‌‌‍‌​‌‌‌​‌​‍‌​‌‌‌​‌​
The Ministry of Justice recently confirmed in a letter to Mark Tami MP that the Government would not be changing the law to suspend parental responsibility for those convicted of murdering the other parent. ‌​‌‌‌​‌‌‍‌​‌‌‌​‌​‍‌​‌‌‌​‌​
Mr Tami has been backing this aim in support of the family and friends of Jade Ward, from Shotton, after she was brutally killed by her estranged husband Russell Marsh. ‌​‌‌‌​‌‌‍‌​‌‌‌​‌​‍‌​‌‌‌​‌​
Marsh continues to exercise parental rights from behind bars, and if Jade's parents Karen and Paul want to take these rights away they must undergo an arduous and stressful court process. ‌​‌‌‌​‌‌‍‌​‌‌‌​‌​‍‌​‌‌‌​‌​
Labour Shadow Justice Ministers have pledged to bring Jade's Law if the party wins the next election and forms a Government. ‌​‌‌‌​‌‌‍‌​‌‌‌​‌​‍‌​‌‌‌​‌​
Far from waiting until then, the Shadow Justice Team have twice this week brought this issue up in the House of Commons. ‌​‌‌‌​‌‌‍‌​‌‌‌​‌​‍‌​‌‌‌​‌​
On Monday during the Second Reading of the Victims and Prisoners Bill, Shadow Minister for Domestic Violence and Safeguarding Jess Phillips challenged Lord High Chancellor Alex Chalk. ‌​‌‌‌​‌‌‍‌​‌‌‌​‌​‍‌​‌‌‌​‌​
"What I would also ask is that people in that situation, especially those who murder their wife and the mother of their children, should also have their parental rights taken away," she said. "Why is that not in the Bill?" ‌​‌‌‌​‌‌‍‌​‌‌‌​‌​‍‌​‌‌‌​‌​
Alex Chalk replied: "As the honourable lady knows, we have discussed these issues at some length in a different context, and she should know that I am ready to continue that conversation." ‌​‌‌‌​‌‌‍‌​‌‌‌​‌​‍‌​‌‌‌​‌​
The following day, Shadow Minister (Justice) Anna McMorrin questioned Parliamentary Under-Secretary (Justice) Mike Freer during questions. ‌​‌‌‌​‌‌‍‌​‌‌‌​‌​‍‌​‌‌‌​‌​
Ms McMorrin said: "Family courts across the country are being used to perpetuate domestic abuse, and when that abuse proves fatal, which we know it too often does, the family courts allow it to be continued against the victim's family. ‌​‌‌‌​‌‌‍‌​‌‌‌​‌​‍‌​‌‌‌​‌​
"Currently, the parents of a woman who was killed by her husband would have to be cross-examined by that same murderer to adopt their orphaned grandchildren. This is a system that is stacked in favour of the killer. Do the Government agree that this practice is abhorrent and support Labour's calls to implement Jade's law in the Victims and Prisoners Bill?" ‌​‌‌‌​‌‌‍‌​‌‌‌​‌​‍‌​‌‌‌​‌​
Mr Freer responded: "I refer the honourable lady to my colleague the victims Minister, my right honourable friend the Member for Charnwood (Edward Argar), because I believe he has already met the right honourable member for Alyn and Deeside (Mark Tami) to see how the issues raised by Jade's law can be implemented.  As I have said, my colleague has met the proponent of Jade's law to see how those issues can be progressed further." ‌​‌‌‌​‌‌‍‌​‌‌‌​‌​‍‌​‌‌‌​‌​
Mark Tami MP said: "Common sense says that it should be the parent who kills to go to the courts to prove they deserve parental rights, not for the victims to have to face the killer of their beloved family member over and over. ‌​‌‌‌​‌‌‍‌​‌‌‌​‌​‍‌​‌‌‌​‌​
"A Labour Government will enact Jade's Law. In the meantime, the second reading of the Victims and Prisoners Bill has taken place and will now proceed to the committee stage. I have asked our Shadow Justice team to try their best to include Jade's Law within the scope of the amendments that we will be proposing to the Bill." ‌​‌‌‌​‌‌‍‌​‌‌‌​‌​‍‌​‌‌‌​‌​
Spotted something? Got a story? Send a Facebook Message | A direct message on Twitter | Email: News@Deeside.com
---
Latest News
---