Flint students showcase their scientific innovations during successful futures day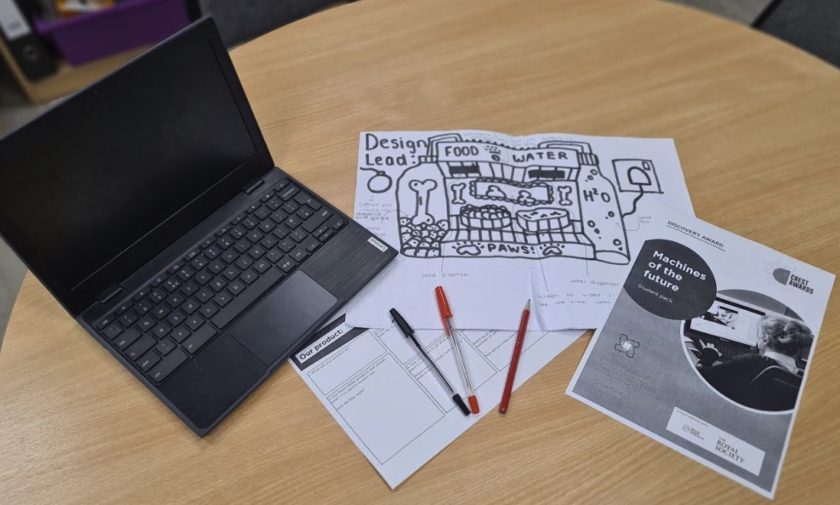 Students in years 7, 8 and 9 at Flint High School took part in a science and technology themed 'successful futures' day, requiring them to develop their own ideas for devices that could help support everyday tasks. ‌​‌‌‌​‌‌‍‌​‌‌‌​‌​‍‌​‌‌‌​‌​
This was the last in a series of six successful futures days that the school has organised during this academic year.   ‌​‌‌‌​‌‌‍‌​‌‌‌​‌​‍‌​‌‌‌​‌​
The purpose of the successful futures days is to provide students with an opportunity to develop skills to support them to become ambitious, capable students ready to learn throughout their lives, and enterprising, creative contributors, ready to play a full part in life and work.  ‌​‌‌‌​‌‌‍‌​‌‌‌​‌​‍‌​‌‌‌​‌​
They also aim to develop ethical, informed citizens of Wales and the world, and healthy, confident individuals, ready to lead fulfilling lives as valued members of society.  ‌​‌‌‌​‌‌‍‌​‌‌‌​‌​‍‌​‌‌‌​‌​
After learning more about how machinery operates and artificial intelligence, the students set to work in groups to develop ideas for machines of the future that could help with a variety of day to day activities.   ‌​‌‌‌​‌‌‍‌​‌‌‌​‌​‍‌​‌‌‌​‌​
Lila, Chelsea, and Evie, year 7, developed a cleaning machine to help people who may not be able to clean their own homes.  ‌​‌‌‌​‌‌‍‌​‌‌‌​‌​‍‌​‌‌‌​‌​
Working together to combine their ideas, they said: "We thought it would be simpler to have one cleaning machine, rather than separate gadgets. ‌​‌‌‌​‌‌‍‌​‌‌‌​‌​‍‌​‌‌‌​‌​
We thought this might help a person's mental wellbeing. The cleaning machine would help with the small day to day things, that would add up to valuable help".  ‌​‌‌‌​‌‌‍‌​‌‌‌​‌​‍‌​‌‌‌​‌​
The group also developed a social pricing strategy, to make the device more affordable for low-income households. Lila added: "I really like using technology and can see how it contributes to society. I really enjoyed the successful futures day as I love designing using art and graphics." ‌​‌‌‌​‌‌‍‌​‌‌‌​‌​‍‌​‌‌‌​‌​
Keeley, Jakub, Ollie, Kaden, and Oscar in year 8 developed "ED Glasses".  ‌​‌‌‌​‌‌‍‌​‌‌‌​‌​‍‌​‌‌‌​‌​
These were virtual reality glasses to help with homework and education away from classes. Jakub said : "We considered whether artificial intelligence was ethical. ‌​‌‌‌​‌‌‍‌​‌‌‌​‌​‍‌​‌‌‌​‌​
An example was where a machine was learning about your strategy for gaming.  I found this interesting, the fact that machines could learn how we played." ‌​‌‌‌​‌‌‍‌​‌‌‌​‌​‍‌​‌‌‌​‌​
Lewis, Ella, and Jessica, who all have dogs at home, developed an idea called "Project Paws". ‌​‌‌‌​‌‌‍‌​‌‌‌​‌​‍‌​‌‌‌​‌​
Lewis said: "We thought about machines like Alexa and how something like this could be used for pets.  ‌​‌‌‌​‌‌‍‌​‌‌‌​‌​‍‌​‌‌‌​‌​
Project Paws would help you feed, track your pet, organise walks – as it gives you weather information – and even video call your pet when you are not at home.  ‌​‌‌‌​‌‌‍‌​‌‌‌​‌​‍‌​‌‌‌​‌​
The successful futures day was a fun day. It allowed us to think and see things differently."  ‌​‌‌‌​‌‌‍‌​‌‌‌​‌​‍‌​‌‌‌​‌​
Simon Goodall, deputy headteacher, said: "The successful futures days have provided interesting experiences for our students to help them to flourish and take an increasingly active role within their education." ‌​‌‌‌​‌‌‍‌​‌‌‌​‌​‍‌​‌‌‌​‌​
Spotted something? Got a story? Send a Facebook Message | A direct message on Twitter | Email: News@Deeside.com
---
Latest News
---